Original URL: https://www.theregister.co.uk/2014/06/01/what_makes_taipeis_tech_malls_tick/
Taipei's tech malls are less than sum of their parts
More Hello Kitty kit than urban overclockers
Posted in Business, 1st June 2014 23:02 GMT
Computex Preview Taiwan has a thoroughly deserved reputation as one of the world's technology dragons, as shown by the fact its annual Computex show is probably behind only Las Vegas' CES in terms of significance to consumer technology.
Computex is why I've come to town. Trying to get a feeling for host city Taipei is why I arrived two days before the show.
This year Computex starts the day after the Duanwu Festival, a day celebrated by Chinese around the world and set aside for dragon-boat racing. Taipei feels primed and I'm told huge crowds will line the river here.
The city is teeming, perhaps as a result and perhaps because it's the kind of megalopolis in which apartments are small and public space therefore takes on greater importance. Whatever the reason, every train station, every tourist spot, every shopping precinct has a steady and sometimes choking flow of people moving through it. With daytime temperatures at around 30˚ C and humidity at a level I just don't want quantified. It's not an easy place to stay cool.
Taipei's renowned technology malls, Guang Hua Digital Plaza and the Nova Electronics Mall, offer a little respite.
Guang Ha which is nestled between a main road and a freeway. Like almost everything in Taipei, a bilingual signpost at the nearest metro stop makes it easy to find.
That sign directed me up an alley lined with technology shops and guarded by Seagate-branded signs. The idea of a street market appealed, but this turned out to be just an outlying area cashing in on Guang Ha foot traffic.
The mall itself was rather duller: it's a six-storey affair with a small food court on the ground floor. At ground level you'll also find lots of shops that display lots of kit but won't sell it to you.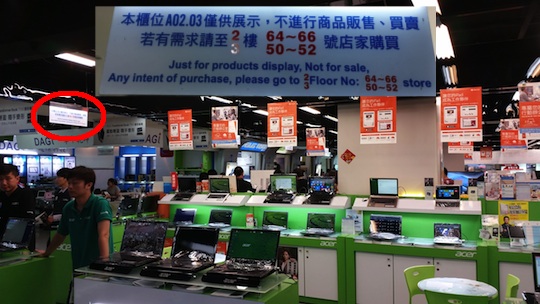 Ground floor stores at Guang Hua Digital Plaza are just for show
If that sounds a little odd there's an explanation: ground floor stores are showrooms only. Commerce is done upstairs in shops presumably operated by the same folks controlling the ground-floor showrooms.
Taiwanese brands have pride of place. Acer, ASUS and Gigabyte are more visible even than Samsung. Dell has a ground floor outpost but HP is absent. Apple pops up in many shops but Sony gets more signage. Japanese camera brands aren't hard to find. Memory and disk bands are unusually prominent.
Most of the people in the Plaza are young men, but more than a few are there with sisters, girlfriends and wives: an afternoon here seems to be something mundane for locals.
The higher you go, the geekier things get. The ground floor is all about laptops with some cameras. And more mobile device cases, in more styles, than it seems possible will ever be sold. Never mind sold profitably.
By level two shops with long lists of component prices posted outside are starting to appear. On level three small baskets of plugs and adaptors make themselves apparent and more network-attached storage becomes evident. By level four the consumer tech is thinning out as security kit like cameras and walkie talkies appear.
Level five offered some software and DVD shops, all selling kit that was adorned with Chinese characters but, like everything else in the Plaza, was sold at disappointingly familiar prices.
Be there pirates?
The western pricing on the DVDs reminded me of the prominent "NO PIRACY" sign I saw at Taipei Shongsan Airport, placed above a bin I imagine was placed there to give incoming passengers one last chance to ditch ill-gotten contraband. When I saw the bin I imagined Taiwan might not offer the same opportunities for cut-price (and very, very naughty) content acquisition afforded by other Asian nations. My guess was right: box sets of recent shows cost about $US25, on par with online prices back home.
Level six is largely given over to professional services outfits, including the data recovery service pictured below that has even recreated its labs, complete with mannequins doing the work.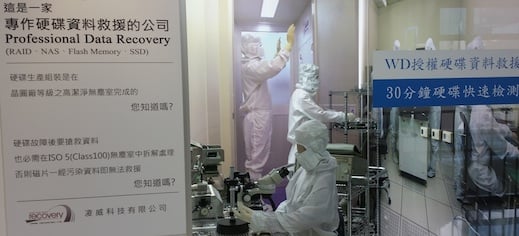 Data recovery for and/or by dummies
Truth be known, there's not much in Guang Ha you won't find anywhere else in the world. I saw nothing running Linux and no dodgy knockoffs. Generic kit like USB battery packs for mobile phones bore odd brands, but there was nothing that leaped out as a "buy this here, you won't get it anywhere else" kind of item.
Other than the item below, that I bought at the street market on my way out after deducing the ingredients by reading the banner at the bottom of the frame.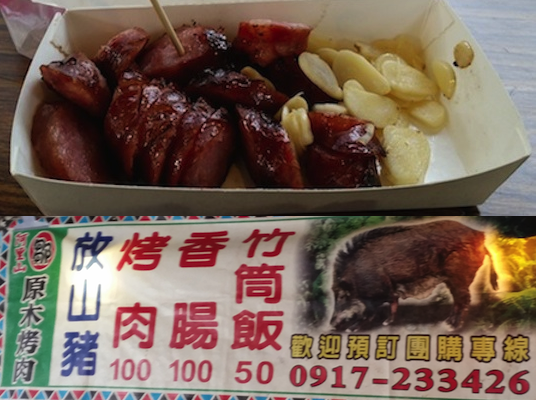 Boar sausage, but far from boring, served on a Taipei street
You're looking at a boar sausage with garlic slices. The sausage cost $NT100 – a bit under $US4 – and was grilled on colossal open kettle barbecue. It was about 30cm long before being hacked to pieces and was one of the sweetest, juiciest things your correspondent has ever consumed. One was gorgeous, two would be gluttony. Okay, maybe three would be gluttony.
Nova mall
The Nova mall I visited is in the heart of town, opposite colossal transport hub Taipei Central Station.
Nova has a few other branches but locals told me this one was special. I'm not sure why they said so: like Guang Ha it is a fine place to buy a laptop. But there's only one or two components-and-cases shops trying to do business. Everything else is packaged and familiar, other than the endless variety of cute accessories.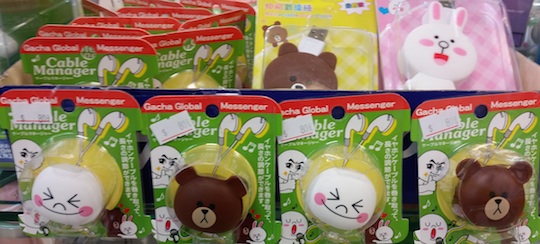 So cute! And just $US2.80!
Yes, the shops are rather smaller, more crowded and more chaotic than shops in many other parts of the world. They're also not much different from stalls I've seen in Singapore, Cambodia and Bangkok.
In all those places you'll also see the global ads for new technology products and Taipei is no exception: in another part of town I beheld a colossal Samsung Galaxy S5 ad featuring the same blonde-haired, very western-looking, female model you'll see anywhere else in the world.
In Taiwan this feels simultaneously ordinary and odd. Ordinary because big brands often use the same creative the world over. Odd because Taiwan's contribution to the technology world makes it possible for kit like the S5 to be created, yet there's no obvious celebration of the fact.
My Mandarin is non-existent, so maybe I'm missing the "designed in Taiwan" stickers that give local buyers a reason to wave the flag when they open their wallets. Or maybe it's not necessary: so much kit is designed or made in Taiwan that the locals don't need a reminder.
Either way, walking the streets of Taipei doesn't give one the impression you're visiting a technology superpower. A city letting its hair down ahead of a big public holiday, yes.
But not a city about to set global agendas with a trade show.
So bring on Computex so we can see what Taiwan has in store for the world this year. And let's hope the caterers have laid in some boar sausage. ®