Original URL: https://www.theregister.co.uk/2014/05/30/violin_memory_sells_velocity_pcie_flash_card_business/
PCIe flash card world reshuffled: Violin Memory flogs Velocity
First Seagate gobbles LSI Flash, now this. Violin, you look peaky
Posted in The Channel, 30th May 2014 15:44 GMT
Violin Memory is recovering in sickbay after the flash array company amputated its PCIe card business through a sale announced today and flagged up its drooping revenues in the second half of its fiscal year.
Revenues for its first financial 2015 quarter, which finished on 30 April, were $18.1m, 27 per cent down on the same quarter last year and 35 per cent less than the previous quarter. This number met expectations but, still, what a drop.
There was a net loss of $30.1m, better than the previous quarter's $56.5m loss but $1.6m worse than a year ago. Some $4m of the decline was attributed to the sale of the Velocity PCIe flash card business.
Velocity has been sold to SK hynix for $23m in cash "and the assumption of certain liabilities totalling $0.5m". SK hynix will make employment offers to the Velocity PCIe development team members, which is good news and the deal should close by the end of June.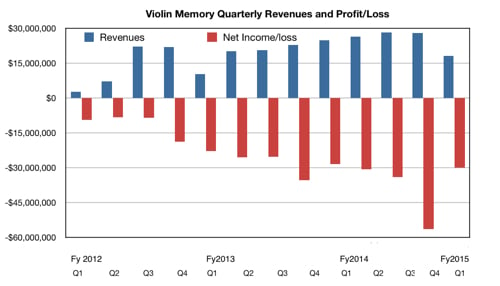 With Seagate buying the LSI Nytro PCIe product line from Avago yesterday, this completes a memorable day in the realignment of the PCIe flash card supplier landscape.
As SK hynix is a flash foundry operator, it thus has an in-house product outlet for its chips. The deal also scuppers any idea that Toshiba would get a leg up into the PCIe flash card market as Violin had been developing PCIe card technology for Toshiba.
However, Toshiba is Violin's largest shareholder and the relationship with Toshiba remains strategic for Violin, and, we understand, includes NAND chip supply.
The remainder of the decline was attributed to the reduction and re-organisation of the Violin sales force and the transition, primarily in the USA, of a new go-to-market model.
Now that the cash burn rate has been much reduced, says CEO Kevin DeNuccio, the next step is to address the poor product sales revenues and get them raised. He pointed out that EMEA results were good and "exceeded our expectations … with a revenue approximately 64 per cent higher than the year-ago quarter." Way to go Europe.
Sales and sales interest in the recently launched Windows Flash Array and Maestro appliance are looking good. The CEO said no other flash storage vendor has Windows Storage Server running on their all-flash arrays.
The SAP relationship is good with an additional announcement coming later this quarter.
The management team has been refreshed and 11 sales units have been condensed into five. DeNuccio reckons that the company now has a sharper focus on what it needs to do, saying: "We're well positioned to grow," and talked about leveraging the channel and software relationships - like with Citrix, Microsoft and SAP - as a cost-effective way of growing sales. Violin will continue to sell directly to large enterprises and cloud customers.
Regarding new products, he said: "We have an upcoming announcement this quarter which will be the most significant since the launch of our all-flash array itself." That would be the 3200 launched in May 2010. Since then Violin has launched its bigger and more powerful 6000 line of products in September 2011. That now offers 70TB of raw flash in a 3U rack enclosure.
What are we looking at? A Violin 8000 with, say a 35TB - 70TB/1U density from using 19nm flash, and added deduplication, enabling it go head-to-head against EMC's XtremIO, Pure Storage's FA-400 line and the other deduping AFAs such as Kaminario's upgraded K2. Deduplication and/or compression for all-flash arrays are becoming table stakes.
Other attributes referred to in the Violin earnings call were the coming product being software-enabled and facilitating scale the array. The new product is expected to have a three to six month sales cycle, delivering some revenue in the fourth fiscal 2015 quarter. That means it won't be a simple slot-in for existing customers – intriguing.
The 6000 product line should transition to 19nm in the next couple of quarters and that could and should increase its raw capacity.
Violin's new tagline is "business in a flash". Revenue growth will be a little slower but De Nuccio is confident it is coming. The next quarter should show revenues higher than this quarter's $18.1m, with the second half being better still. Violin's squeaky stringed instrument could become a Stradivarius again. ®