Original URL: https://www.theregister.co.uk/2014/05/29/truecrypt_analysis/
TrueCrypt turmoil latest: Bruce Schneier reveals what he'll use instead
Plus other alternatives and theories behind disk-crypto util's demise
Posted in Security, 29th May 2014 15:52 GMT
The TrueCrypt project abruptly imploded on Wednesday – leaving folks in the infosec world scratching heads and scrambling to recommend alternatives.
In the past hour, crypto-guru Bruce Schneier has told us he's switched back to Symantec's PGPDisk to encrypt his data.
"I have no idea what's going on with TrueCrypt," he added on his blog. "Speculations include a massive hack of the TrueCrypt developers, some Lavabit-like forced shutdown, and an internal power struggle within TrueCrypt. I suppose we'll have to wait and see what develops."
As The Register reported, visitors to the ‪official truecrypt.org‬ website were redirected to a SourceForge-hosted site, which warned the popular multi-platform disk-encryption software is insecure:
WARNING: Using TrueCrypt is not secure as it may contain unfixed security issues

This page exists only to help migrate existing data encrypted by TrueCrypt.

The development of TrueCrypt was ended in 5/2014 after Microsoft terminated support of Windows XP. Windows 8/7/Vista and later offer integrated support for encrypted disks and virtual disk images. Such integrated support is also available on other platforms (click here for more information). You should migrate any data encrypted by TrueCrypt to encrypted disks or virtual disk images supported on your platform.
The above message is included in the developer-signed executables of a new version of TrueCrypt, released this week and available now from the SourceForge site; version 7.2 pops up an alert during installation urging the user to migrate files away from the easy-to-use tool: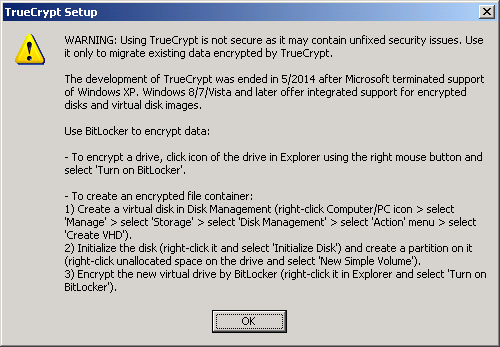 This new build has been nobbled to prevent further encryption of data. It should not be relied upon to safeguard sensitive information. The previous version, 7.1a, was released in 2012.
At first, the truecrypt.org switcheroo appeared to be an act of web vandalism by miscreants who had compromised the super-secretive TrueCrypt development team.
But the inclusion of the above warning in the cryptographically-signed binaries strongly suggests that the message did really come from the anonymous developers of TrueCrypt – or whoever is in possession of its private key.
Matthew Green, a computer-science professor at Johns Hopkins University in Maryland, US, commented: "I think it's unlikely that an unknown hacker identified the Truecrypt developers, stole their signing key, and hacked their site."
Prof Green and Kenn White, a cloud security expert and engineer, are spearheading an effort to audit the source code of TrueCrypt 7.1a, which is available to download and build. Last month the software successfully cleared the first phase of an independent code-quality inspection, which "found no evidence of backdoors or intentional flaws". A grassroots campaign raised $70,000 to pay for the professional audit, funds that the latest developments would suggest may have been wasted. An unrelated announcement on the audit project's progress was due to be made today.
"Our board is meeting this morning, and should have announcement mid-day on our plans. I think the community will be happy with the direction we're going," White told The Register.
'Worst case scenario: every encrypted volume is doomed'
The ominous warning slapped on TrueCrypt came as an unwelcome bolt from the blue – although TrueCrypt's source code is available, and under audit, so it can be forked and taken over by a new team.
Ex-LulzSec member Jake Davis commented: "Best case scenario: bit of a developer spat. Worst case scenario: every encrypted volume is doomed."
Security experts are trying to get in touch with the anonymous developers behind TrueCrypt, so far without much success.
The auditing project has put out a query to the programmers, but has yet to hear back, White told El Reg on Thursday.
"We have not heard back from our contact on the development team, so I'm afraid I don't have any new insight," White explained.
"On principle, I would not recommend anyone from the general public download or install the SourceForge software just yet until questions can be resolved as to its provenance."
My theory: The entire TrueCrypt project is a piece of performance art, and we're now in Act II.

— matt blaze (@mattblaze) May 29, 2014
One intriguing possibility – and one that's it's very difficult to either prove or disprove – is that this is a warrant canary triggered by pressure on TrueCrypt's developers by the feds to backdoor the software – which is favoured by the likes of Edward Snowden and his journo pals. Effectively, it would be a signal to the world that something is not right, without breaching any gagging order that may also be in place.
It could even be in response to a threat to unmask the development team.
"Somebody was about to de-anonymize the Truecrypt developers, and this is their response," suggested Prof Green.
Veteran security world watcher Graham Cluley said: "Whether hoax, hack or genuine end-of-life for TrueCrypt, it's clear that no security-conscious users are going to feel comfortable trusting the software after this debacle. It's time to start looking for an alternative way to encrypt your files and hard drive."
The outlook for those who rely on TrueCrypt to encrypt their drives and/or files just became overcast with doubt.
Johannes Ullrich of the SANS Technology Institute recommended FileVault and LUKS, for Mac OS X and Linux users, respectively, as potential alternatives. "Sadly, these are not compatible with each other. You will need to find a replacement for portable media that need to move between operating systems. PGP/GnuPG comes to mind as an option," he advised.
An earlier list of alternatives to TrueCrypt put together by security expert The Grugq can be found here.
Amichai Shulman, CTO at Imperva, said even before this week's events that TrueCrypt was ill-suited to use within enterprises.
"There is a place for a disk encryption solution independent of operating system type and operating system provider in general," Shulman said. "Whether TrueCrypt is the right solution, given the anonymous nature of its developers, I'm not sure."
Shulman added that the end-of-XP support provides a plausible reason to discontinue the TrueCrypt project.
"TrueCrypt was created in order to provide disk encryption for operating systems that do not have built-in support for it. Currently the only one is Windows XP and since it is 'no longer safe' to use it, there's no point in maintaining an encryption solution for it." ®