Original URL: https://www.theregister.co.uk/2014/05/22/cloudy_plague_will_kill_storage_vendors_say_gartner_mages/
Cloudy plague will KILL storage vendors, say Gartner mages
The dinosaurs, the weak and the young are all at risk
Posted in The Channel, 22nd May 2014 05:34 GMT
"Peak Array" theory, the idea that today's storage vendors and their products don't have long to live, has received another endorsement from the on-stage Mages at analyst outfit Gartner's IT operations and data centre summit in Sydney.
In a session titled "The five-year storage scenario – Why storage in 2019 won't look like what's on the floor today," analyst Arun Chandrasekaran used the slide below to outline possible scenarios for today's storage vendors.
Chandrasekaran said all storage vendors, regardless of size, are suffering from "compressed differentiation." Features that once represented a year or two of competitive advantage are now replicated in three to six months. Users are therefore willing to wait for their incumbent providers to catch up rather than in acquiring new kit and starting a new vendor relationship.
Another problem for all players, he said, is that there are no longer many performance differentiators of note to distinguish one vendor from its rivals. With grunty multi-core Xeons supplanting the ASICs that once made a storage controller special and and solid state disks both now bog standard, Chandrasekaran's analysis seems apposite.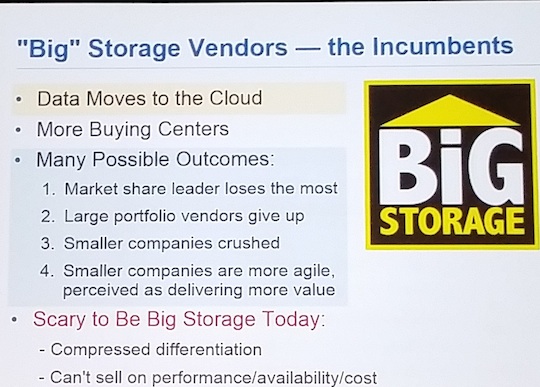 What then of his four scenarios?
In the first, the storage industry declines and those at the top – pure play array vendors – suffer most.
In the second vendors that include storage in a broader portfolio decide the storage market is just too hard and bail.
In the third startups are crushed as the market for storage innovation disappears.
The fourth is perhaps the most interesting, as Chandrasekaran suggested it could see startups perceived as innovating better than larger rivals. But demand for their cunning products is no guarantee of success: he said only EMC and NetApp have grown colossal storage businesses from scratch in the last 20 years and could not suggest why any upstart would be able to do the same again. One reason for their likely failure to grow is that big storage companies are happy to acquire innovative-but-small rivals to keep themselves fresh. ®