Original URL: https://www.theregister.co.uk/2014/05/16/nasa_ldsd_test/
NASA preps flying saucer ballocket flight
Supersonic vehicle, giant balloon, what could possibly go wrong?
Posted in Science, 16th May 2014 13:24 GMT
NASA has announced it's poised to do an airborne test of its Low-Density Supersonic Decelerator (LDSD) - a test platform for technologies that may one day safely deposit larger payloads on the surface of Mars.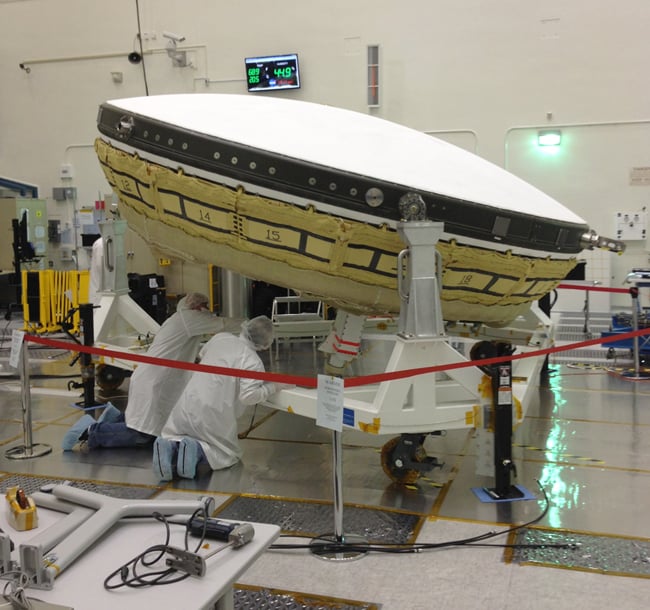 The LDSD flying saucer at NASA's Jet Propulsion Laboratory. Pic: NASA/JPL
NASA is developing three devices for deployment in the LDSD flying saucer. It explains: "The first two are supersonic inflatable aerodynamic decelerators - very large, durable, balloon-like pressure vessels that inflate around the entry vehicle and slow it from Mach 3.5 or greater to Mach 2 or lower.
"These decelerators are being developed in 6-meter-diameter and 8-meter-diameter configurations. Also in development is a 30.5-meter-diameter parachute that will further slow the entry vehicle from Mach 1.5 or Mach 2 to subsonic speeds. All three devices will be the largest of their kind ever flown at speeds several times greater than the speed of sound."
NASA's already done a ground-based test of the parachute (see vid), and at the beginning of June, "a large saucer-shaped disk" packing a decelerator and parachute will soar under a giant balloon to an altitude of 36,500m. Following decoupling from the balloon, rockets will blast the saucer to a tad under 55,000m at supersonic speeds.
The space agency adds: "Traveling at 3.5 times the speed of sound, the saucer's decelerator will inflate, slowing the vehicle down, and then a parachute will deploy to carry it to the ocean's surface."
Simple as that. The launch will take place sometime between 3 and 13 June at the US Navy's Pacific Missile Range Facility (PMRF) on Kauai, Hawaii. We're promised live coverage "including the rocket-powered ascent", at NASA TV.
If the LDSD works as planned – and let's face it, what could possibly go wrong? – it promises to increase "payload delivery to the surface of Mars from our current capability of 1.5 metric tons to 2 to 3 metric tons", as well as more accurate landings. ®
Bootnote
Thanks to Stephen Burch for the heads-up. He said: "Come on, LOHAN, the race is on!"