Original URL: https://www.theregister.co.uk/2014/05/12/openstack_marketplace_launch/
OpenStack Foundation thunks down cloud buyers guide
"OpenStack Marketplace" is a big brochure of open source cloud tech
Posted in Cloud, 12th May 2014 15:31 GMT
The OpenStack Foundation has launched a catalogue of products, services and even companies based around the cloud management tech.
The "Openstack Marketplace" is meant to solve the confusion that buyers deal with when inspecting the fragmented OpenStack ecosystem, and makes it simple for prospective users of the open source cloud management and provisioning tool to browse and compare products and services that use the tech.
"Users that need to know if their compute, storage and networking gear has compatible drivers in OpenStack can consult the Drivers section," the Foundation explains in a canned press release.
"Using data from the community-maintained DriverLog project, the Drivers section displays the various open-source and commercial technologies that integrate into OpenStack components, including which versions of OpenStack support each technology. Data from the DriverLog project will also be used by some members of the community in their own compatibility tools."
At launch, the Marketplace has five categories involving a smattering of technologies such as Public Clouds, Distributions, Appliances, Consulting and Systems Integration, and Drivers.
"What we're trying to do is make it a lot easier for customers, for potential users of OpenStack products and services," explained Jonathan Bryce, executive director of the OpenStack Foundation, in a chat with El Reg. "It's not necessarily information they couldn't get with hours of research looking at lots of diff websites and pouring over data sheets - we're trying to do that heavy lifting for them."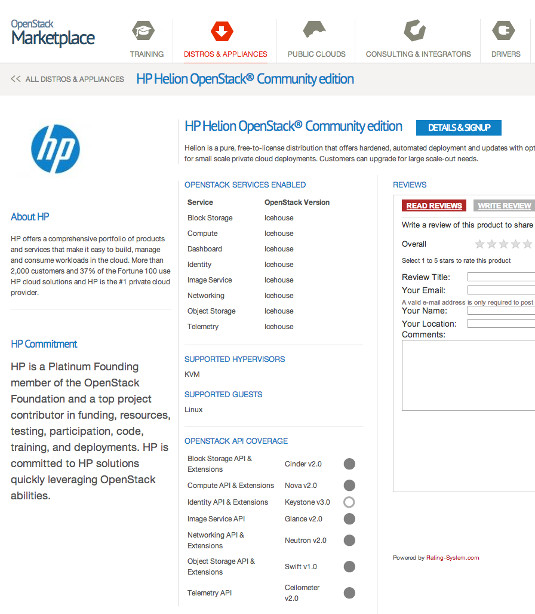 With the Marketplace, the OpenStack Foundation wants to get rid of some of the confusion around the cloud tech
The Marketplace gives prospective OpenStack users an indication of the areas of expertise each provider or consultancy has, along with which components of OpenStack any of the services use.
A lot of the motivation for the Marketplace comes from the grubby marketing that some members of the community have indulged in, Bryce indicated.
"I'm sure you are the recipient of many product pitches that have OpenStack in them, we know what goes on out there, this is a setup towards providing a higher level of transparency and detail," he explained.
At launch, the Marketplace doesn't aim to be comprehensive, but over time will expand with further information, he said.
"There are technical requirements to appear in the marketplace and that includes API requirements and code requirements," said Mark Collier, the chief operating officer of the OpenStack Foundation, in a chat with El Reg. "They have to be running a recent version of the OpenStack code to list that service in the marketplace."
On a cursory inspection by El Reg we found a few problems with the Marketplace, for instance, when viewing public cloud providers it fails to be clear about where they have chosen not to use OpenStack tech and have instead created their own solution. Though the providers may understandably not want to disclose this, it's valuable to the buyer to get an idea of which parts of the technology lack the maturity to tempt in a major seller. ®