Original URL: https://www.theregister.co.uk/2014/05/09/smash_and_grab_ithieves_run_car_through_front_of_berkeleys_apple_store/
SMASH AND GRAB iThieves run car through front of Berkeley's Apple Store
Stolen auto crashed in front of the Genius Bar? There's no app for that.
Posted in Bootnotes, 9th May 2014 21:17 GMT
A daring thief drove a car through the front of a California Apple store on Friday in what police believe was a planned robbery.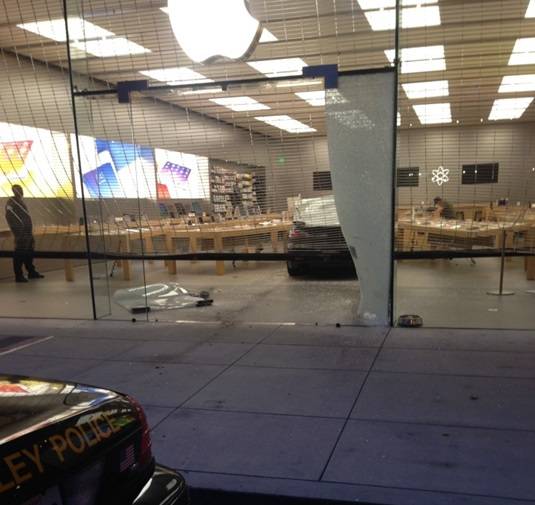 Smash and grab raid next handfuls of hardware
The Berkeley 4th Street store was the scene of the crash-turned-heist early Friday morning when one or more individuals deliberately drove the stolen car through the store's front windows and steel gates. Photos of the scene snapped by local news site Berkeleyside show the car crashed through the front windows and came to a rest in the midst of the store's display tables (we reckon somewhere in between the Macbook Air and iPad Mini tables.)
The incident occurred at approximately 2:52 AM when the store was empty. No injuries were reported. The company has temporarily closed the store and has yet to say when the location will reopen. In the meantime, Apple customers can go to the Apple Store in neighboring Emeryville or hop across the bay to Apple's Union Square store in San Francisco.
According to Berkeley police, after forcing their way into the store, the thieves helped themselves to an armful of Apple gear before bolting the scene and leaving the car in the middle of the store.
Apple stores have played host to such crash and grab heists in the past. Apple Insider notes that Apple stores in Berlin, Chicago and Southern California all fell victim to similar attacks in which cars drove through the front of stores.
Due to the popularity and higher-than-average price tag of Apple products, the company's products are popular targets for theft and burglaries. Last year, New York police reported that iPhone thefts were among the few crimes to be on the rise in the city.
In Paris last year, an armed robbery at an Apple Store yielded a haul of iStuff valued at more than €1m, while a 2009 heist was conducted by thieves who were able to clear an Apple Store of dozens of items in a matter of seconds. ®