Original URL: https://www.theregister.co.uk/2014/05/06/emulex_results/
Emulex racks up fifth loss-making quarter as FIVE-YEAR Broadcom broadside ends
Really needs to get Ethernet gear back on track
Posted in The Channel, 6th May 2014 09:02 GMT
Analysis It's Emulex's fifth loss-making quarter in a row and a whopping loss at that.
For its third financial 2014 quarter, ended 30 March, Emulex made a loss of $7.2m on revenues of $109.7m. Let's put that in context. A year ago its revenues were $116.8m and its loss was $6.7m. In the previous fy2014 quarter revenues were $123.2m and the loss was $4m. The current financial year is progressing badly.
Emulex has made losses in 12 of the past 19 quarters. This is a firm that's running just to stand still. If activist investors Elliott Management, Starboard Value, and Altai Capital had their way, executive leadership and the board would step aside and let them have their way and break up/sell the business.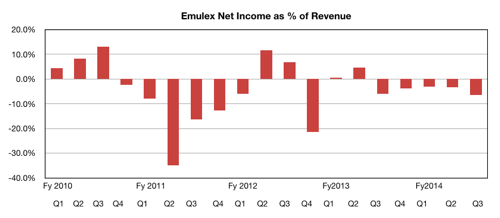 Click the chart for a larger view.
Let's get into some gory detail.
Network Connectivity Product (NCP - HBAs and NICs) revenues were $77.9m (71 per cent of total revenues) compared to $85.2m a year ago
Network Visibility Product (NVP - Endace) revenues were $7.1m, 6 per cent of total revenue, and $4.9m a year ago
Storage Connectivity and Other Products (SCOP - InSpeed stuff), revenues of $24.8m, 23 per cent of total net revenues; they were $26.7m a year ago
The $2.2m Endace revenue rise did not compensate for the $7.1m NCP and $1.9m SCOP falls. What's the outlook? It's $94m to $100m revenues and another loss for the next and final quarter of the year. At the mid-point of the range, the $97m number would provide full year revenues of $444.54m, 7 per cent less than last year, and the second annual results fall in a row.
Shares fell 30.6 per cent to $4.96 on the New York Stock Exchange as investors fled to better climes.
Jeff Benck, Emulex's president and CEO, said: "Our team did a nice job of protecting profit in 3Q despite a softer demand environment among our OEMs and lack of predictability from NVP.
He added: "We remain squarely focused on capturing the growth opportunity inherent to traffic visibility. Within connectivity, we are not immune to near-term disruptions associated with strategic developments at our major customers and we have taken steps to position us to better weather this period of transition in the market," and mentioned the "ongoing execution of our operational transformation."
Broadcom battle is over, at least
Emulex had been sued by Broadcom over alleged patent infringement, which has caused financial penalties and legal fees. According to a 31 March 8K filing, Emulex agreed to pay Broadcom a "non-refundable, non-cancelable dismissal and standstill fee in the amount of $5 million" – which put an end to the matter.
This legal action is now over and Emulex hopes it can regrow Ethernet connectivity revenues, announcing: "We are pleased to have reached a dismissal agreement with Broadcom, effectively ending the current litigation process between the two companies. During the quarter, we experienced strong sequential 10GbE revenue growth, contrary to typical seasonality. Our ability to now participate in the full market, combined with a robust set of OEM design wins based on our next generation Ethernet products, positions Emulex well for the upcoming server refresh cycle."
Tomorrow's jam always tastes good. The earnings call new CFO Kyle Westcoat revealed that: "Excluding the impact of the Broadcom settlement, our loss would have been $2m for the quarter."
Emulex must be pleased the business with Broadcom is over after five years of takeover attempts and litigation.
The chief financial bod said the outlook was impacted by estimated Fibre Channel HBA sales: "I believe it's prudent to anticipate [a] higher rate of secular decline in the Fibre Channel business than previously anticipated," and thought a high single-digit to low double-digit decline could take place.
There's more coming bad news elsewhere: "Within SCOP, we expect the bridge and router revenue decline to accelerate as these products further mature for the end-of-life. For fiscal year 2014, we model this decline to be in the 10 per cent to 15 per cent range. For fiscal 2015, the range of decline in SCOP could be greater than 30 per cent year-over-year. As a point of reference, bridges and routers currently represent approximately 75 per cent of the SCOP revenue.
"This ... rate of decline will likely be further impacted over the near term by weaker demand and inventory positions at some of our storage OEMs."
And it gets worse: "As recent performance illustrates predictability in the NVP business is not where we wanted to be. We have identified and are executing on several initiatives to approve deal qualification and tighten up our forecasting process. ... we are projecting NVP revenue to be flat quarter-to-quarter" So there have been Endace execution issues.
Telling it like it is
Benck said of the NVP business: "The overall revenues for the quarter came in well below our expectations. ... This was a lot softer than what we've intended. We missed on this one. We didn't execute well across multiple dimensions. This was not just the sales execution. We missed on a number of dimensions here."
CFO Westcoat was blunt about the outlook: "Given the number of moving parts of our business, the lack of OEM visibility and the actions we're taking at NVP, right now, we do not see a meaningful catalyst for near-term revenue growth." Well, tell it how it is Kyle.
In the HBA area, Benck mentioned "weakness in high-end storage on the UNIX market, coupled with some specific issues of one large OEM customer in the x86 Server market."
Which OEM was that? IBM selling its X86 server business to Lenovo, we'd imagine.
He also talked of "a general weakness in EMEA ... [and] EMEA clearly was the big miss in terms of our expectations," with a UK government deal failing to come in during the quarter. We can maybe expect some EMEA management and strategy changes to deal with that.
Benck was optimistic about the future for Emulex's 10 gig Ethernet business, mentioning Dell and Converged Network Adapters (CNA) in particular as well as the Open Compute Platform and "an unprecedented number of design wins being qualified with customers that we expect will ramp up over the coming year".
He also said: "We've seen a bit of resurgence on FCoE. It's becoming a bigger per cent of block storage sales of our company... Certainly, I think everybody pronounced FCoE dead, maybe a little bit pretty maturely." That's interesting: an FCoE uptick? Cisco will be pleased.
What's Benck going to do about things? Cost reductions have been made and $30m of spending is being saved. He's got three core initiatives:
First, we need to do a better job of building and qualifying the pipeline with focused execution by our expanded sales force.
Second, we'll be increasing our opportunities in relevance within the growing part of the ecosystem.
Lastly, we need to leverage our core competence in the OEM marketplace.
One potential issue that affects Fibre Channel is the growth of the server SAN idea, with VMware's VSAN, scale-out converged boxes like those from Nutanix and Simplivity and EMC's ScaleIO product to name but a few. Server SAN is likely to grow at the expense of existing Fibre Channel-Connected SANs.
The Vulture's storage desk thinks after nine months as CEO, Benck will need to get Endace sales up a lot and grow the 10 gig and 40 gig Ethernet business. ®