Original URL: https://www.theregister.co.uk/2014/05/05/emcs_allsingng_alldancing_vnx_jamboree/
EMC embarks on all-singing, all-dancing VNX jamboree
Software VNX, entry-level VNX, encryption and VSPEX
Posted in The Channel, 5th May 2014 16:44 GMT
EMC World 2014 EMC has had a VNXgasm and announced future software for VNX, plus a buffed up VNXe box, a VSPEX addition, and the company is also making more encryption options available.
The VNX software is coming via Project Liberty and thus includes freedom from hardware lock-in presumably, and is virtualised storage software that is based on the VNX platform. EMC talks of a variety of deployment models, saying it could be used by test and developers to spin up virtual VNX arrays for virtual servers and ROBO locations, hybrid public/private cloudy deployments, and in software-defined data centres.
You get the feeling that EMC sees VNX primarily as a test-and-dev thing and not a serious software storage array like HP's StoreVirtual or VMware's VSAN or, indeed, its own ScaleIO. It will be an on-ramp to speed VNX-dependent app development.
The Liberty development has to embrace, we suppose, both the VNXe and the VNX software environments, which are different; VNXe's software being more integrated in the file and block area.
With VNX and VMAX now in the same engineering organisation inside EMC we might see even see a software VMAX.
VNXe3200
There is a new VNXe entry-level system, the VNXe3200 and it's a souped up model that has been given Fibre Channel connectivity; welcome to the big guys storage networking club you little iSCSI and NAS squirt.

VNXe3200
Basically it's the addition of the same VNX technology enhancements from last September applied to a VNXe box.
It gets MCx multi-core controller processor optimisations, FAST Cache SSD caching and FAST VP auto-tiering, like the full-fledged VNX arrays. EMC might as well drop the 'e' from VNXe. (FAST Means Fully-Automated Storage Tiering.) Here's a table of config details: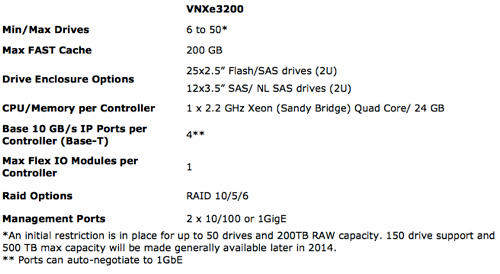 The VNXe range used to have two members; VNXe3300 and a 3150. It now appears to have just the 3200.
This, with a quad-core 2.2GHz processor, is claimed to be 3X more efficient, and powerful at virtual machine and file performance, than the 3150 and "reduces capacity requirements by up to 50 per cent with thin provisioning and file deduplication." It supports "3X more virtual machines, 3X more virtual desktops, 3X more Microsoft SQL transactions and 3X more Exchange mailboxes."
Microsoft apps can also be set up three times faster, it's claimed.
It has "snapshot technology to easily create copies of production data directly from Unisphere," and Unisphere can be used to "setup NAS or SAN in under 15 minutes."
Get a VNXe3200 spec sheet here (pdf) and a datasheet here (pdf).
There are also new VSPEX converged server/storage/network system templates that feature the VNXe3200. These deliver "up to 125 virtual machines and 500 virtual desktops in a VNXe3200. These new VSPEX solutions can store up to 2,000 Exchange mailboxes and over 20,000 SharePoint users," the company states.
Data-at-rest encryption
EMC will make data in rest encryption available for its latest VNXs as a non-disruptive software upgrade, branding it D@RE. This was introduced to VMAX in 2010 and runs in the array controllers,; self-encrypting drives not being needed, making it independent of drive types and sizes. It can be turned on or off at will.
An EMC blog states; "VNX D@RE encrypts the entire array and comes with an embedded encryption key manager. File and block data is encrypted and VNX data services like Fully Automated Storage Tiering (FAST), snaps, replication, deduplication, compression, etc. are supported with VNX D@RE."
VNX arrays shipped since September 2013 "are architected with D@RE encryption hardware" and the software upgrade will turn it on.
The VNXe3200 starts at under $12,000 and will be available in the second quarter of 2014 primarily through EMC's global channel partners. SW VNX's availability via Project Liberty has not been revealed.
Mainframe virtual tape
EMC has also updated its main virtual tape library software with the release of Dlm 4.1. Existing DLm 8100 and DLm 2100 users get, EMC says;
Simplification of D/R testing for VNX-based DLms
Single drive performance improvements
Deeper operational insights
IPv6 Compliance
Get more details from a Pulse blog. ®