Original URL: https://www.theregister.co.uk/2014/05/01/vdi_citirx_race_gartner_rates_nexenta_cheapest/
Nexenta beats off rivals as Citrix testlab rates its VDI offering 'cheapest'
Not an apples-to-apples comparison, cry competitors
Posted in Storage, 1st May 2014 12:24 GMT
Nexenta provides the cheapest VDI, according to data collected in a Citrix testlab by Gartner.
Gartner research director and blogger Gunnar Berger has written an article - The real cost of VDI storage – in which he sorts suppliers on their costs. The data comes from a Citrix Ready VDI Capacity Validation Program for Storage Partners and he's tabulated the information.
A Nexenta spokesperson described the test situation: "Citrix constructed a turnkey 'VDI Capacity' test rig in its Santa Clara Solutions Lab and storage partners were invited to connect their storage and participate in a 'VDI Capacity' test that simulated 'a day in the life' of a 750 user Citrix farm."
We've reproduced the table, leaving out the Total IOPS column, and graphed the results: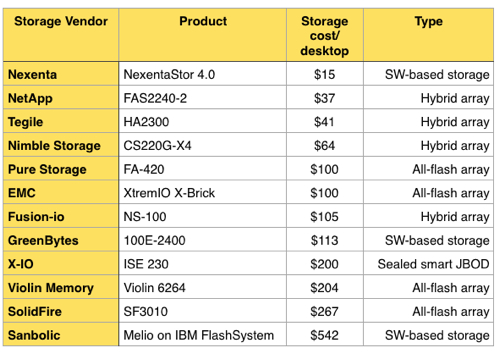 Data source - Gartner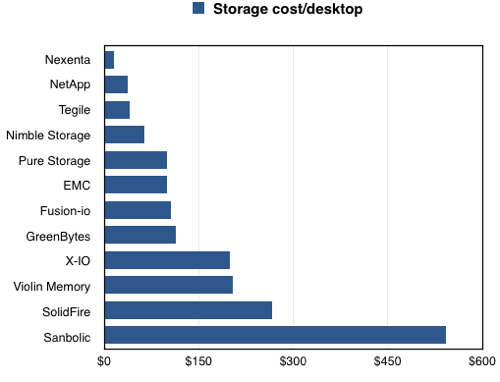 On the face of it Nexenta just walks away from everybody else and the most expensive supplier was 36 times costlier, a fact which Nexenta did not fail to pint out in its blog.
NetApp, Tegile and Nimble did well, taking the number 2, 3 and 4 slots. Pure Storage, EMC, Fusion-io and GreenBytes were bunched up next. X-IO, Violin Memory, Solidfire and Sanbolic/IBM were the tail-enders in this table. Possibly Sanbolic would fare better if it partnered with a different hardware supplier.
It would be good to see Atlantis ILIO in there, and Tintri, Nutanix and others, so we can see how well they all do.
Some suppliers commented on Berger's blog to explain their positioning in his table. We highlight two of them and have shortened their comments.
Rob Commins from Tegile said: "Reader beware: This is not an apples to apples benchmark – Citrix never intended it to be. ... we provided a relatively well balanced solution at 750 desktops.

"We also have an all-flash array, and would in no way hit $41/desktop with our all-flash solution. It is capable of far more desktops, so when normalised to 750 desktops, any all-flash array is going to look very expensive, but at large scale, an all flash array will keep amortising $/desktop to a more attractive number while the Nexenta configuration and other lower-end arrays would have imploded by then.

Michael Richtberg from GreenBytes said: "... The storage tested in this case had fundamentally one load to actually run for the test and that was to handle the write cache events. So the storage did a very basic job and didn't hold the VDI images... With that as the setting, we (GreenBytes) chose to bring what we would recommend for customers. This included running non-required tests to show what "could be" if we were allowed to create a best practice deployment where every user gets a persistent image."
Read Berger's blog and comments to get a better understanding of what's going on. ®