Original URL: https://www.theregister.co.uk/2014/05/01/fuel_cell_tech_to_power_internet_of_stuff/
Inventors: Feast your eyes on fuel cell tech that'll power up Internet of Thingies
Developer kits at the ready, just add water
Posted in Personal Tech, 1st May 2014 09:02 GMT
Pics There was more than just talk on offer at Twickenham's Future World Symposium this week. Although there was much to hear about the so-called internet of the things, the connected home, autonomous systems and connected intelligence, there was also plenty to see - and you'll be happy to know we took pictures.
The event hosts a modest exhibition of mainly UK-based companies showcasing how they are approaching the topics discussed at the symposium.
Perhaps it's no surprise that an event organised by the National Microelectronics Institute (NMI) focuses on the little things that mean a lot. Apart from the odd laptop running bespoke apps, there were plenty of naked circuit boards on display highlighting the development activity in this sector.
As we're in the land of handheld devices and ultimately sensor nodes supporting the "internet of things", keeping power consumption down, or at the very least making it practical, is high on the list here.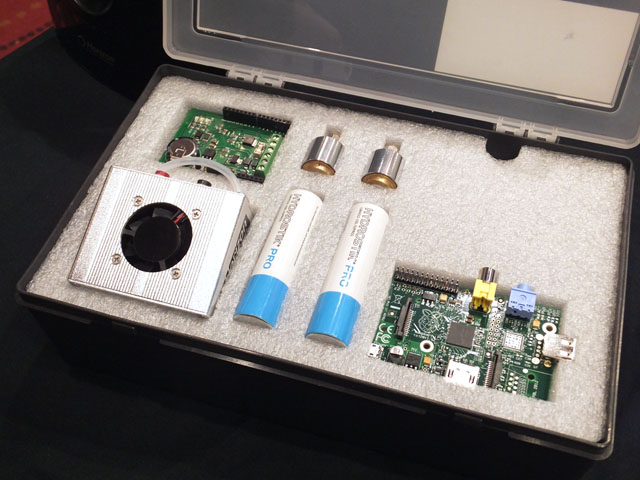 Arcola 30W fuel cell developers kit
London-based outfit Arcola Energy strives to deliver the best of both worlds with its adaptations of hydrogen fuel cell tech. As an integrator, the company covers a broad scale of fuel cell applications from transportation to providing remote power sources. It also caters for developers with its kits, complete with an Arduino Uno board starting at £350 and a higher power capacity Raspberry Pi version for £599. There's mbed compatibility too.
The developer kits offer a very neat way of being able to work out what sort of energy lifespan you can expect from a design and make tweaks to suit. Besides the boards and fuel cell shield electronic controller, you get a refillable 12 litre HydroStik hydride that feeds a shiny metal box complete with fan that is the actual fuel cell.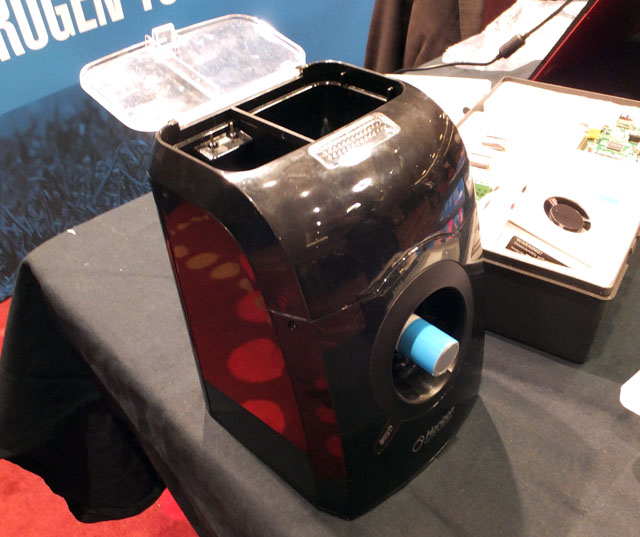 Horizon Hydrofill hydrolyser
The fuel cell determines the overall output of the system. With the Arduino One kit it's 1.5W whereas the R-Pi version delivers a 12W and can increase this to 30W. One thing you'll need to buy as an extra is either a bottle of hydrogen or the Hydrofill hydrolyser that connects to the mains to charge up the HydroStiks - which is an eye-watering £800 direct from Horizon but a more sober £455 from Arcola. What's more those tears will go to waste as you can only fill it up with distilled water. Using a Hydrofill to replenish a HydroStik takes about two hours.
Just add water. Or just the hydrogen
On the stand, the firm's MD, Dr Ben Todd, remarked that the safety training and logistics of getting hydrogen bottles delivered to individuals made the Hydrofill a much more practical option. However, he said, with the schools' science workshop Arcola undertakes, 5ml syringes are filled with hydrogen and used to power a Lego car. This inspiring hands-on renewable energy education session takes about 45 minutes.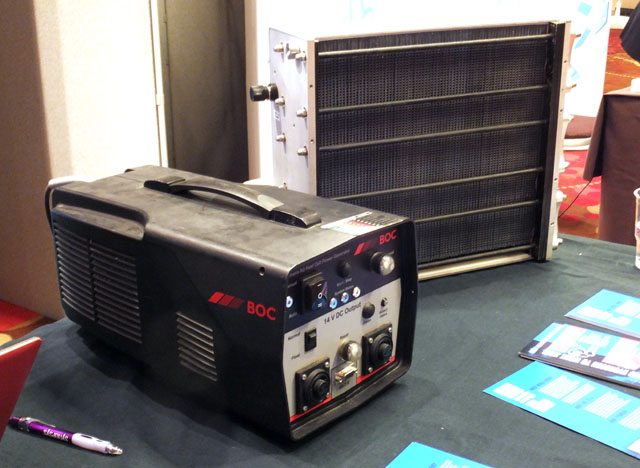 Just add hydrogen: BOC Hymera H2 fuel cell generator – a 3kW fuel cell in the background
Arcola's work extends to universities, which it provides with safe working designs so efficiency experiments can be conducted. "They're not engineers, they're students," says Todd.
Besides green credentials, efficiency is a factor for industrial purposes. Diesel generators don't like working below a full load, and Todd says that if your needs are 500W or less, then fuel cells are competitive.
He outlined a typical scenario where a crate of hydrogen bottles would be installed on a palette alongside a secured fuel cell that would power security cameras or monitoring equipment along with GPS in a remote location and could be left running for 3 months and perhaps longer with a hybrid configuration with the addition of a battery with solar panel. Not only is it quieter and cleaner, Todd reckons it is cheaper too.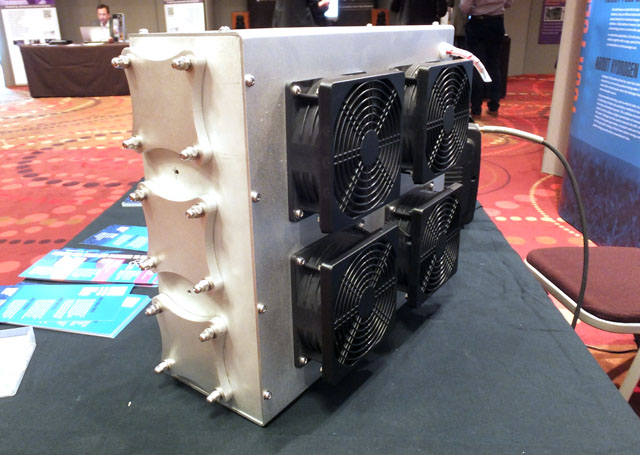 3kW fuel cell for light transportation use – Arcola Energy makes modifications to suit different applications
As for developers, the choice of boards looks like it will be broadening - Todd mentioned that he was approached by Intel at the Future World Symposium. From the discussion it seems likely that Arcola will be adding Intel's Galileo board to its list of developer kits and will be rolling out a more sophisticated educational programme to match its capabilities.
Arcola Energy has also been in talks regarding government funding too and although Todd was unwilling to confirm anything until the ink was dry, he was certainly very cheerful. Where an injection of cash will take the company remains to be seen, but for now though, developers can find Arcola's software for the fuel cell inventor kit on Github. ®