Original URL: https://www.theregister.co.uk/2014/04/30/insync_review/
No, it's not a boy band, it's a biz backup suite: A dig into Druva inSync
Keeping data safe
Posted in Storage, 30th April 2014 09:01 GMT
Review Druva seems to be on a quest right now to get its name seen by as many people as possible; lately I have been bombarded by more inSync banner ads than I can shake a stick at. So it came as no surprise when the Reg asked me to have a look at what the backup and management biz does – and whether it is any good at it.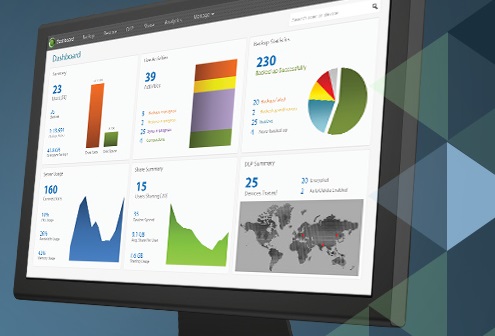 The inSync suite has four components, covering endpoint backup, data loss prevention, file sharing and data governance.
The latter is a set of protection mechanisms that wrap around the others to provide sharing controls, prevent administrators from viewing sensitive data and so on.
You have the option to license the software for an on-premise installation or to use Druva's cloud installation (which, as it happens, is hosted in Amazon's AWS cloud service – have I just invented the term "cloud squared", or maybe "cloud in a cloud" or "CinC"?) Given my penchant for all things cloud, I went for the latter.
Setting it up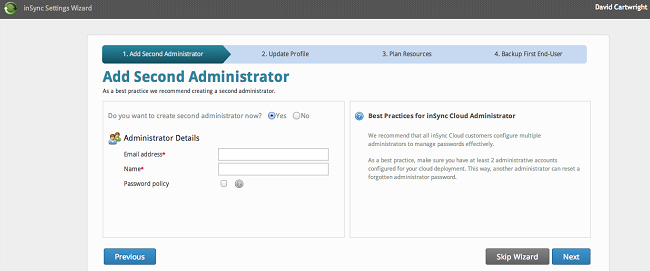 A second set of keys... yes, you do need them (click to enlarge)
Once setup is done and you have received your admin credentials, you walk through the setup wizard. First, you are prompted to create a second admin account, which the service is pretty insistent is an important step.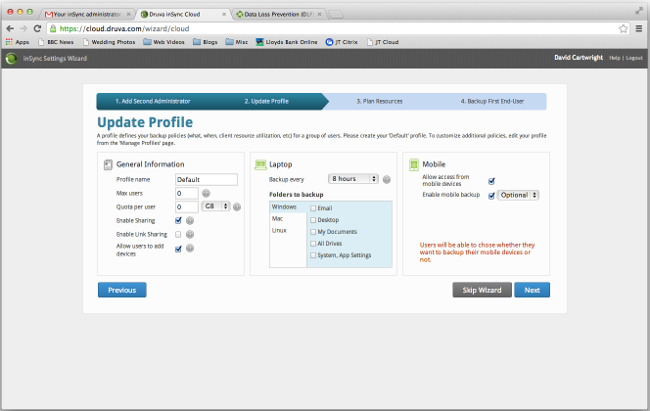 Who are you and what do you want to back up? (click to enlarge)
Next comes the facility to configure the default profile, which has three sections. First is the basic setup, including disk quota for users and some tickboxes that dictate things such as whether users can use file sharing or add devices to the service themselves.
Then there's a section covering default backup schedules and file types for laptop machines; and finally there are a couple of options covering mobile devices.
Click "Next" and you are into resource configuration, where you can set bandwidth and CPU caps for client machines, control some user-access capabilities and set the retention policy for saved data.
Finally you are invited to back up your first end-user; give it the user's name and email and it throws that person instructions on what to do.
To back up a device you will need to download the appropriate client. These are available for Mac OS X, Windows, Ubuntu and CentOS Linux, plus Windows Mobile, Android and iOS mobile devices.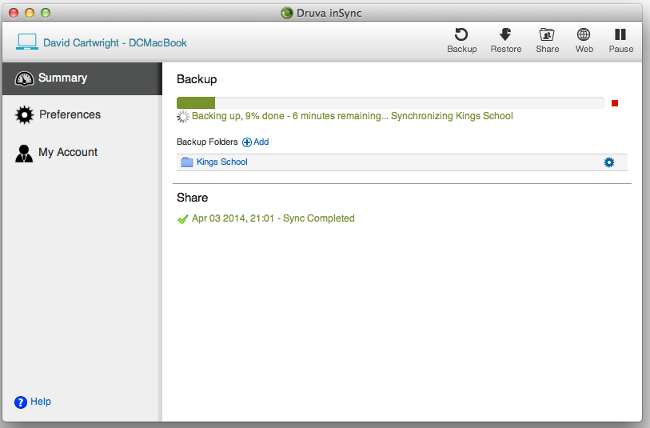 Mac, back and stack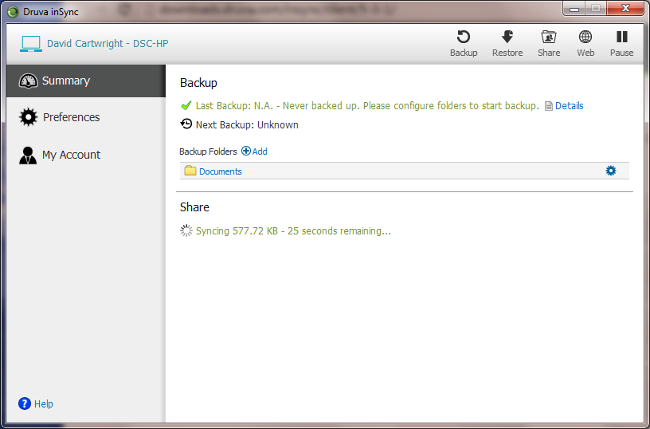 The Windows client... a 45MB download later
I tried the Mac OS, Windows and iPhone flavours. The first two are 45MB downloads, so it took a little while to download them.
The backup client, no matter what the platform, is simplicity itself. The GUI is clear and intuitive (except, perhaps, for the option to remove a folder from the backup set if, like me, you clicked the wrong thing) and it is easy enough to get your folder sets configured and synchronised with the backup server.
Perhaps the only addition I'd like is to see the total folder size beside each item in the GUI, just so you can have a bit of a sanity check about what you have told it to back up.
Restoration games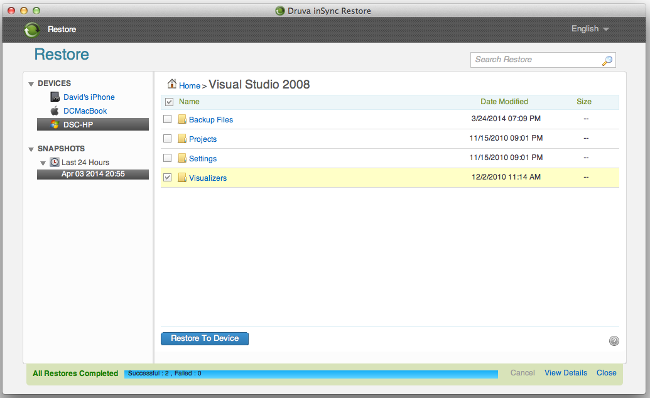 The restore process is just like most backup packages: select the item(s) you want to restore, hit "Go", tell it the destination (the original location, or the device desktop or a custom location) and you're off.
Note, incidentally, that the destination doesn't have to be on the original device. It was quite happy for me to sit at my Mac and tell inSync to restore a file I'd backed up from the Mac onto my PC desktop.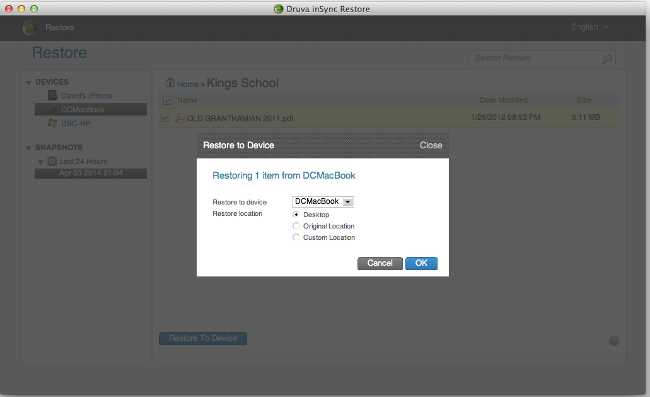 As well as backing up (and restoring) your files from the client machine, you can also share files between devices. You do this through inSync Share, which pops up as a virtual folder on your various devices.

Sharing is caring (click to enlarge)
To share something, drop it in the share folder, give the system the required time to publish it over the internet connection and there it is in the share folder on your other devices.
Similarly when you remove a shared file, it vanishes from sight on your other devices after a few seconds. Nice and easy, and in fact I used it to copy the Windows screenshots over to my Mac while I wrote this.
DLP - You can't be too careful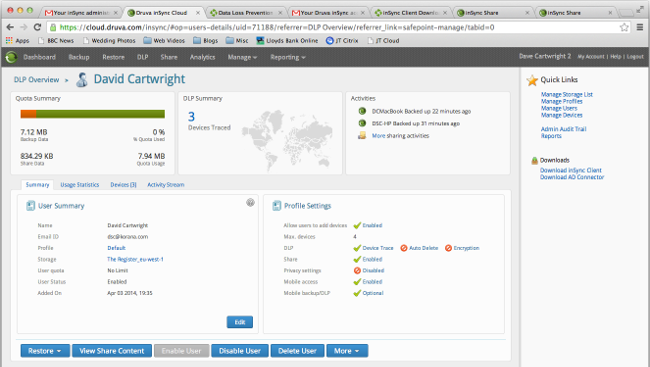 What are your users taking away from the office? (click to enlarge)
Data Loss Prevention is all about enabling you to control what people are allowed to stroll off with on laptops or mobile devices. So you can encrypt files in case of theft (helpfully, you can choose to protect only a subset of items to avoid the processing overhead of encrypting everything), enable remote wiping of data, and also use geolocation to track where a device is in the world.
Nothing groundbreaking about this, of course, as anyone who has ever used Find my iPhone will know, but useful nonetheless.
Looking after your new toy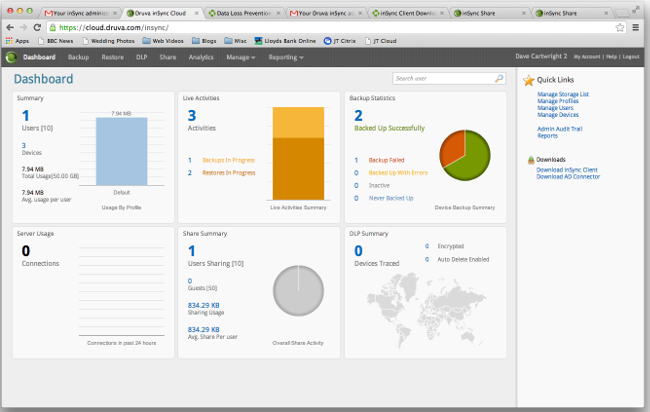 The main dashboard (click to enlarge)
The system is managed from a dashboard-style management screen. The default widgets on the dashboard are pretty straightforward: a summary of the system, plus a list of live activities, backup stats, server usage information, an overview of shared files and a summary of data loss prevention information (back to that in a minute).
The top bar of the screen gives access to the various sections, so let's look at those in order.
First is the Backup tab, which gives a summary of backup stats along with details of devices and when they were last backed up. You can select any device and force an immediate backup (if it is turned on and accessible, of course).
The Restore tab is, as the name implies, where you can initialise file restorations. In Data Loss Prevention you can see the status of your various devices as well as where they are (assuming you have enabled the tracking option in the profile).
The Share tab summarises the items that each client device is sharing, and in the Analytics tab you can run searches and queries on the files in your estate, slicing and dicing by type and size and analysing audit logs of both user and admin activity to see what is being flung around via the service.
In the Manage tab you can control your various storage, users and profiles, along with the elements that we have not mentioned thus far: enterprise integration.
These allow you to integrate inSync with your Active Directory setup (the documentation is comprehensive and easier to follow than many I have come across). You can brand the service with your own look-and-feel, manage certificates to enable device protection on your fleet of iOS devices, manage mass deployment of the client and define your password policy.
I looked recently at Citrix's cloud-based file sharing offering and was reassured to see that the company had considered the requirements of proper enterprises. I got the same feeling with the Manage option in inSync.
Finally there's the Reporting tab, with not a great deal in it, but to be fair the various other tabs contain so much information that the need for any specific reporting tools is limited.
Unexpected errors
All positive thus far, so what is bad about inSync? The answer is not a lot aside from some small issues. One of these was that the service decided to stop accepting the credentials for my primary admin account – maybe this is why it is so insistent that you create a second one during the admin process.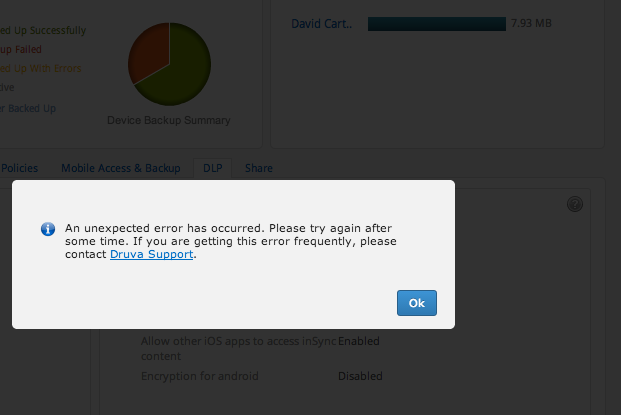 There were a few annoying errors (click to enlarge)
Second, the app on my iPhone would often seem to bug out and drop me back to the main screen. Finally, in the fairly short time I was playing with the service for this review, I had three error messages from the website, including a couple of "An unexpected error has occurred, please try again after some time" messages and one that told me the site was busy and to try again (which I did and all was well once more).
Druva inSync is really quite good. An application appeals to me if it gives me the impression that someone has thought about it properly and implemented it without cutting corners, as this product does.
You can have your own installation or use the cloud, and the only real difference is at the client end where you tick or untick the "Use the cloud" box.
The mobile app lets you easily enable or disable backup activity by the cellular network – hence avoiding hideous bills if you don't have a great data plan or if you are roaming.
The GUI is identical on the Mac and on Windows, and if my dog could read I'm sure she'd be comfortable with its clarity. Also, you can click on things you think you should be able to and you end up where you think you ought to be.
The management portal is very nicely designed and requires hardly any brain cells to find your way around. The developers have thought about enterprise integration, and have dealt with the fact that doing things like Active Directory integration is not simple by providing comprehensive documentation. The various features have clearly been implemented deliberately to complement each other.
The Reg verdict
Pros: Consistent look and feel combines with excellent ease of use. Includes enterprise features, not just small business functions. Good suite of functionality that knits together as it should rather than feeling like lots of different features.
Cons: A few problems with the iOS app and website error messages. ®
Price: Cloud service:
Professional service (25-250 users, no enterprise options such as SSO) - $5 per user per month.
Enterprise service (100-5,000 users, with enterprise features) - $7 per user per month.
Unlimited service: Call for pricing.
On-premise alternative:
Professional - $2.50 per user per month.
Enterprise - $4,50 per user per month.
Unlimited - Call for pricing.
More info: http://www.druva.com/