Original URL: https://www.theregister.co.uk/2014/04/29/quid_a_day_tuesday/
Marauding quid-a-day nosh hack menaces teepee hippie villages
Lentil-busting operation, as fellow posse members resist cake/canteen temptation
Posted in Science, 29th April 2014 10:27 GMT
It's day two of the El Reg Quid-a-Day Nosh Posse's Live Below the Line challenge, so let's see how our intrepid members are getting along on just £1 per day for food.
First up, we haven't had a chance yet to consider Chris Winpenny's complete cornucopious stockpile, some of which we've already seen...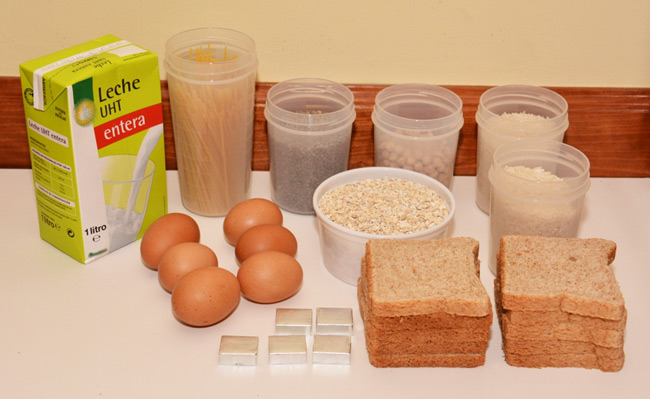 Chris's initial stash last week
...although following a swift hike to the market over the weekend, we can now enjoy more goodness in the form of a vegetative still life: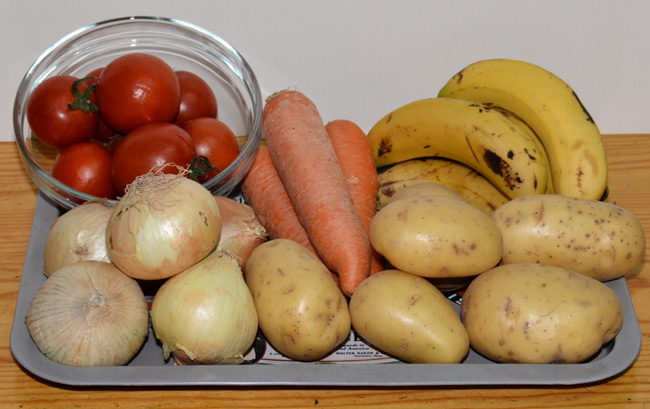 Still life with carrots. A Chris Winpenny original ©2014
Chris's final spend breaks down as follows:
Stock Cubes - 5 - €0.21
Milk - 1L - €0.57
Lentils - 500g - €0.54
Rice - 500g - €0.34
Spaghetti - 250g - €0.18
Eggs - 6 - €0.69
Rolled Oats - 200g - €0.20
Oil - 150ml - €0.30
Bread - 10 slices - €0.30
Tea - 25 bags - €0.46
Spices - 20 tsp - €0.20
Bananas - 700g - €0.35
Potatoes - 1150g - €0.58
Carrots - 500g - €0.25
Onions - 790g - €0.40
Tomatoes - 640g - €0.32
Total - €5.89
Chris's original plan was to have 250g of chickpeas in there, but decided cooking them was "too much faffing about", so he's ditched them in favour of extra lentils.
Describing his shopping foray as "extremely worthwhile", he nonetheless admitted: "Only problem is I've now got over a kilo of surplus bananas which might not last a week, I think they'll save better as celebratory muffins."
I'm sure readers will agree that while the concept of the celebratory banana muffin is not unpleasing, it doesn't have the same ring as "celebratory full English breakfast with extra black pudding", which is where I'm heading on Saturday morning.
We've still got a way to go before that delicious moment, and Chris appears to have his cunning survival plan well thought out. Here's the break-down:
Breakfast
"Will be the same every day, I usually have porridge and a yoghurt but as yoghurt has now become a luxury item I've upped the amount of oats to 40g and added a banana.
"I like a good stodgy porridge so have used 100ml of milk and the same amount of water, microwaved for three to four minutes and left to thicken. Finished off with a cup of tea."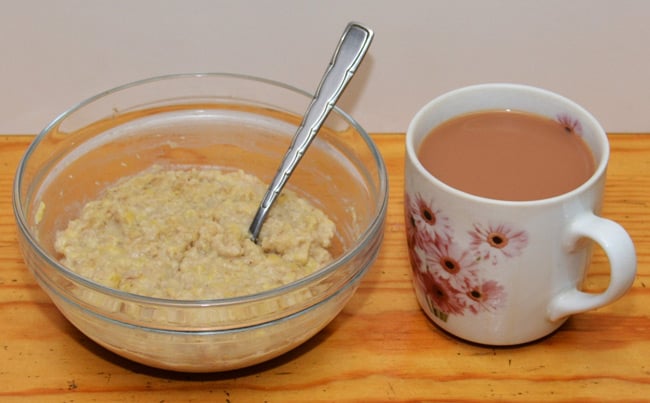 Proper stodge, plus tea
Lunch
"Lentils will stretch to two days, Monday and Wednesday. Done with a large carrot, a couple of onions, a stockcube, oil and spices. Simple and filling, easy to take to the canteen and warm up.
"Spaghetti with tomato sauce will be on Tuesday, again easy for work. Huevos a la Cubana, plenty of rice, a poached egg and tomato sauce for Thursday and Friday."
Dinner
"Evenings will be a hearty potato and carrot soup concoction, dull but given the short notice will be more than adequate.
"Supper, poached egg on toast for four days and toast and grated tomato for another."
Throw "copious quantities of tea" into the mix, and it appears Chris has got a handle on the challenge.
Meanwhile, Neil fights off temptations left, right and centre
Also on top of the challenge is Neil Barnes, whose breakfast yesterday comprised "homebrew muesli (oats, sultanas, desiccated coconut and milk) and a couple of slices of homemade sourdough bread, rounded off with a cup of Lapsang* when I got to work".
Neil's missus Anita, who's also living below the line, kicked off her day with "a slice of toast and a cup of Lapsang", before tucking into "a tomato and some of the sprouts for lunch".
Quite what Neil had for lunch we know not, but he did say someone had rather unkindly brought a cake into work. I earn a crust from the safety of my own home, so am mercifully spared such temptations. I applaud my fellow team members for their fortitude - in Chris's case in the face of terrible deprivation. He told us last week: "I'll be going to a client and this client has a canteen. I like canteens. No, more than that, I really, really like canteens."
Back at the Barnes' canteen, Neil and Anita last night enjoyed a curried chickpea concoction with a little rice – total cost (and Anita had two helpings) £0.92.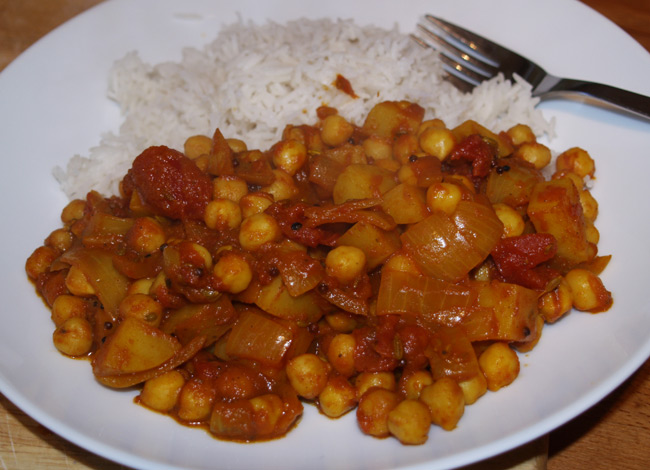 That'll be 92p, sir. Would you like to see the Lapsang Souchong list?
Looking good. I must confess I'm a little jealous of all this variety, having taken the chickpea stew/rice mono-menu line of attack. Yesterday I committed 1kg of chickpeas to the steel pot, and here's the finished product after around three hours atop the fire: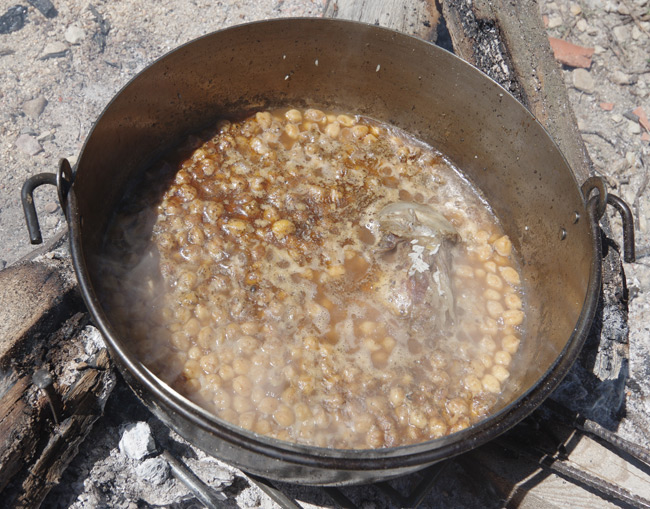 Hmmmm... just a soupçon of the great outdoors
The result's pretty tasty, with an agreeable hint of oak smoke and perhaps just a soupçon of springtime country air and a slight bouquet of roast olive oil.
To complement the stew, I've got 2kg of long-grain rice for the week. That's a whopping 400g per day, and here's what 200g looked like at the dinner table yesterday: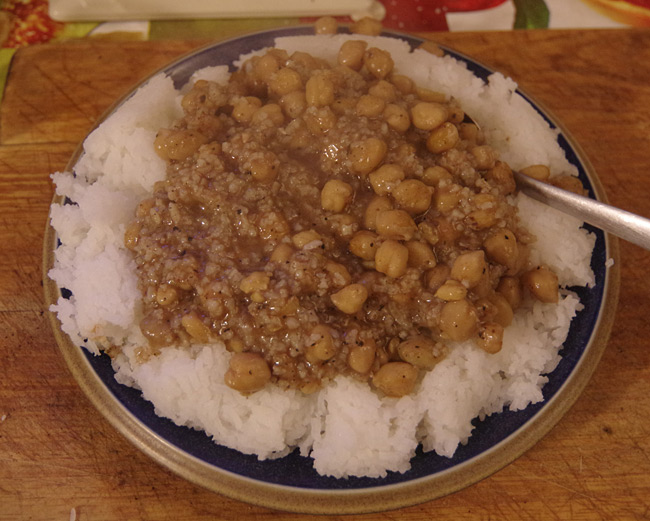 Way too much rice
That's far too much rice, and half of what you see above is now sitting in the kitchen while I ponder a creative culinary use for it that doesn't involve spending any money.
In hindsight, I could have used some my rice budget on lentils, but there's one slight problem: I can't stand the bloody things. Don't get me wrong, some of my best friends eat lentils. Actually, that's not true. I have friends who know people who may at one time have eaten lentils.
It's a not an issue of taste, it's rather that every time I'm faced with a lentil dish I have the overwhelming desire to torch a teepee village, driving screaming hippies into the open where they can be peppered with lard-filled paintball pellets.
On that note, I'm off to the woods with the mutt pack to forage for mushrooms, and God help any alternative-lifestyle yurt settlements we stumble across.
While I'm culinarily cleansing the mountainside, please show your support for the nosh posse by making a donation to Malaria No More UK – the beneficiary of all this tomfoolery.
As of this morning, we'd raised a healthy £450, but surely we can do better? ®
Bootnote
* The tea aficionados out there will recall we've previously called Neil to task on this Lapsang Souchong business. Mate, get yourself some proper thousand-bags-for-a-tenner industrial brew, and enough of this pseudo-cha nonsense.