Original URL: https://www.theregister.co.uk/2014/04/17/big_blue_storage_takes_a_bath/
El Reg drills into IBM: The storage biz's got that sinking feeling
How long before Blue Big HQ pulls the plug on the whole thing?
Posted in The Channel, 17th April 2014 17:04 GMT
Analysis With the tremendous noise of chickens coming home to roost, IBM's first quarter storage revenues carried on crashing down with depressed revenues.
We covered IBM's overall results here and pointed out that IBM's poor hardware product-based revenues were dragging the overall results down. Within that segment, storage results were quite dire.
Revenues from IBM's Systems and Technology unit (STG) were $2.39bn for the quarter, down 23 per cent compared to Q1 2013.
The chart shows that this is the steepest Q1 decline for some years;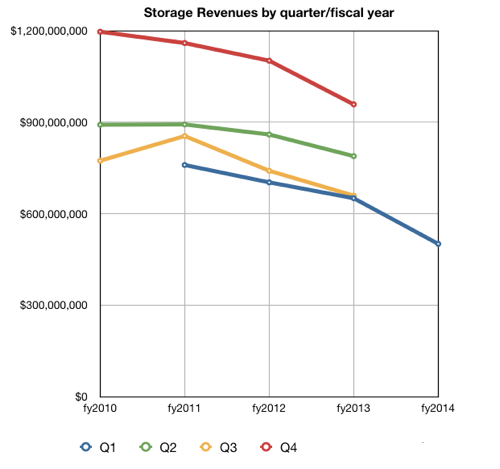 Analyst outfit Stifel Nicolaus' MD, Aaron Rakers, pointed out: "IBM's storage results have posted yr/yr declines for the past ten consecutive quarters."
In a series of prepared remarks Martin Schroeter, IBM's senior veep and CFO, Finance and Enterprise Transformation, said: "Looking at hardware, as expected, the combination of secular and cyclical challenges continued."
Secular changes are the long-term ones, while cyclical changes refer to quarter-to-quarter differences.
Then he said: "Our flash solutions contributed growth again this quarter, however we saw substantial weakness in high-end storage."
That means the DS8000, primarily; IBM's monolithic array that competes with EMC's VMAX and Hitachi/HDS' VSP (which is OEM'd for Hitachi by HP as the XP).
Rakers had this to say about the flash revenues: "Gartner estimates a $46.7m revenue contribution from FlashSystem during the December quarter, up from $37.1m in the prior quarter. This compares to EMC's XtremIO at $49.5m (albeit including beta customer revenue recognition), and NetApp's EF540 at $14.6m in the December quarter."
That flash revenue is a very small part of STG's storage revenues.
IBM has previously committed to spending a billion dollars to boost its flash business.
Schroeter continued: "We are selling our industry standard server business to Lenovo. We are repositioning Power and building an ecosystem around OpenPOWER, and we've taken actions across Power and Storage to right-size the business to the market dynamics ... we took actions to align our structure to the demand profile we see."
So Big Blue is right-sizing its storage business, meaning possible or probable headcount reductions and product line shrinkage.
There's no prospect, in IBM's implied view, of growth in any of its storage product categories in the short term, sufficient to get storage revenues overall growing.
It's not just cuts in storage, though. Schroeter said: "Our focus for STG in 2014 is to stabilise the profit base. The repositioning of the Power platform, the announcement of POWER8, new announcements in storage, and the right-sizing of the business will all contribute, as we move through the rest of the year. This, together with the divestiture of System x, will result in a smaller and more profitable hardware business going forward."
There are going to be "new announcements in storage ... through the rest of the year."
He emphasised that "IBM will remain a leader in high-performance and high-end systems, in storage and in cognitive computing."
This, we think, with reference to storage, is dubious. We wouldn't really class IBM as a leader in storage, not with its history of declining revenues.
IBM's results announcement had an unintended comical aspect in one sentence: "Revenues from the company's growth markets decreased 11 per cent." Um, did you mean to say growth market, as in singular?
Tivoli, IBM's systems and network management framework software, was a brighter spot, with Schroeter saying: "Tivoli grew revenue 7 percent. This quarter we had growth in all three of Tivoli's product segments, systems management, storage, and security. Security grew double digits for the sixth consecutive quarter."
The 451 group's Simon Robinson tweeted:
IBM's storage struggles will inevitably lead to speculation about whether it will also rationalize its storage portfolio.

— simon robinson (@simonrob451) April 17, 2014
Of course, "rationalise" means "sell it off", like the x86 server business.
IBM"s storage business used to be a billion-dollar-a-quarter business. Now it's half that. How low does it have to go before IBM CEO Ginni Rometty decides enough is enough and there's no realistic prospect of salvation? ®