Original URL: https://www.theregister.co.uk/2014/04/17/81_mega_update_upsetting_windows_phone_users/
Oh no, Joe: WinPhone users already griping over 8.1 mega-update
Hang on. Which bit of Developer Preview don't you understand?
Posted in Software, 17th April 2014 12:21 GMT
Analysis Microsoft's private viewing of Windows Phone 8.1 has been opened to all comers*, many of whom don't like what they see.
Despite the modest increment, Windows Phone 8.1 is the biggest update in Windows Phone's history - and is possibly the most extensive update made to any smartphone platform. Features such as the Cortana voice assistant and notifications management were well received after they were revealed at Microsoft's Build conference this month, and the Preview release was rolled out to developers on Monday.
However, a thread of gripes on user site WPCentral has reached almost 1,000 comments in three days, and similar sentiment is expressed on the Reddit subforum.
A valiant attempt to list the positives users do like has mustered around 30 comments. The general complaint with Windows Phone 8.1 is that Microsoft is moving away from the original concept of "Hubs" which aggregated various services and apps - and is making Windows Phone it more like Android. Or "WINDROID", as one griper calls it.
Microsoft made getting hold of the Developer Preview of 8.1, which existing users won't get until the summer, very easy. Perhaps too easy, as anyone with a Microsoft Live account can download the Preview after a couple of clicks. So something that clearly isn't quite ready for prime time and that shouldn't be used as a primary device (the DP burns through the battery, for example, and gets keys confused) is being judged as the finished product.
That said, the move away from Hubs and has taken the elegance and simplicity away from the WP design. Some functionality will be restored, phone chief Microsoft's Joe Belfiore promised on Twitter - indicating that this is a work in progress.
@sarang20067 settings still in a fixed, "designed" order by likely use. So not TOTALLY arbitrary but I hear you on wanting more ctl...

— joebelfiore (@joebelfiore) April 12, 2014
The gripes
Here's a roundup of the issues, corroborated by our own use of the Preview release.
When Microsoft designed Windows Phone in late 2010, it sought to eliminate clutter, and allow users to "get in and get out" more quickly than with an iPhone or Android phone.
The idea of Hubs were a large part of this, and these aggregated services and related apps. So the Messaging Hub handled not just SMS but Facebook chat too. A Games hub clustered together games, so they didn't clog up the applications list. Music and Photos hubs gathered together various apps related to music (including radio and podcasts) and photo-editing. The People hub allowed users to reply to Tweets or Facebook posts.
In fact, Microsoft encouraged WP developers to use its own Hubs as the template for designing their own apps: start with a "Panorama" view, and use panels...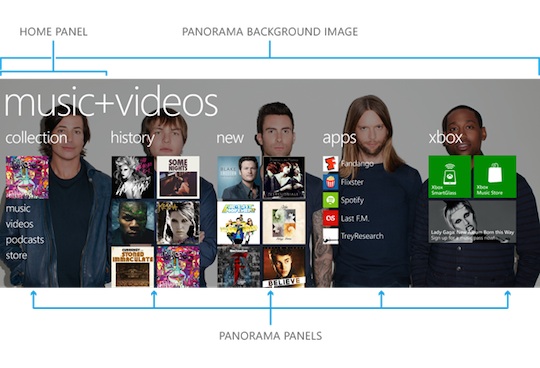 Microsoft encouraged developers to design apps like its own Hubs. But it's de-Hubbing Windows Phone.
For the 8.1 Developer Preview, much of this has been stripped out. Games appear in the apps list; Facebook has been stripped out of the Messaging hub and the now redundant "Me" Tile (a kind of personal hub - although you can create one for any contact). You'll be redirected to a standalone application to comment on or Like a Facebook post. The Photo Hub drops you straight into an "all images" view. The Music app has received the most complaints and Belfiore has already hinted it will be rewritten.
Some of these changes will result in long-term advantages that we can't see just yet. Functionality has been moved from the system to the application level, which should mean updates will be much more frequent. And that's needed, as some of this functionality has barely changed; the Hub hasn't really added any new social networks since launch in 2010, and newer social networks like Vine, Instagram, WhatsApp and Tumblr aren't integrated. But it looks like the promise of deep, system-level integration will never now be fulfilled.
Our night on the tiles
Microsoft had planned to include new Notifications management in the last major update ("Apollo" or Windows Phone 8.1) in 2012, but it wasn't ready in time. It's here in 8.1 and has been positively received. This is a pragmatic acknowledgement that Live Tiles aren't ideal as a notification mechanism. But somewhat surprisingly the Tiles haven't been modernised either - they still display one calendar appointment or the most recent email, for example.
The new Calendar deprecates Agenda and Tasks
The redesigned Calendar in Windows Phone 8.1 is a big improvement for basic appointment handling, but it's lost the useful Agenda view completely, and relegated Tasks to a submenu.
That's because horizontal swipe gestures now scroll temporally through the calendar, rather than taking you different function-based panels. Users of Microsoft's own webmail and millions of Exchange business users make heavy use of Tasks. Microsoft hasn't communicated what the plan is supposed to be yet... Abandon Tasks for OneNote? Wait for a Tasks app?
Change for the sake of it?
Any change to established working practices is bound to bring grumbles, but some design decisions are puzzling users. Text editing has changed subtly, as the method by which you manoeuvre the "cursor" (what old Windows programmers know is really a "caret", not a "cursor") into place has changed. With this one, your thumb covers up where you want the cursor to go.
The People Hub takes a step back by losing the useful "Recent" pane - I found this a very useful memory jogger. Clicking an entry in the phone history list now calls them straight back - rather than bringing up their contact card. (You must click a fiddly icon to bring this up). There's now a rather me-too-ish "Speed Dial" - a job performed by Tiles or Groups now. Many users have seen their comma key replaced with a full stop.
Calling the update "Windroid" is pretty unfair, but the cumulative impression of these changes is that it's marginally less intuitive. And this kind of futzing contrasts with serious inactivity elsewhere. So it's disappointing to find that IMAP messages can't be flagged (it's probably the only email client in the world now that doesn't support this). By now you should be able to choose from which email account you send or respond to an email - as you can on the major platforms.
Hopefully Microsoft gets its "listening ears" on.
From reading through the many quite justified complaints you'd get the impression that this was a consumer release of Windows Phone. It isn't, it's a "Preview", and for good reason.
Microsoft hasn't released this because it loves Apple fanbois the most and wants to make them happy. It's released it so application developers can learn and incorporate the new APIs, and tweak their applications as they see fit.
So it's buggy. As you'd expect.
Bugs I have encountered include the sad death of the Speakerphone (this now invokes Mute - but since Mute still invokes Mute, it means we've lost the Speakerphone), while others report an unresponsive power button.
I also found the on-device search pretty unusable. What happens now is that the Bing button performs its Internet searches (web, local, video and images) just as it does in 8.0. You must wait for that to complete, and only then can you perform the on-device search by swiping left. That can take some time. It's a pretty awful implementation.
And power management is very beta - with drops of between 20 and 50 per cent over 8.0 widely reported. All in all, it's not an end user release - but then it shouldn't be considered one really.
Microsoft has itself to blame here, because it wanted to lower the bar to encourage developers. Only it lowered the bar so low, an idiot can step over it. Cue outraged "consumers". It would have been more sensible to release it via MSDN or require some kind of accreditation. ®
* Anyone who has signed up for a Microsoft Live account, including all manner of fanbois...