Original URL: https://www.theregister.co.uk/2014/04/07/review_samsung_galaxy_note_pro_12_2/
Samsung's thumb-achingly ENORMO Galaxy Note Pro 12.2
When 10 inches just isn't enough to satisfy
Posted in Personal Tech, 7th April 2014 12:05 GMT
Review As if Samsung's Galaxy range of tablets wasn't broad enough with its plethora of Tab and Note machines in various screen sizes, the company has added a new subgroup: the Galaxy Pro.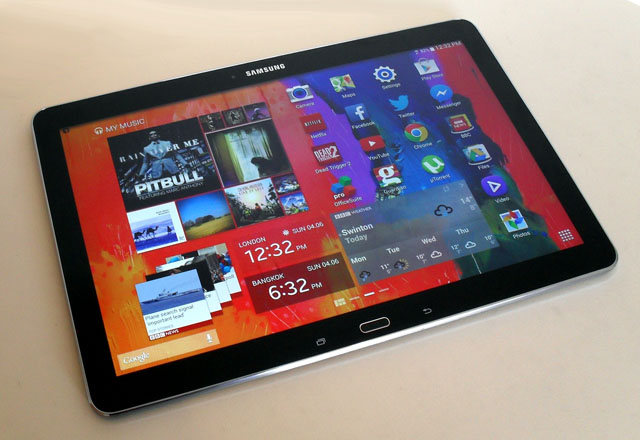 Samsung Galaxy Note Pro 12.2
The line-up consists of both Note and Tab machines – the latter minus the S Pen features. The Tab Pros are available with 8.4-, 10.1- and 12.2-inch displays with the Note Pro currently in 12.2-inch guise. All are available with optional 3G/LTE connectivity.
It's the daddy of the range, the £650 Note Pro 12.2, that's taking up a not inconsiderable amount of space on my desk as I write this and prompts one to ask: does the world really need an Android tablet this big?
So what is it that makes these machines "Pro", other than a desire by the Samsung marketing department to match Apple's Air?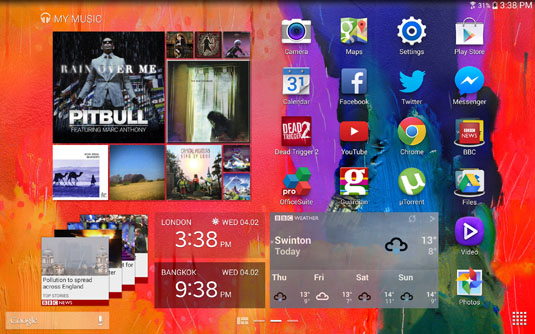 TouchWiz UI homescreen has plenty of room for apps and widgets – click for a larger image
In short, you get some preloaded business-oriented software like Samsung's KNOX security package, a remote Windows PC access app called Remote PC, Hancom Office and e-Meeting, a serverless conference app for collaborative business hijinks. Whether Samsung's Pro software package will help its tablets loosen the iPad's grip on the business fondleslab market remains to be seen, but clearly that's the idea.
For the average punter though, I think the Pro 12.2 still has something rather concrete to offer. My thinking here is that as phones get bigger so surely should tablets. Speaking personally, my 5-inch Nexus 5 has rendered my Nexus 7 almost surplus to requirements but this new big Samsung has got me back into the habit of using a tablet big time.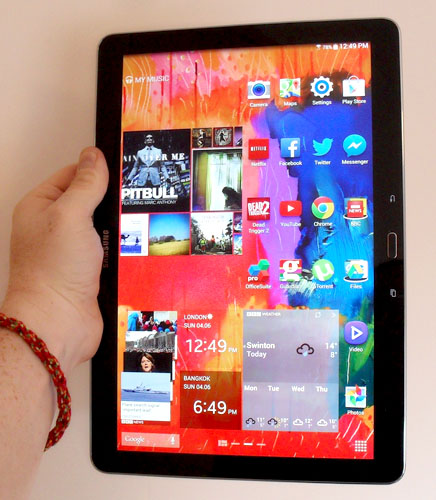 You can hold it in one hand... for a short while
Despite the large screen, it's not actually that massive a device. OK, at 753g (266g more than the new 4th generation Galaxy Tab 10.1) it's no lightweight, and at 295.5 x 204 x 8mm, it's not what you'd call small. Still, you quickly get used to it and unless you have a conventional 10-inch Android tablet or an iPad to hand for comparison, you don't notice the extra size and weight.
The heft does rather preclude single-handed use, but if you plan on holding your tablet in one hand you probably aren't set on buying a 10-incher, let alone anything bigger.
What is continually obvious though is how much screen you have in front of you. My back-of-an-envelope calculations lead me to believe that a 12.2-inch screen has about 45 per cent more surface area than a 10-inch panel.
Landscape architecture
That extra acreage makes reading in landscape mode a boon as most ebook reader apps show a proper two-page layout, which I much prefer to the one-at-a-time view. Web browsing and video viewing, too, are hugely immersive and pleasurable experiences. I've had the Pro running for hours on end streaming content from iPlayer and Netflix and I'll admit, I've never used a tablet so intensively.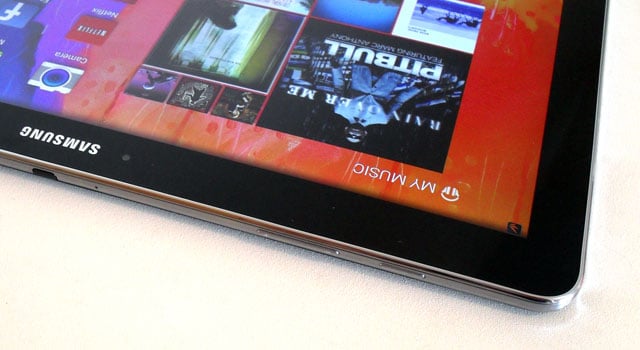 Power, volume and IR blaster details
And it's not a half-bad screen either. The Super Clear LCD display has a resolution of 2,560 x 1,600, so it's plenty crisp enough even if the resultant pix density of 247ppi can't match the 299ppi of its Samsung stablemate, the Nexus 10. Just for reference, the iPad Air's 9.7-inch screen boasts a pixel density of 264ppi.
The small fly in the ointment is that the Pro 12.2 uses a PenTile subpixel array which means it's very bright but sacrifices absolute technical sharpness in the name of intensity. Frankly, the difference between the three devices listed is nigh on imperceptible to the naked eye.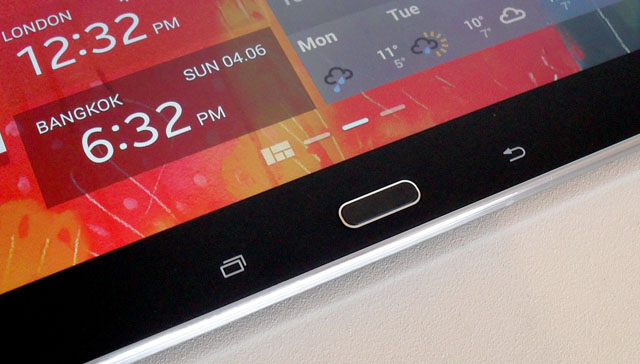 Hardware home button, ahoy!
Thankfully, the Pro 12.2's display is also very colourful and the viewing angles are excellent. You can lay it down flat on a table and easily read the screen no matter what angle you look at it, an essential strength for a big tablet. In fact, the only downside I can find to the Pro 12.2's display is that its size makes gaming just a wee bit of a challenge. It's not impossible – I played a good few hours of Dead Trigger 2 on it – but you need to give some thought to how you hold it and where you put your fingers.
Screen aside, the design of the Pro 12.2 is all very Samsung as below it you'll notice the traditional physical Home button flanked by virtual controls for Back and Recent Apps. The drawback with this arrangement is that the buttons don't move when the screen rotates to portrait. The plus side is that you don't sacrifice any display space to on-screen controls.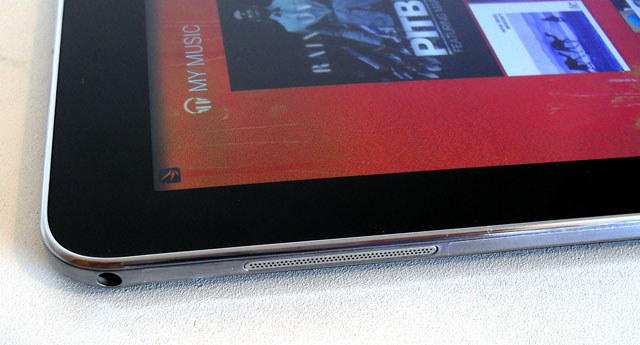 Speaker and 3.5mm audio jack detail
I'll forgive the Pro 12.2 this rather dated layout more easily than other Galaxy devices because it quite clearly is not a device intended for more than occasional use in portrait.
Elsewhere everything is seems in order. The Pro's chassis is a very solid affair with not the slightest hint of flex no matter how much twist you apply and the stereo speakers are not only loud and musically competent but are built into the upper third of each edge, in a place your hands don't end up when you are holding the thing. The chrome band that surrounds the device looks pretty smart while the back is made from faux leather-effect plastic that's soft and pleasant to the touch.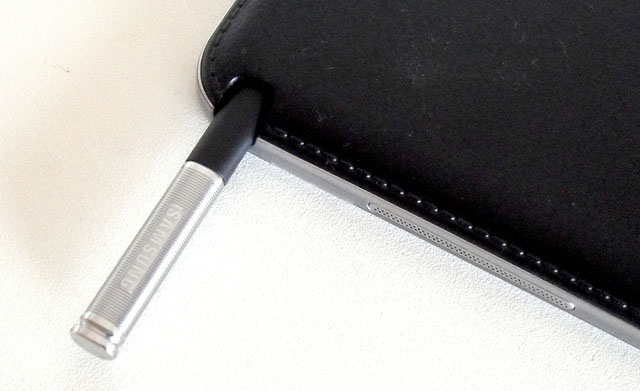 The Galaxy Note S Pen gets tucked away in the body
As for the ports and controls, the micro USB 3.0, S Pen slot and covered MicroSD memory card on the right, with the 3.5mm audio on the left and volume, power and IR transmitter on the top. All in all, thoughtfully placed leaving the bottom edge clear so you can rest the Pro in your lap no matter what you've got plugged into it.
Powering the show is Samsung's own Exynos 5 Octa 5420 chipset, which consists of two chips: one quad-core 1.9 GHz Cortex-A15 and one quad-core 1.3 GHz Cortex-A7 with a Mali-T628 MP6 graphics processor and 3GB of RAM. If you buy a 3G or LTE Pro 12.2 you get a Snapdragon 800 chipset. The idea behind the two-chip rig is that the more powerful one does the heavy lifting while the other less power-hungry chip does the everyday household chores.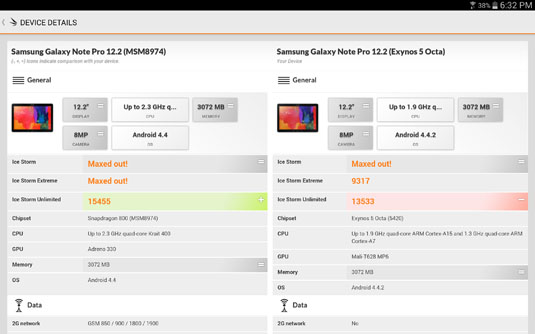 3DMark: Snapdragon vs Exynos Pro 12.2 – click for a larger image
This is called big.LITTLE Processing in ARM speak. The only comparatively weak spot in the chipset is the GPU, which still can't match the performance of the latest Adreno components. Subjected to Futuremark's cross-platform 3DMark test, the Exynos Pro 12.2 scored 13,533 compared to 15,544 for the Qualcomm-powered 3G version. Of course in the real world that 2,000-odd difference is bordering on the meaningless.
Pen pal
The balance between performance and battery life is hard to fault as the Pro turns in some impressive general benchmark numbers. AnTuTu returned a score of around 34,500 - but the Galaxy Note Pro 12.2 can still easily run for two days on a full charge of its 9,500mAh battery.
Just for grins I tested the Pro's battery by running it from full to flat looping a 1080p MP4 video file and then doing the same streaming content from Netflix and it managed nine hours 50 minutes and six hours 20 minutes, respectively.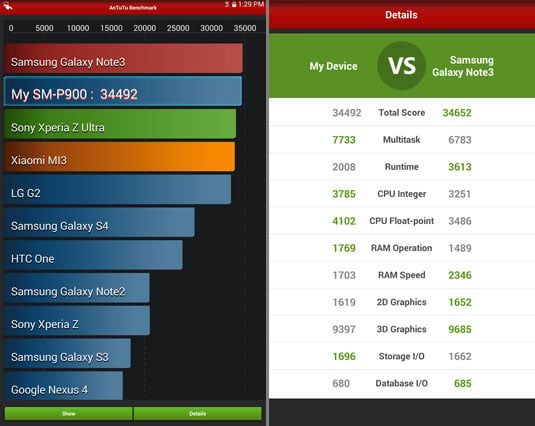 AnTuTu score with Galaxy Note Pro 12.2 and Note 3 compared
Underneath that huge display sits a pretty solid raft of supporting hardware including 32GB of storage, dual band 802.11ac Wi-Fi and Bluetooth 4.0. The cameras are above par for a tablet, too. The 8Mp main camera has an LED flash and takes a more than decent image while the 2Mp webcam can't really be knocked either. The micro USB port supports On-The-Go hosting and MHL streaming though given the Pro's business credentials, a dedicated HDMI port would have been welcome.
This being a Samsung device, the Android 4.4.2 user interface is pretty far from stock and includes lashings of extra functionality, from the Wacom S Pen interface to the likes of Smart Screen, which pauses video playback when you look away.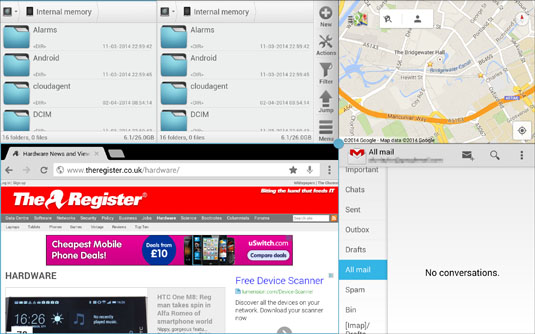 With four windows open there's still enough space for it to be practical – click for a larger image
Regular readers of my scribblings here on El Reg will know that I'm hardly the world's biggest fan of Samsung's TouchWizardry. It's just a bit too much relish for my operating system burger, thanks all the same. But with so much screen real estate to romp about in it seems more at home here than on a 5- or even 8-inch device.
The most obvious benefit is the capacity to run up to four apps in windows. On a screen this big you can clearly see what's in each panel and a handy central locating pin means you can alter the size of all four windows in one deft move. The list of apps you can run in-window is a hardly overflowing – Facebook Messenger and Netflix are annoying omissions – but with the likes of Chrome, Google Maps, Solid Explorer and Gmail covered, it certainly has its uses.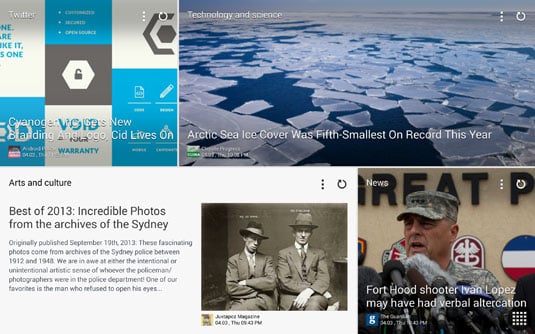 Magazine UI powered by FlipBoard – click for a larger image
Another bespoke feature is the Magazine UI that populates one home screen with up to four Flipboard-powered widgets. The scrollable widgets take up the entire screen, even covering the status bar, and are pretty handy though your mileage will depend on how much truck you have with Flipboard to start with.
If three feeds are enough you can use the fourth box to access Samsung's WatchON TV/remote app or the Pro's gallery, video or S Planner applications, amongst others. Personally I didn't find much use for this last feature but your experience may differ. One final comment, I was rather surprised to discover that Samsung hasn't knocked up a folio-style stand/keyboard for the Pro 12.2. It's a device that cries out for one and given the price, it wouldn't hurt to bundle one as standard.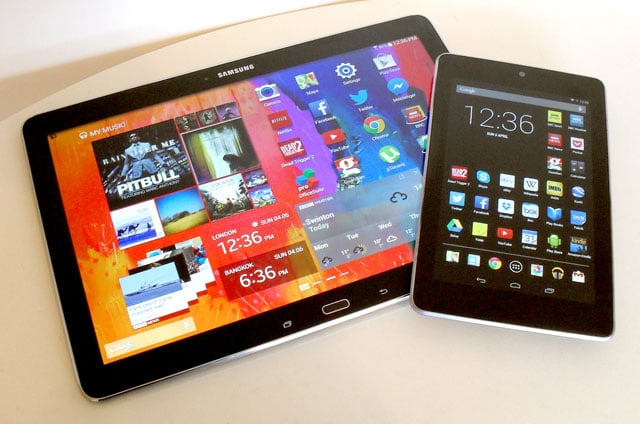 The big picture: side by side with Google Nexus 7
The Reg Verdict
Granted the Galaxy Note Pro 12.2 is a bit on the heavy side, but it's not really all that noticeably larger and heavier than your average 10-inch Android slab and the extra screen acreage does make for a more immersive, flexible and enjoyable user experience.
Sammy's devotion to hardware buttons makes it a strange device to use in portrait mode but I struggle to think of a good reason why you would want to - even as an e-reader it works better in landscape with two pages on show.
At around £650, the Note Pro is not a cheap device. Sony's new Xperia Z2 10-inch tablet costs £250 less though, to be fair, the more comparable Tab Pro 12.2 can be yours for around £550. Still, you do get an awful lot of tablet for your money and the long battery life will be an appealing feature if you are a dedicated slab fondler. Moreover, the pre-loaded business software could find favour among corporates types or those fated to BYOD. ®