Original URL: https://www.theregister.co.uk/2014/04/07/big_data_on_the_desktop/
LaCie bigs up 2big, 5big, 8big... WHOMP: Lands big data on your desk
What happens in Vegas...
Posted in Storage, 7th April 2014 11:06 GMT
NAB Seagate sub LaCie has announced 2big, 5big and 8big products using 6TB disks and Thunderbolt connects for stonking big fat and fast performance.
That's 12TB in the 2-drive 2big, 30TB in the 5big and 48TB in the 8big rackmount shelf. LaCie says the 8big is its first rackmount Thunderbolt 2 connect product.
The 2big transfers data at up to 420MB/sec with its two Thunderbolt 2 ports. It can use USB 3.0 for more everyday connectivity. It has a hardware RAID controller and a pair of hot-swap 6TB Seagate drives spinning at 7,200rpm. The RAID provides 0 (striping) and 1 (mirroring) levels with a JBOD facility allowing the two disks to be used independently.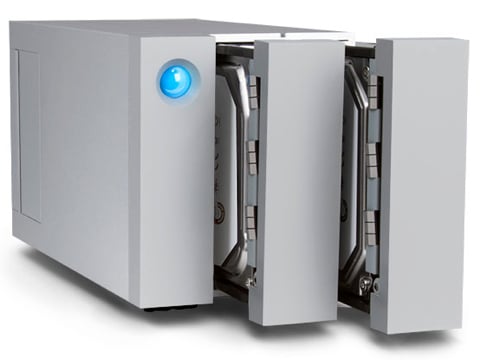 LaCie 12TB 2big
LaCie suggests up to five 2bigs can be Thunderbolt 2 daisy-chained with a 4K display to a MacPro to create a fabulous 4K video workstation with 72TB of raw storage capacity.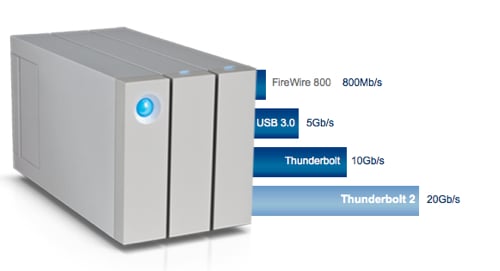 Connectivity speed comparisons and 2big box
The 30TB 5big is, well … bigger, and LaCie says it can transfer data at up to 1,050MB/sec and has hardware RAID 0, 1, 5 and 6, and the JBOD facility is present as well. There are dual Thunderbolt 2 ports again. The spec sheet says users can "Reduce power consumption by pressing the front button to spin down disks without disrupting daisy chain transfers (short press initiates power-saving mode; long press turns product off completely)."
Note that hot-swapping these drives with a RAID 0 configuration will cause data loss - ouch.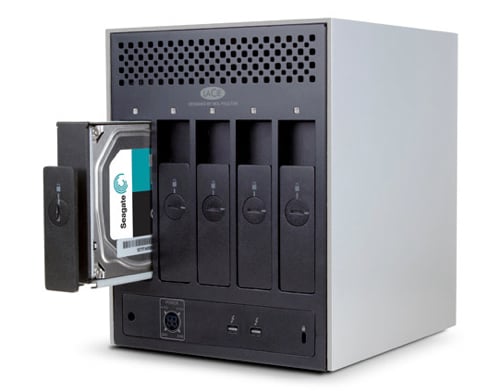 LaCie 5big
Connect five of these suckers to a MacPro with a 4K display and you have a cool 150TB of capacity at your disposal. Of course you'll have to be well-heeled to afford such a set-up; it isn't going to be cheap.
The 1u rackmount 8big will cost even more. LaCie says forget Fibre Channel, Thunderbolt 2 is better, and the box can deliver up to 1,330MB/sec: "unlike Fibre Channel, Thunderbolt 2 is truly a plug and play and single-vendor solution. No port mapping or multipathing is required to achieve this performance. Thunderbolt technology even supports optical cables, which means you could connect a LaCie 8big Rack to a computer located up to 60 metres (197 feet) away."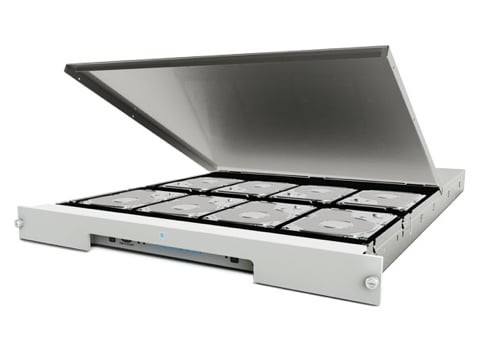 LaCie 48TB, Thunderbolt 2 8big
There's a hardware RAID controller again, with levels 0, 1, 5, 6, 10 and the JBOD setup option. LaCie's brochure drools over all this, and why not:
With this kind of speed, videographers can work directly from RAW files in Apple Final Cut Pro or Adobe Premiere, get maximum quality from footage, and see edits in real time. No need to first convert footage into a lower resolution. Avid Pro Tools users will notice incredibly smooth audio mixing, even when working with hundreds of tracks simultaneously. Professional photography agencies and other Adobe Lightroom or Apple Aperture users can browse through archived libraries of thousands of RAW and edited images, with zero lag.
There are a pair of power supply units for reliability and three redundant hot-swap fans. A 36U rackful of 8bigs provides 1.7PB of raw capacity – big data by any measure. Can a Mac Pro use all of them? More copywriter drool says yes, you can:
You could connect a total of 36 LaCie 8big Racks via the six Thunderbolt 2 ports on a single Mac Pro®, enabling more than 1.7PB (1728TB) and more than 3000MB/s – in a mere 36U. Compared with Fibre Channel solutions, the LaCie 8big Rack delivers outstanding scalability in half the space, a much simpler setup, and unprecedented performance.
LaCie provides RAID Manager software to set the RAID levels up and supports 4-disk RAID 5 to 8-disk RAID 6 migration. RAID 0 is limited to just two disks by the way.
There's a three-year warranty and AES 256-bit software encryption for the 8big.
All three of these LaCie products will be available this quarter and prices are not yet being revealed. See them at the NAB show if you're in Las Vegas: it runs from 7 to 10 April. ®