Original URL: https://www.theregister.co.uk/2014/04/03/saturn_moon_enceladus_ocean_water_life/
HIDDEN OCEAN of LIVING SOUP found on Enceladus, moon of Saturn
It's a big 'un, and it may be home to living critters
Posted in Science, 3rd April 2014 22:33 GMT
Pics Analysis of the gravity field of Saturn's moon Enceladus, conducted by NASA's Cassini spacecraft, all but confirms that an ocean of water the size of Lake Superior lies underneath its shell of ice.
And, excitingly, that body of liquid appears to be right under previously observed jets of salty water and organic molecules, which are among the essential ingredients for life.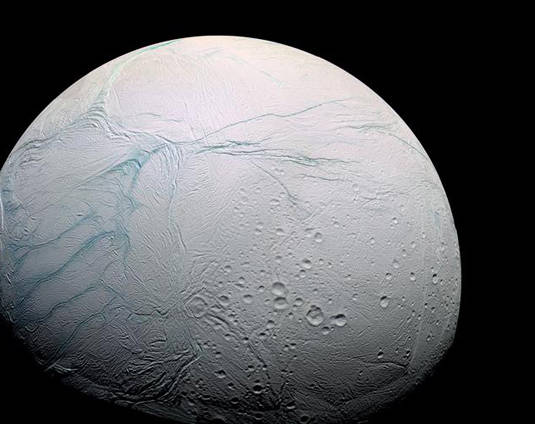 Saturn's moon Enceladus as seen by its biggest fan, NASA's Cassini spacecraft
"Analyses of Cassini measurements of undulations in Enceladus's gravity field point to a 10-kilometer-thick layer of water beneath the south polar region, if not the entire moon," Richard Kerr writes in an article in the current issue of Science.
Cassini, which began orbiting Saturn in 2004, worked in conjunction with NASA's Deep Space Network to make the determination.
"The technique of analyzing a radio signal between Cassini and the Deep Space Network can detect changes in velocity as small as less than one foot per hour (90 microns per second)," NASA explains. "With this precision, the flyby data yielded evidence of a zone inside the southern end of the moon with higher density than other portions of the interior."
Perhaps you remember Enceladus. It's the moon – one of a gaggle of Saturnian satellites that NASA counts as 53, with another nine listed as "provisional" – from which Cassini detected water vapor emerging from cracks in its south pole as long ago as 2005.
In March 2006, NASA upgraded that leakage to "Yellowstone-like geysers" of "icy jets and towering plumes" thanks to another Enceladus observation by the spacecraft – Cassini has made a total of 19 flybys of the icy 500-kilometer-wide moon.
Since that discovery, Cassini has studied Enceladus extensively, including an "in your face" flyby in 2008, during which the spacecraft skimmed within 50km of the surface at more than 51,000km/h. At that up close and personal get-together, Cassini sampled what NASA characterized as a "surprising organic brew" containing "volatile gases, water vapour, carbon dioxide and carbon monoxide, as well as organic materials" emerging from the moon.
In 2010, it was determined that there were traces of sodium in Cassini's samples, which prompted strong speculation that there was, indeed, liquid water under Enceladus' enclosing ice cap. And now, with the help of the Deep Space Network, it's a safe bet that such is, indeed, the case.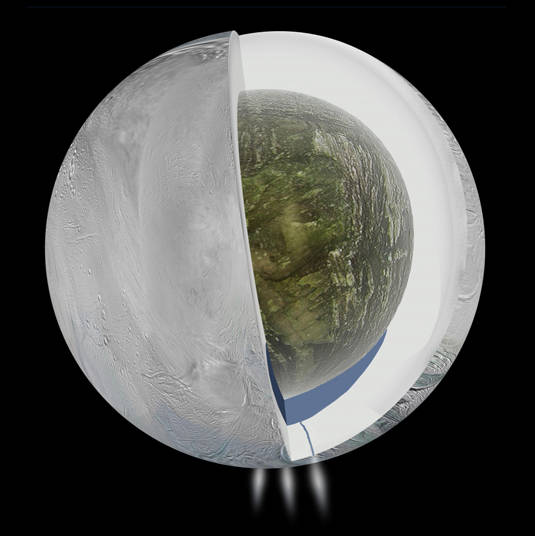 What li'l critters might be lurking en Enceladus' primordial soup? (click to enlarge)
"The gravity measurements suggest a large, possibly regional, ocean about 6 miles (10 kilometers) deep," NASA says, "beneath an ice shell about 19 to 25 miles (30 to 40 kilometers) thick."
What is particularly intriguing, NASA says, is that the discovery of this ocean places Enceladus firmly on the list of places in our solar system that might harbor microbial life.
"Material from Enceladus' south polar jets contains salty water and organic molecules, the basic chemical ingredients for life," said Linda Spilker, Cassini's project scientist at the Jet Propulsion Laboratory, the Deep Space Network's headquarters.
"Their discovery expanded our view of the 'habitable zone' within our solar system and in planetary systems of other stars," Spilker said. "This new validation that an ocean of water underlies the jets furthers understanding about this intriguing environment." ®