Original URL: https://www.theregister.co.uk/2014/04/03/driver_drama_almost_derails_deep_desert_xp_upgrade/
Driver drama delays deep desert XP upgrade
Windows silliness puts our man at risk of CAMEL COLLISION
Posted in Science, 3rd April 2014 06:29 GMT
"EJ"* is a God-fearing man. I know this because, at a tricky point in my attempt to upgrade some Windows XP computers, he asked me to write a letter explaining the Lord could vouch for his words.
The letter-writing exercise was welcome because, at the time, I was tearing my hair out. The first step in my attempt to upgrade the PCs at the remote Wirliyatjarrayi Learning Centre had gone well: the Windows 7 disks provided to me by the IT team at Batchelor Institute installed the operating system with pleasing speed. When the first machine booted into W7 after perhaps 15 minutes of effort, I imagined I could be done by lunchtime and have some time for some bush-bashing.
That hope evaporated once the newly-upgraded PC decided it had no knowledge whatsoever of its WiFi card. Device Manager couldn't see it and also felt it had a wonky Ethernet and PCI driver. Searches for those and installation of drivers yielded no result. Nor did the card vendor's driver installer and utility.
Seeing as the whole point of the trip is to make sure the Learning Centre gets a better internet connection and I had at best 48 hours to do the job, this was disturbing.
Perhaps this was a problem with the first PC I'd worked on?
No. A second PC had the same issue.
Maybe it was one of those weird things where Windows wants the hardware to be freshly installed before recognising it? At this point my decision not to bring a screwdriver looked potentially fatal to the expedition. I like to travel with carry-on baggage whenever possible and screwdrivers make for awkward x-ray moments. Had my desire to shave a few minutes from the trip cruelled it?
Fortunately, a butter knife presented itself and quickly removed the single screw. Phew! Out came the card, initiating a sequence of reboot sans card, re-install card, reboot and … AARGH! Still no recognition of the WiFi card. But taking out the card at least let me get a proper look at its model number, which meant I could find a more likely driver. Which still did not solve the problem.
Cue much shaking of fists and cursing of the names Ballmer and Gates. Surely a modern operating system can figure this stuff out for me? Or is Edimax being stupid for not providing better tools? Either way, I'm fuming. And worried the expedition will fail.
Divine inspiration
Enter EJ, in possession of a warning letter from the Electoral Commission alleging he hadn't voted in Australia's last election. Voting is compulsory in Australia**, so the Commission was about to fine him $20 for failing to exercise his franchise. EJ wasn't having a bar of that and, with my help, penned a letter explaining where he is enrolled, where he voted and finishing with his vow that the highest authority in this or any other land could attest to the honesty of his declaration.
It may surprise some to know that EJ and many other Australian aboriginals in remote communities are Christians, but the missionaries got here early and their word stuck. Christianity even means the feral donkeys that roam Australia's desert are revered, because of both their role in Christ's life and the cross-shaped markings on their backs at the intersection spine and shoulders. Donkeys wander around Willowra with impunity, unless they're taken down by packs of semi-wild dogs looking for a meal.
Perhaps that brief connection with the divine cleared my mind: I looked at Device Manager on one of the machines still running XP and noticed the driver for the WiFi card was from RealTek, not the card's manufacturer Edimax. Might the cards want the chipset driver instead of the vendor's?
Search, click, click, download. Transfer from connected XP machine to crippled W7. Still no luck. But what was that? Why had I installed a USB driver? That wasn't my plan!
Aha! RealTek's product page linked to a download page with drivers for dozens of products. I'd downloaded the first one on the list but the one I really want is … all the way down there! More clicking, downloading and transferring later and … SUCCESS! The PCs would be on the network and the expedition would be a success!
At this point the process became repetitive, but also reminded me this is just the first step for the learning centre because by the time I had three machines all trying to do an anti-virus update at the same time the network slowed to a silly speed.
That slow network means the Learning Centre's mission is compromised: how can people learn from the wealth of resources on the net if they can't get online?
And the learning going on is worthwhile.
During day one of the upgrade I shared the space with women learning how to make lino cuts, print them onto cloth and make cloth books for small kids. Women looked up images online to inspire their designs. Sia, the resident vocational education teacher and I struck up a conversation about how they could be sold at online craft bazaar Etsy or the designs uploaded to CafePress where customers can put them onto clothes, mugs and all manner of other tat.
I raised this possibility with Sia, and it's been on her mind too.
So our planned second expedition to take squeeze very last bit out of the network looks like it remains a worthwhile followup. The folks at Batchelor Institute like the idea we've hatched to address the situation.
But before we get to that I need to finish up … and after today's driver dramas, who knows whether I'll make it on time?
Here are the stakes. If I can leave Willowra by about 2:30, I'll be able to get to Alice Springs in daylight. Any later and things get hairy on the road. Plenty of cattle are black. So is the road, which means driving at night is not recommended. It's also damn spooky. During our World Solar Challenge journey last year we were forced to spend one evening on the road. Doing so in an area where there is nothing around was very unsettling.
If I can't leave town by 2:30 I'll need to head out at about 6:00 AM the next day, which poses its own perils, like this feral camel I snapped on the outskirts of town around dusk last night.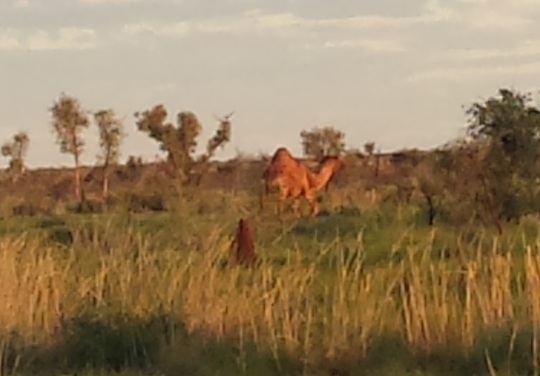 A feral camel. You don't want to hit these.
Will Windows throw another curveball at me and put me in camel peril?
I'll let you know tomorrow. If I can. ®
*He's asked me not to use his real name.
** Yes, compulsory voting is an oddity. Let's move on, shall we?