Original URL: https://www.theregister.co.uk/2014/04/02/poisonous_spiders_first_obstacle_to_xpocalypse_upgrade/
El Reg's Deep Outback XP upgrade almost foiled by KILLER ARACHNIDS
Get a load of our man's desert cannonball run of terror
Posted in Science, 2nd April 2014 06:32 GMT
Vid Australia's Northern territory, where The Reg is this week doing a Windows XP upgrade at the Wirliyatjarrayi Learning Centre in the remote community of Willowra, is huge and empty.
Let's give that statement some dimensions. The United Kingdom covers 243,610 km2 and is home to 63.23 million people. Texas covers 696,241 km2 and has 26.06 million residents.
The Northern Territory covers 1,349,129km2 and as of Australia's 2011 census was home to just 211,945 people. About 150,000 of them live within the few square kilometres of Darwin and Alice Springs.
Hence our assertion it is big and empty. Willowra, for example, is here and is home to about 300 people. It's 130km of dirt road to the nearest town, Ti Tree. There are no settlements on the road. There are precious few artefacts other than the road itself.
There are two turn-offs on the road. Neither had a single set of tyre tracks on them. That's how empty it is out here.
Have we convinced you yet how empty it is? Maybe the video below will help. It's a time lapse of the road from Ti Tree to Willowra, shot at 6 frames a second for the journey and then played back at 18 frames a second. The first few seconds are on a road with no speed limit. The Territory government recently removed the speed limit, partly to create a tourist attraction. Your correspondent's Mitsubishi Outlander often sat on 160 km/h for the 180 kms from Alice Springs to Ti Tree, but did chew through about 35 litres of fuel in that time. It's possible to travel at that speed because the road is straight and mostly flat. Every few tens of kilometres there's a gentle pair of bends in the road, sometimes to navigate the low hills and sometimes seemingly to keep drivers awake.
The Willowra road is impossible to sleep through. Sometimes it is a single lane with deep, soft dust that tugs the wheels off course. 100 metres down the road it can be four lanes of hard-packed clay. It's always a white-knuckle ride thanks to that variability, the absence of fences, the presence of many cattle and the fact years of use mean the whole road is in its own rut a metre or so below the desert plain.
It's a rough road: the phone I used to record the video (A Galaxy S4 running LapseIt Pro) twice fell from the cradle before I got things right. One of those falls followed a deep, bell-like sound as something hard hit the car's undercarriage. Whenever that happens I immediately contemplate being marooned in the desert. That's why I don't hit the road to a place like Willowra without first packing ten litres of water and some food.
We've all found insects while doing computer upgrades. But not ones like THESE
Before I hit the road, I dropped in to Batchelor Institute, the Learning Centre's parent institution, where the IT folks Coll and Ben made me some lovely up-to-date Windows and Office disks. Here's the guys with the College UPS – a 30 kVA bruiser Ben says is mainly needed for the aircon. With mean maximum daily temperatures topping 30˚ celsius six months a year for an average of 28.6˚C, you can see why keeping the aircon humming is important.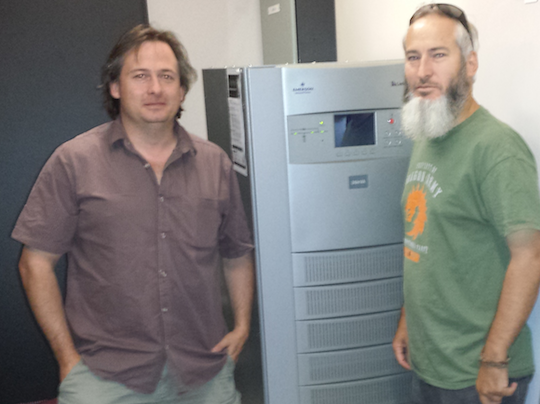 Ben, Coll and their UPS!
For what it's worth, the Institute is a VMware shop, with ESX 4 humming away on lots of Dell servers, an EqualLogic SAN and some Dell PowerVault kit. HP got the networking gig and has also provided a few Storevirtual boxen. Kit is trucked into town, surviving the 1500kms up the Stuart Highway from Adelaide.
Ben and I talked over the upgrade plan and quickly agreed a VNC client is a good thing to install. We agreed a password and burned his preferred client to one of the three USB sticks I'm carrying with me. The USB sticks include a NinitePro installer for a heap of everyday apps. The contents of those sticks are also on pair of DVDs and a hard disk, just in case.
We also discussed Java, because its insistence on asking to be updated about every 15 minutes is just the sort of thing we want to avoid in Willowra because it uses a lot of bandwidth and also has the potential to confuse users. We eventually decided it's probably better to install Java, because so many online services demand it.
After all: the reason we're here is to make sure the Learning Centre can connect people in this tiny community to the world. A "hurry up and install a plugin" dialog is not what's needed out here.
Hurrying up, full stop, doesn't feel like a very Willowran thing to do. It's very, very quiet out here. But not so quiet one of the local feral donkeys didn't bray me awake in the pre-dawn, just in time to capture the photo below.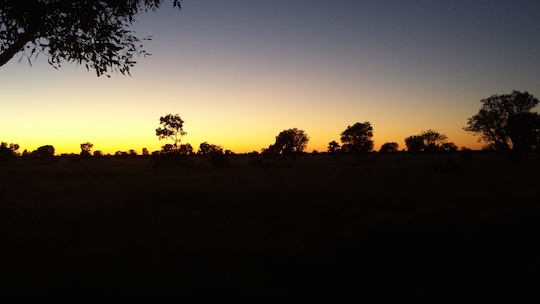 Dawn broke with the sound of donkeys braying, colossal mosquitoes whining,
generators humming and gentle birdsong
But I did hurry up after arriving at the Learning Centre to a warning that many of the chairs within are currently home to poisonous redback spiders. In fact the first chair I sat on had at least four lurking on its legs. A can of fly spray and a new chair later, I was ready to get to work on the upgrade. ®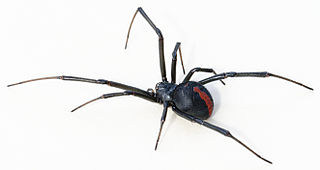 Four of these under your chair creates a diversion