Original URL: https://www.theregister.co.uk/2014/03/31/first_spc_benchmark_using_fcoe/
NetApp and IBM's high fibre treat: First SPC benchmark using FCoE
V7000 sees FCoE flying but NetApp flies faster
Posted in Storage, 31st March 2014 12:02 GMT
NetApp and IBM have released SPC-1 benchmarks showing IBM's 10 gig V7000 FCoE system being narrowly beaten by NetApp's FAS8020 using 16gig FC. Let's rephrase that. A flash-assisted array using faster Fibre Channel beat an all-disk array using slower Ethernet. Quelle surprise.
SPC-1 tests a storage array's ability to perform random IO and arrays can be ranked according to their SPC-1 IOPS and also their price/performance. However this measure is based on list pricing and, as few customers pay that, it is less informative.
IBM ran an SPC-1 benchmark using a two-controller node Storwize V7000 array and 2.5-inch 15,000 rpm 300GB disk drives, connected to PureFlex host servers across an FCoE (Fibre Channel over Ethernet) link instead of Fibre Channel.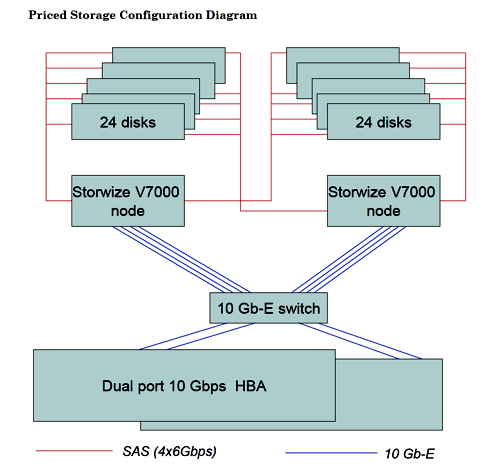 IBM Flex System V7000 config sketch
It scored 72,002.67 IOPS at $5.984/IOPS. Here's the result in a table with other other V7000 SPC-1 benchmarks:
March 2012 - SVC with V7000 - 520,043.99 IOPS
August 2012 - V7000 with SSDs - 120,492.34 IOPS
March 2014 - Flex System V7000 with 2.5-inch 15K disks - 72,002.67 IOPDS
December 2010 - V7000 with 2.5-inch 10K and 3.5-inch 15K disks and 8Gbit/s FC - 56, 510.85 IOPS
March 2011 V7000 2.5-inch 10K disks and 8Gbit/s FC - 53.014.29
The 15K disk drives used in the Flex System V7000 give it the edge over the December 2010 and March 2011 V7000 results, which used some slower disk drive components. We can't really tell whether the latest system's use of 10Gbit/E FCoE gave it an advantage over the two lower IOPS-scoring V7000s which used 8Gbit/s Fibre Channel. At the least we can say it doesn't seem to have slowed the systems down.
You can access the various SPC-1 results here. Here's a chart showing SPC-1 IOPS for different products with recent NetApp and IBM results highlighted: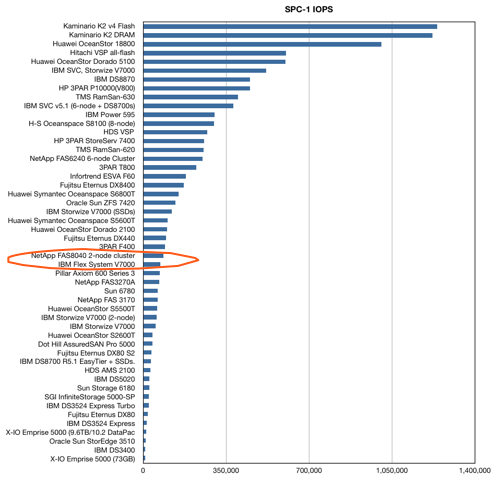 SPC-1 IOPS chart
We wrote about a NetApp FAS 8040 result here with it achieving 86,072.3 IOPS using a two-node cluster configuration connected to hosts across 16Gbit/s Fibre Channel and base storage used 192 x 2.5-inch, 10K, 450GB disk drives with 512GB of Flash Cache per node.
The V7000 and FAS 8040 are pretty similar but the 8040 goes faster than the V7000 in the latest IBM SPC-1 result because, we can confidently assume, it was (a) flash-assisted and (b) used faster Fibre Channel - 16Gbit/s - than the V7000's 10GbitE.
The IBM result can provide confidence that FCoE-based systems should perform as well as equivalent - meaning 8Gbit/s - Fibre Channel and both the V7000 and FAS 8000 products are strong contenders for mid-range storage array requirements. ®