Original URL: https://www.theregister.co.uk/2014/03/26/sonos_playbar_sony_bravia_hookup_review/
Ancient telly, check. Sonos sound system, check. OMG WOAH
Reg bloke blown away by home cinema sound system - but is it worth the price?
Posted in Policy, 26th March 2014 12:38 GMT
Oh boy! I just turned my crap 10-year-old Sony Bravia TV into a home theatre by replacing the limited speakers inside the Bravia's enclosure with a Sonos Playbar. I'm blown away.
The Playbar is a substantial piece of kit.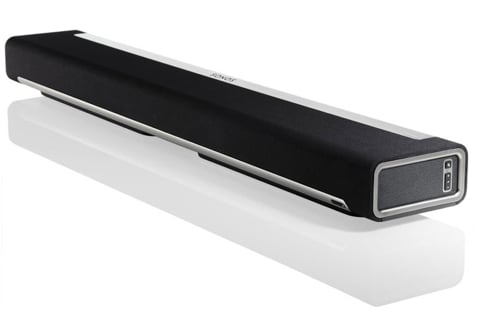 Sonos Playbar
It weighs 11.9lbs (5.4kg) and its dimensions are 3.35" high, 35.43" long and 5.5" deep (85mm x 900mm x 140mm). Get whacked around the head with this and you'll see stars alright.
There is a central recessed connection area at the rear middle of the Playbar which takes a power cord, an optical cable and has a couple of Ethernet ports: one for connecting the Playbar to the Sonos Bridge home router box. In my case that's a BT OpenWorld home hub.
That provides the Internet connectivity needed by the Apple TV and the Sonos system for external streaming media sources.
Inside the Playbar are nine separate amplified speakers; six mid-range and three tweeters with, Sonos says, automatic equalisation.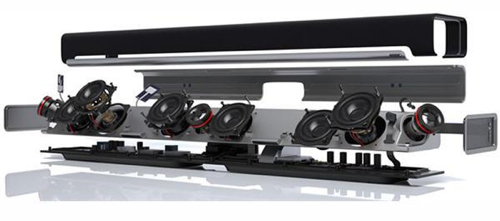 Component speakers inside the Playbar
Config and caveats
I have an old (ie, pre-optical cable socket) Sony TV: a Bravia LCD Digital Colour TV KGL-32S2530. Sonos' PR peeps provided a Playbar, a second generation Apple TV unit - the black box, and optical cable. The idea was to have the TV hooked up to the Apple TV unit via an HDMI cable and the Apple TV box linked to the Playbar via the optical cable, thus fooling the Playbar into thinking it was getting raw TV audio input.
Here's a schematic diagram of this setup: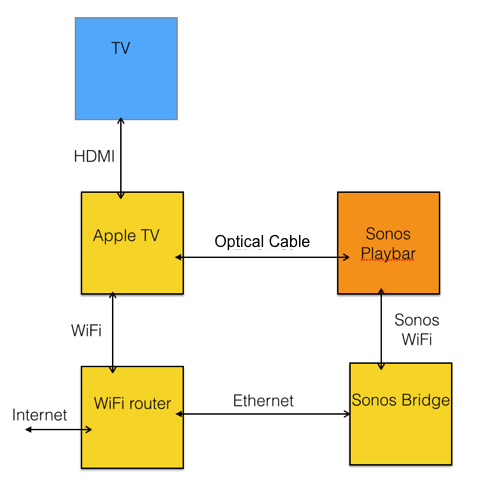 My Playbar and Apple TV setup.
Sonos recap
As a reminder, a Sonos Wi-Fi speaker setup involves audio sources coming in to the home's Wi-Fi router and thence to the Sonos Bridge Unit. It then streams the audio files to the Sonos speakers connected by the proprietary Sonos mesh Wi-Fi network – which, by the way, is not WiSA-compliant.
The Wireless Speaker and Audio Association (WiSA) is a trade body of Wi-Fi speaker suppliers which has developed its own network protocol for playing high-quality audio files. According to their marketing blurb: "WiSA technology transmits 24-bit audio at sample rates up to 96k/second, with robust error recovery for uninterrupted listening enjoyment. With extremely low latency and negligible speaker-to-speaker delay, it offers flawless wired-quality performance and reliability."
WiSA buffs may well say the Sonos system is inferior. I wouldn't know as I'm coming from below, so to speak, but the Sonos system delivers canine genitalia-class music to my ears.
There are five main components in this system:
Entry-level Play:1 speakers (review here)
Mid-range Play:3 speakers (review here)
Bigger and better Play:5 speakers
The sub-woofer (review here)
Playbar
Each unit is separately powered, has its own amplifier, and connects by Wi-Fi to the other systems. The Play:1, 3 and 5 speakers can be combined in stereo pairs with the sub providing under-pinning.
Various streaming Internet radio sources are supported and music libraries on iPhone, iPad, iMac and MacBook computers can be played through the Sonos system.
Playbar setup
Setting up the Playbar uses the smart phone controller app that is freely downloadable from your phone's app store. You run through a few menu choices and there you have it; five minutes; done, bosh.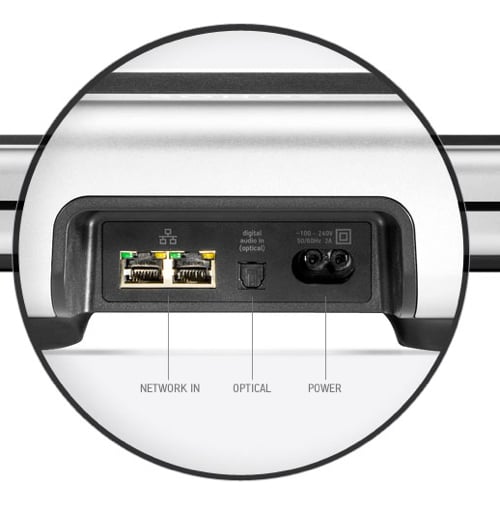 Playbar bar connectivity area.
Part of the setup involves the Playbar detecting the TV remote's volume control signals. Then it can respond to them to lower or increase the audio volume of whatever is on the TV.
After the Playbar was set up I added a sub to it and then two Play:3s as left and right surround sound speakers .
Essentially this Sonos setup could play sound from audio and video coming to it from the Apple TV but not my Sony TV, because the Sony TV is old and crap and doesn't have an optical cable connection facility. It can also play audio from iWhatever Apple devices as well, and my TV did not need to be powered on for this.
TV film sound
The Sonos marketing material says the Playbar's "nine speaker design floods your home with huge waves of epic, full-theatre sound for TV, movies, music and video games."
For an audiophile or home theatre buff this may not hit the mark but for this reviewer, coming to it from the Bravia TV's idea of a soundscape, it was like a door opening. One example: modern movies and TV dramas have speech which is darn hard to distinguish from the background sounds, especially when the actors mumble and don't project their voices, unless you have a home cinema/theatre set up. We don't so we tend to turn the volume up high to try and catch the spoken words.
The Playbar reproduces the speech so that it is somehow separated out and clearer; much easier to listen to.
What else? The perceived width and depth of the movie soundscape was much bigger than the raw TV could produce. The suddenness of shots in action movies was jarring, the floor-shaking boom of explosions was, well, floor-shaking, and the overall range and clarity of the sound was, to me, extraordinarily better compared to the raw TV.
Consider Jason Bourne fiddling with bits and pieces in a cupboard with crystal clear tinkling noises and the muffled roar of waves outside from the Goa beach in the Bourne Supremacy. The background music in Avatar's opening sequence, the singing and music in Topsy Turvy; all the films in my movie library , bought on iTunes or ripped from DVDs, was suddenly right there in front of me, and behind with the surround sound capability, instead of being, as I now realised, muffled by the TV's own tinny and restricted speakers.
And it was effortless, smooth, unstressed; my ears thought they were being bathed in sonic syrup.
Playing iPhone/iPad/Macwhatever music
Having set up the five Sonos speakers units as a single entity for for playing TV audio I found I could also use them for playing music or streaming Internet radio from my iPhone using the controller app. Just switch the source from TV to "This iPhone" and it's all there; select what you want; radio source, album, playlist etc. and off you go. You could do the same, I guess, with the controller app running on an iPad, iMac or Macbook. That's nice; I had anticipated possible problems there but there were none.
Also, the Playbar, added in to my pair of Play:3s and sub, produced a richer overall sound than before – and one that's above my pay grade, the Playbar costing £599.
Without question it took the tired, crippled sound from my TV and turned it into cinema-class audio for me, vastly better than the TV on its own. It was like adding colour to a black and white film or stereo to a mono music setup; the effect was that pronounced.
On top of that it was a nice add-in to the existing Sub + Play:3 pair set up I have already, but is it good enough overall to prize another £599 from my wallet on top of the £1,117 I have already spent?
That's the paradise-limiting aspect of this. Instead of building a connector box to link, say, Play:3 speakers to the TV, Sonos decided to build a whole new speaker product on top of the TV interface. Okay, you get a better overall sound and it's a new entry into the Sonos product world, but if you are already there is the Playbar justified?
Tough, tough call. I'd have to replace the poor old Bravia TV with a newer model to get the direct optical link to the Playbar and that means another £400, making a round thousand near enough. If I already had such a TV then I'd be thinking seriously about buying the Playbar. As it is it just has, sadly, to go back to Sonos. Pity. ®