Original URL: https://www.theregister.co.uk/2014/03/25/how_did_millionaire_supermodel_lily_cole_get_200000_of_taxpayers_cash/
Improbable: YOU gave model Lily Cole £200k for her Impossible.com whimsy-site
Word does not mean what she thinks it means
Posted in Policy, 25th March 2014 13:54 GMT
Special Report Why is the UK taxpayer funding a millionaire supermodel and actress to build a website that replicates the "Help Needed" pages of Craigslist and Freecycle? Using information gleaned from Freedom of Information requests, we've attempted to find out.
The model and actress Lily Luahana Cole, a Cambridge University art history graduate, describes her site Impossible.com as "a social network that allows people to post 'wishes' – things they may want, need or offer, which are then shown to other people... the only currency is an abundant one: saying thank you, which is always public."
She says she was inspired to bring a "gift economy" to the world while on the Thai-Burma border in 2010, and won support from Wikipedia co-founder Jimmy Wales.
It's not unusual for wealthy celebrities, particularly in the fashion world, to support good causes or have whimsical hobbies. What makes Impossible.com highly unusual is that it received support from the taxpayer. And nobody seems quite sure why.
Lily Cole had a net worth of £7m when she applied for public funding for the website two years ago. The millionaire model received more funding than other applicants to the fund, while hundreds of applicants received nothing. Impossible.com went live in November, in a blaze of publicity. Wikipedia co-founder Jimmy Wales declared his public support. Freud Communications took on the PR. Last week the site "launched" in the USA, with yet more publicity. It boasts a slick iPhone app.
However, four months on, the Impossible.com is a desolate and melancholy place. Few postings get any response at all. Even following very heavy media promotion, the site has failed to make an impact on social media either. It currently boasts just over 3,000 Twitter followers and 1,300 Facebook Likes. From the original grant of £200,000 that's £66 per follower, or £150 per Like.
Money well spent?

Even with Freud PR's help, nothing much happens at Impossible.com
So how did this happen? For answers we needed to look at a curious corner of the British state, the Cabinet Office.
Cabinet makers
Historically, the Cabinet Office has been a tiny Whitehall department that provides administrative support to the Cabinet, and acted as a broker between Government and departments. When it was established in 1916 the UK was the hub of a global empire. However, its role has expanded far beyond that of a modest support team responsible for room bookings and paper clips. New Labour, when it came to power in 1997, interpreted the "support" role very broadly, interpreting it as "improving service delivery". This gave it the power to intervene almost at will, anywhere the state was providing a "service". Today's Cabinet Office boasts an extensive and incongruous list of functions.
A 2010 report by the House of Lords' Select Committee on the Constitution criticised the way in which the sprawling department had become unaccountable. Even former chiefs of the Cabinet Office – holders of the job title Cabinet Secretary – couldn't agree on who reported to whom, the select committee discovered. The Cabinet Office had become a mystery beyond the comprehension of even Sir Humphrey.
What was agreed was that the Cabinet Office had gradually turned into a mechanism to make policy for the Prime Minister, who, unlike the President of the USA, has no personal "department" of her or his own. In practice, this meant that the Cabinet Office was expressing the fads and enthusiasms of David Cameron's advisors - an unelected elite of policy wonks.
Examples of the kind of enthusiasms that grip the current generation of advisors under the Coalition include the Behavioural Insight Team (aka the "Nudge" unit) and the establishment of a major UK IT contractor in the shape of the Government Digital Service, GDS. Along the way the Cabinet Office has acquired one important "miscellaneous" function - charitable donations.
The mean-well explosion
The explosion of funding for charities has been one of the distinctive features of the British state in recent years – and it's highly controversial. In effect, people are chosen and paid to lobby the government itself. Rules on charities have been loosened, and the amount of cash increased, with some 27,000 charities becoming predominantly dependent on the taxpayer (That is, over 75 per cent of such a charity's income is state-derived). No less than £12.8bn of taxpayer charity funding was sloshing about in 2008.
In its report Sock Puppets the Institute for Economic Affairs thinktank warned of a crisis of legitimacy and authority: the causes these agencies lobby for are often unpopular and would win few votes if put to a democratic test, but nonetheless the charities lobby in their favour and for the expansion of the very departments which fund their efforts.
Such spending has risen unchecked under a Conservative-led coalition government: alongside charities we must now talk of "social enterprises" - a misleading euphemism for bodies which are on state life support, and which would probably not exist without the government money.
The Coalition continued the splurge, described in its report "Encouraging Social Action" (pdf, 73pp).
In September 2011, the "Minister for Civil Society", Nick Hurd, announced a £10m fund called "Innovation in Giving", part of a £34m project "to increase levels of social action". The fund winners would be chosen by Nesta, the quango set up in 1997 to distribute the £250m National Lottery cash pile to worthy causes, and Nesta would manage the fund. Nesta became a charity after the 2010 General Election, but retained the endowment.
The winners from the first wave of 630 applicants were announced in February 2012.
Crowdsourcing operations, social networks and other local exchanges were the winners. Today, it's hard to find a visible success from the list of recipients. Several are dormant. One example, called The Amazings, was funded to become "a platform for older people to share their skills through online and face to face classes". Swapping oldies for hipsters, it now offers fashion courses while its blog passes on fashion and craft tips.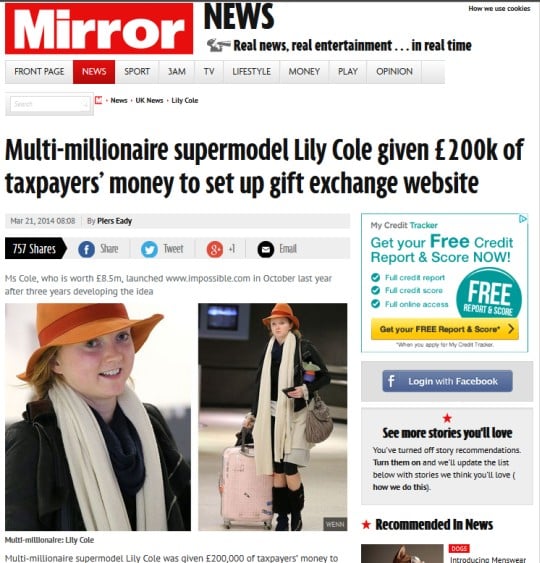 The Mirror last week.
The "social currency" Blue Dot promised rewards if somebody endorsed a charity on Facebook; it gasped its last Tweet in June. Another lucky recipient of the fund, "Good Gym", has made has one blog post so far this year. Slivers of Time, an even more nebulous "social enterprise" recruitment agency, has made two posts.
Many of these schemes are just poorly thought out, replicating more established sites or services. But it could be argued that if nothing else, the recipients had some kind of focus. The purpose of Lily Cole's Impossible.com was harder to discern.
What's Impossible for? That's an Impossible question to answer, we discovered
When we asked why Impossible.com had received funding, the Cabinet Office pointed us to Nesta. We asked to see the application for funding. Nesta says it will not make this public. Nesta is no longer subject to Freedom of Information (FoI) requests since the Coalition turned it into a charity. A spokesperson told us there was a blanket ban on disclosure, and there could be no exceptions. Back to the Cabinet Office, then.
In responses to questions submitted under the FoI Act, the Cabinet Office explained that Impossible.com "was awarded £50,000 through Round One of the Innovation in Giving Fund in August 2012 to support the initial development and refinement of the product."
Then things got pretty weird. Improbably, Impossible received a further £150,000 in follow-on funding in March 2013, because it had "demonstrated Impact at Scale". "Impact at Scale" was one of five criteria for follow-on funding. Impossible had been deemed to achieve this, even though it hadn't yet launched.
Impossible, you say? It's certainly very implausible
In addition, the Cabinet Office explained:
Impossible were awarded the Follow-On Funding to work with existing online community groups and to look to integrate with the tools that these groups already used. They aimed to extend the reach of the Impossible brand and possible interaction by creating widgets and tools that work with existing community bulletin boards, or by allowing users to post their wishes regardless of location. This is in addition to the support Impossible will be developing for the main existing social networks. Impossible also planned to extend the Impossible brand and deepen integration with major social networks.

It is too early yet to fully evaluate the impact of Impossible. We are pleased the site is now live and is working to encourage giving in a variety of ways."
This didn't explain why Cole won funding for Impossible. And it raised further questions. Why were special tools required "allowing users to post their wishes regardless of location" when the recipient is a website on the World Wide Web? Who were the "existing community groups" who Impossible needed to integrate with? (Using special widgets). Why was funding needed for integration with social networks, over and above the OAuth credentials that many websites already use?
Further questions were submitted under FOI.
On the matter of the mysterious "community groups", the Cabinet Office elaborated:
"Impossible stated they were looking to integrate with Facebook, Twitter and Instagram. This was so that users could link their Impossible profile to other existing social networks they used, in order to share the content created within Impossible to outside the platform."
A Nesta spokesperson for the Innovation in Giving Fund told us that the organisation didn't know the millionaire model was a recipient of funding in April 2013. This is hard to believe. Cole's project had already received widespread publicity by the time she applied: it was a very high-profile application. For example, it featured in WiReD's July 2012 edition: "Lily Cole's 'Impossible' network wants its users to help each other out" - and she described it that October at a WiReD conference.
Here's another CNet feature from February 2013. Cole told the Daily Telegraph that the venture is "very personal". So personal she omitted her name from the funding application?
Without seeing the funding application, which Nesta refuses to make public, we can't say.
Kafkaesque
We also asked several other questions. Why was second-stage funding for Impossible.com released as a reward for "achieving scale", when the site hadn't even launched. What is Nesta's definition of "scale"?
We asked Nesta to name the "existing online commuity groups" who it thought Impossible was working with.
A spokesperson replied:
"Impossible is already working with a number of existing online communities on Twitter, Instagram and Facebook. We know the team are working on a number of broader partnerships, however it is too early for discussion at this stage."
So it can't and won't name names.
We were also curious as to whether any of the "widgets and tools" to work with online community groups been developed.
Answer? "Impossible has already built social sharing functionality and tools into all iterations of the product, and plans to open its API in the future," a Nesta spokesperson added.
So that's a "No", then.
We were also curious if Nesta had made an impact assessment of Impossible.com yet - given that most wishes go unanswered, and the genuine engagement appears to be minimal.
"As part of the Innovation in Giving Fund contracting process," said Nesta's spokesperson, "milestones for funding are set for all projects. Milestones include showing evidence for the development and progress of the venture, data analysis of how the platform is being used, user uptake and performance of local launches. The Innovation in Giving team regularly assess and monitors the progress, impact and development of all awardees."
If you're a millionaire, you literally can't fail
The Cole story raises several fascinating questions. It vividly illustrates the lack of accountability in government, with the state apparently set on autopilot. Perhaps the Conservatives were so wary of reputational issues as "the Nasty Party", they were fearful of cutting discretionary funds. Nobody involved sees the slightest embarrassment with funding a well-connected millionaire celebrity to create a whimsical and unused web project. Nobody involved appears concerned that the functions weren't already duplicated widely elsewhere, on other community websites.
It is also reasonable to ask if an unknown working class teenager in the North of England would receive the same red carpet - lacking the celebrity endorsement of a Jimmy Wales. And there may be many more practical and useful projects that struggle for funding, and whose people view the state's generosity to the supermodel wryly.
Cole has waxed lyrical about the site. In a typically incoherent editorial for the Guardian website last week she described the US launch. Cole has often described getting Impossible.com off the ground as a struggle - how she "set out on this seemingly impossible journey". [our emphasis].
But when one examines both the Innovation in Giving Fund approval criteria and the criteria set by Nesta, it appears to be "impossible" for Lily Cole to "fail". She only needed to ask. ®