Original URL: https://www.theregister.co.uk/2014/03/24/entrylevel_hp_san_array_stoops_lower_still/
Entry-level HP SAN array stoops to conquer small biz bods
HP limbo dancing
Posted in The Channel, 24th March 2014 18:16 GMT
Once upon a time, HP had an MSA entry-level SAN array line-up with MSA 1000 (2gig FC) and MSA p2000 (8gig FC, 10gig iSCSI, 6 gig SAS) products. Now again it has two MSA array products: the MSA 1040 and 2040 dual-controller array products.
Updated StoreEasy and StoreOnce product features were announced at HP's channel event in Las Vegas today as well.
The MSA2040 was announced in October last year and the MSA1040 lower-end brother has just been announced.
HP claims it "is the most affordable dual-controller storage system available worldwide from a major vendor," based on public list prices "from Dell, EMC, IBM, HP and Network Appliance, February 2014."
It is offering a data-in-place upgrade facility to migrate from the MSA p2000 G3 to the 1040 or from this new1040 to the 2040.
In its 2U form factor it features:
4th gen controller architecture (new CPU),
two host ports,
4GB cache per controller,
to 99 x 2.5-inch high-performance SAS drives,
to 48 x 3.5-inch mid-line SAS drives, up to 4TB in capacity,
maximum of 192TB capacity,
8Gbit/s Fibre Channel or 1/10GbitE host interfaces with 2-port controllers,
intuitive management tools, snapshots and Volume Copy included as standard,
a management GUI that's "intuitive to use for HP ProLiant and HP BladeSystem server administrators," and
Up to 50 per cent higher performance than its MSA p2000 G3 predecessor at a 25 per cent lower starting list price.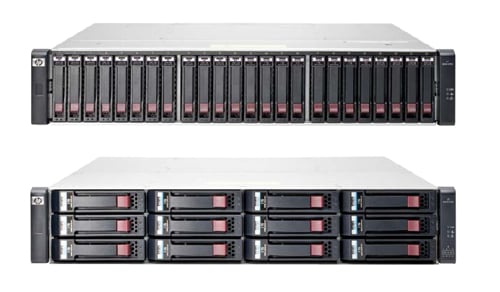 MSA 1040
We think its an OEM'd version of Dot Hill's AssuredSAN 3000 storage product - check out the expansion unit images.
Get an MSA 1040 data sheet here.
HP's StoreEasy is a low-end filer that, HP says using IDC Storage Tracker data, is "the market's No. 1 NAS platform under $10,000."
It now "gives users better administration control with enhanced file access, security and application performance built on the latest-generation storage operating system. … Capacity utilisation, performance and system health [can be monitored] from a single dashboard."
There is an automated set-up tool to speed both network configuration and overall installation. The system has "SMB protocol bandwidth management, and Storage Quality of Service (QoS) features to load-balance Windows Server with Hyper-V applications."
HP has increased the scalability of its StoreOnce 4500 Backup system by a factor of three, using a 48TB expansion shelf - the 48TB MSA 1040 shelf we assume - with no increase in entry-level pricing. It can now scale up to 124 TB of usable capacity, which, through deduplication, could store "nearly 2.5 petabytes of backup data".
Your mileage could, of course, vary from this 20:1 dedupe ratio.
The product can use up to three shelves of mixed 2TB and 4TB drives.
The MSA 1040 is expected to be available in 1 GbE iSCSI, 8 Gb Fibre Channel and 10 GbE iSCSI beginning March 31, with dual-controller configurations starting at $6,500, $7,500 and $8,500, respectively.
The latest StoreEasy Storage product is expected to be available on April 7 for a starting price of $4,490.
The StoreOnce 4500 48TB expansion shelf is expected to be available on March 31 for a starting price of $70,000. Existing HP StoreOnce 4500 customers get a free firmware and software update so they can scale up to 124TB too. ®