Original URL: https://www.theregister.co.uk/2014/03/20/micron_embiggens_personal_ssd/
Micron embiggens personal SSD for storage-hungry public
Modifies M500 SSD upwards to M550
Posted in Storage, 20th March 2014 11:27 GMT
Micron has given its M500 personal SSD a kick in the pants upwards with its M550 iteration being faster and holding slightly more data courtesy of a Marvel controller.
The M500 – review here – stored up to 960GB of data; this M550 moves up to a 1TB maximum capacity.
It is made from the same 20nm Micron NAND but replaces the M500's Marvell 88SS9187 controller with Marvell's 88SS9189 controller plus whatever Micron firmware changes might have been made seemed to have bumped the performance up.
The M550 does up to 95,000 random 4K read IOPS; the M500 doing up to 80,000,
M550 does up to 85,000 random write IOPS; the M500 up to 80,000,
M550 does up to 550MB/sec sequential read I/O; M500 up to 500MB/sec, and
M550 does up to 500MB/sec sequential write I/O; M500 up to 400MB/sec.
That's a useful increase in speed.
Like the M500, this M550 comes in 2.5-inch SATA 6Gbit/s form factor plus mSATA and M.2 form factors, with M.2 holding up to 512GB.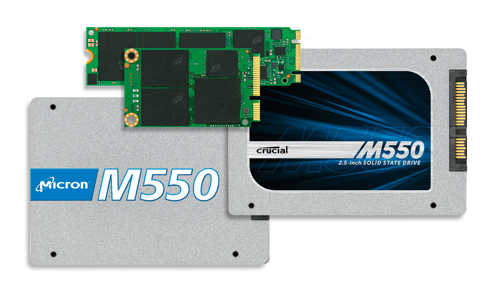 Micron M550 collection.
The price is nice, being $530.99 for a 1TB drive. The previous M500 was more expensive at $599.00 for a 960GB drive.
Micron-branded product will be for OEMs and is available now. The Crucial-branded 2.5-inch product is available now for consumers, system builders and businesses. Crucial-branded mSATA and M.2 product will be available later this year. ®