Original URL: https://www.theregister.co.uk/2014/03/20/gartner_networked_storage_supplier_trends/
Gartner networked storage suppliers: Behold the Reg spaghetti-graphic
There's nothing Flashy about this - maybe that's a problem
Posted in The Channel, 20th March 2014 17:21 GMT
Gartner's worldwide external controller-based disk storage numbers have come in - and we've graphed them for all the quarters since the start of 2011.
Some caveats:
These external controller box numbers include disk and solid state drives.
We calculated percentage shares and any errors are ours.
Hitachi/HDS revenue excludes OEM revenue from HP.
NetApp revenue excludes ONTAP OEM revenue from IBM and Engenio OEM revenue.
Fujitsu's branded revenue does not include products sold under the EMC and NetApp brands.
Gartner also includes revenue estimates for the smaller all-flash and hybrid startup array vendors (Pure, Nimbus, Solidfire, Tintri, Nimble, etc), but doesn't report these vendors separately.
Having said that, here's the chart: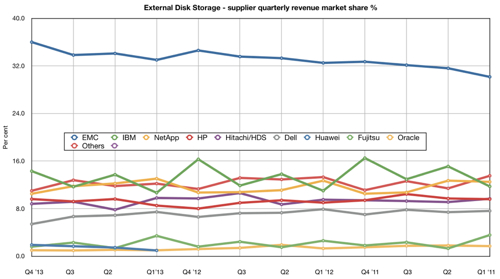 Gartner worldwide ECB storage quarterly supplier revenue share per cent trends. Click to embiggen chart.
We see three groups of suppliers. First is EMC all on its lonesome flying high and increasing its altitude, so to speak.
IBM, NetApp, HP, Hitachi/HDS, Dell and "others" form a middle group. There are three low-enders: Huawei, Oracle and Fujitsu.
Huawei started appearing separately in Gartner's calculations in the first 2013 quarter and its revenue share has grown steadily since then. Oracle's share has trended down and is the lowest revenue share percentage of all suppliers. Fujitsu's is less steady but has trended down the most and has dipped below Huawei's. How meaningful the small percentage differences are is unclear and it's probably safer to look at at trends over time and not specific numbers.
In the middle group, the main pack, we can see that Dell - if it continues its downward trend - will join the bottom group unless the company manages to reverse its decline. It has to get its PowerVault, EqualLogic and Compellent arrays selling in greater numbers. The rest of the pack are also trending down - except HP which is regaining share - and IBM which is flat (though variable) over the period of the chart. The overall pattern here resembles IDC's storage tracker numbers.
It is going to be interesting to see if VSANs - VMware's VSAN, HP's P4000 and others - put a crimp in networked storage array sales. We are also watching and waiting to see if rapidly-growing hybrid array vendors will emerge from the "others" category.
If they do it's likely, indeed necessary, that both IDC and Gartner, our two storage trackers, decide what to do about networked flash storage. Is it a category on its own, the all-flash array, or a sub category of networked storage? If a sub-category is it possible for Gartner and IDC to separate out all-flash array storage, and the flash component in hybrid arrays, be they mainstream or startup? ®