Original URL: http://www.theregister.co.uk/2014/03/14/review_dark_souls_2_game/
It's not just incredibly hard, it's really quite pretty: Dark Souls II
Jump into a bonfire, see the world
Posted in Personal Tech, 14th March 2014 14:03 GMT
Game Theory I knew there was something eerily familiar about the dead-eyed shuffle of my enemies in Dark Souls II and now I realise they remind me of the huge cannibal giants of Attack on Titan. Shambling to my recurrent death, I am now convinced the less forgiving the game, the greater the elation, sense of achievement and immersion.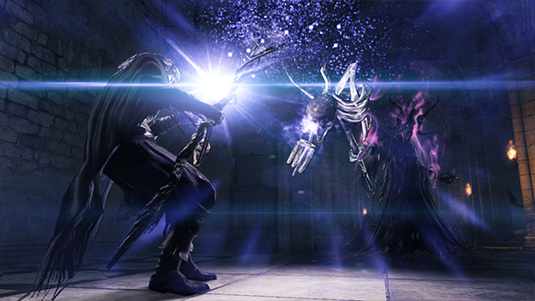 Fighting a necromancer, it happens, y'know
This game isn't my mum come to tuck me in, it's my evil stepmother ripping the sheets off to toughen me up, knowing I'll thank her for it later. But don't be scared off by the infamous difficulty and lack of direction or an easy to follow narrative; this game will give you back tenfold whatever effort you put in.
Lately, most games I've played have felt dumbed down and Dark Souls II stands out in its ability to buck this trend.
I started out playing a Mage, who was a hopelessly brittle character and died after two hits from the lowest level of foe, so I quickly swapped to a Knight (and yes, I did start five characters trying to figure out which class was more likely to survive). Props to the developers for allowing a female model with a rugby player's physique, looking especially fetching in the bandit outfit.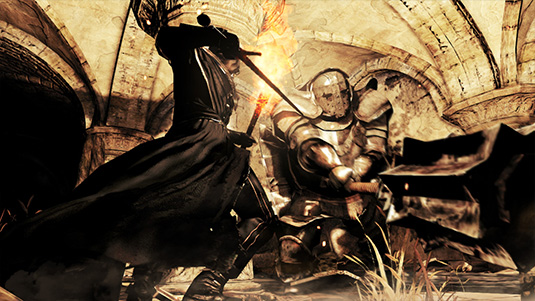 Knighty knight
As a cursed Knight I battle scabby pirates and lumbering giants to progress in a narrative I'm not quite sure I follow but am definitely enjoying watching unfold.
Dark Souls II feels familiar. The style and systems of the original have been built upon and refined, which will make the game more inviting to new players. Majula, visually haunting like Dear Esther, is the game's hub town – my safe haven and where I level up. At least in this harsh world I have somewhere familiar to hang out with vendors and NPCs, including an enigmatic feline touting his wears.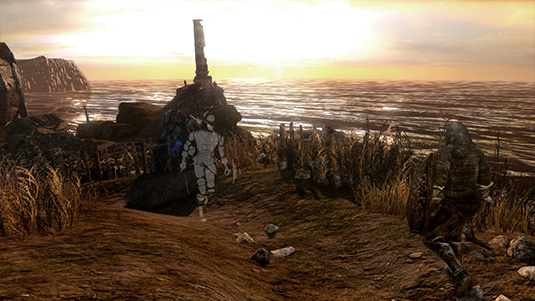 Out on the town
It's here I can also sign up to a Covenant. Covenants align you to factions but choose wisely. I joined the Covenant of Champions only to find it made my foes more challenging to destroy. Luckily, I had my first Estus flask – a small leniency in this game, along with life gems – that I must grind for to increase my chances.
Hunting for an antidote to lift my undead curse is my purpose, but I need to be careful. The cost of dying is a deterioration of my hit points which can fall to 50 per cent of my total health which then means I must use rare human effigies to restore my humanity.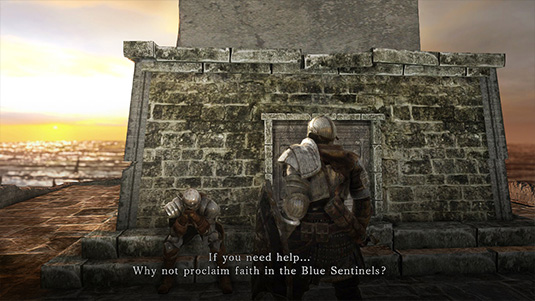 Covenants – all part of the deal
Dark Souls II uses souls as currency to buy and repair items but they are also the currency to level up – thus, you only have a finite amount of resources to complete the game.
If I kill a foe enough times they will no longer respawn; this means I can't farm for souls endlessly on the lower levels. At first glance, organising my nine stats looks like an Excel nightmare but, on further inspection, is actually quite streamlined. Indeed, the ability to equip up to four rings to increase my stats allows for some interesting customisation.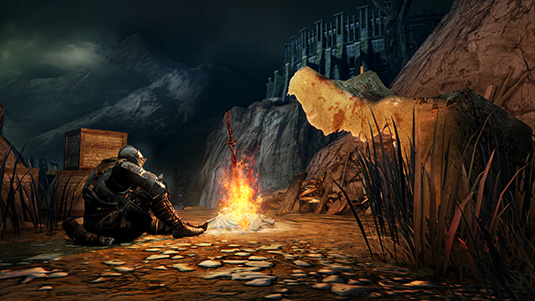 Bonfire night
Fast travel by bonfire helps me to travel quickly between discovered zones in a world visually exquisite and diverse. The zones I have encountered all have their own unique aesthetic and challenges, not to mention infeasibly difficult bosses who regularly slaughter me.
Regional variations
The open world aspect of Dark Souls II allows the rules to change from region to region, so I am always on my guard. Accessing areas from different directions may mean I stumble upon enemies who are of too high a level. Meeting a boss swooping down on a Griffin four hours in was thrilling but perilous.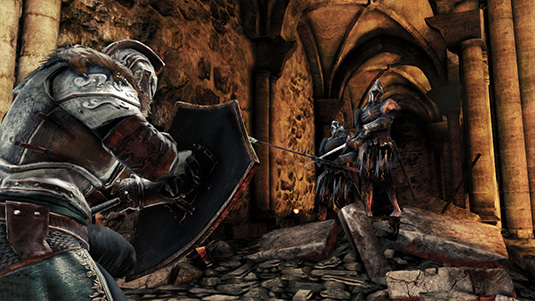 Shield security
Dark Souls II isn't just about dying and learning a little from each death. In its complexity it's quite different from anything else I have played lately. Discovery and exploration play a large part in the immersive experience, just becoming familiar with the systems and mechanics of the game requires a level of concentration only found alone, late at night.
I find myself longing for the safety of the bonfire or at least a torch some respite from the dark. Still, it's important to leave no dark corridor unsearched and no hunched character ignored or you risk missing large parts of the storyline.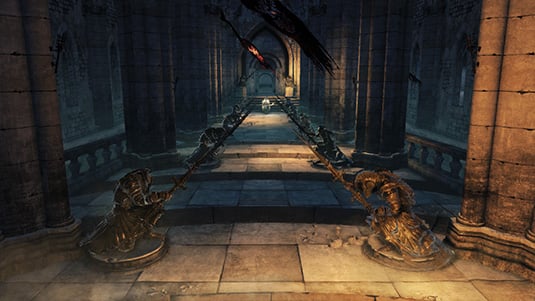 Paving the way
Combat in Dark Souls II has undergone some significant changes. I must never forget my stamina. I can't dodge without it and when there's Giant swinging his ripped-off arm at me, I'm dead if my stamina bar is depleted. A little goes a long way; every move needs to be calculated and weighed up even in the midst of combat. Button bash and I die.
I spend a fair amount of time rolling and blocking for all the good it does me. There's a rhythm to these adversaries and I must join them in this waltz of fatality. Everything is shrewdly balanced; I plundered some ironclad armour that turned me into a proper Ned Kelly, allowing me to take three times the beating I could without it – but it slowed me to the pace of a snail.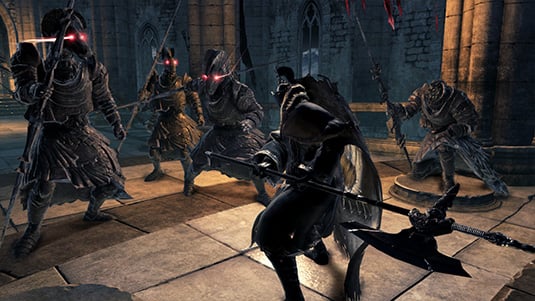 Outnumbered
Dark Souls II's narrative let's my imagination run wild, too wild in fact, my nightmares are a medieval Ringu as my enemies crawl out of the screen to kill me. The Japanese do spooky so well. This immersion in the game's narrative is achieved with real nuance. So subtle is the storytelling that there's a real feeling of revelation to main events. Dialogue is ambiguous and prosaic, yet it's the intricacy of the lore that binds this astonishing work of art together.
Part of me is suspicious that Dark Souls II is lauded by critics only for its difficulty. I would say that this trivialises the overarching experience of the game and how its developers put enough faith in me to believe I can find my way through their beautiful creation and lose myself within its impenetrability. Just don't get distracted by a ferret while walking along a cliff - this game is unforgiving.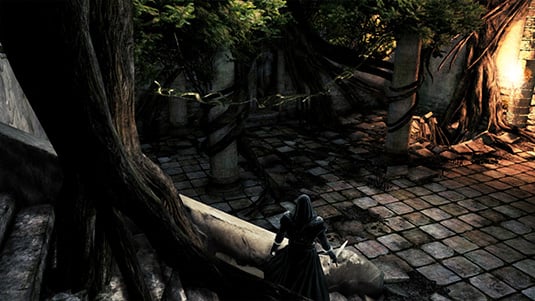 Playing solo heightens the atmosphere
The Reg Verdict
I have yet to experience any multiplayer content but can see that it could be beneficial, especially summoning others to assist with bosses. But who needs a home invasion when this game is hard enough already? There's something about Dark Souls II that lends itself to the single player experience and the presence of others might break my dark meditative reverie.
New Game + is a great idea and gives me the option of playing again without having to start from level 11 again, though at this point I can't conceive surviving the conclusive battle.
I had loads of fun on the Titanfall beta. The fast and frenetic pace is thrilling and engaging, like falling in lust, but Dark Souls II is like meeting the love of your life. South Park: Stick of Truth was a hilarious distraction and Destiny is calling, but FromSoftware's Dark Souls II – a homage to hardcore gaming – has carved a bleeding niche in my heart. ®