Original URL: https://www.theregister.co.uk/2014/03/11/fox_footy_alert_shirt/
Foxtel's new football-watching shirt THROBS after every tackle
'Alert Shirt' slurps realtime data to replicate the experience of being on the pitch
Posted in Personal Tech, 11th March 2014 04:58 GMT
Fox Footy, an Australian arm of Rupert Murdoch's Fox pay television empire, has created a special football-watching t-shirt.
Dubbed the "Alert Shirt", the garment is being offered to those who sign up for a year's worth of the channel, which shows Australian Football and not much else.
Billed as "Game-changing technology [that] physically connects you to the game", the Alert Shirt requires its wearer to download a companion app to their iOS or Android smartphone. That device will need to pair with the shirt over Bluetooth, so that what Fox Footy calls "haptic feedback motors" embedded in the garment can replicate "the shock of a big hit when players collide". The motors are also said to be capable of simulating the fluttering heartbeat that comes with nerves or even to replicate exhaustion.
The various sensations imparted by the device have apparently been developed after sessions in which real, live, Australian Football players crashed into tackle bags and kicked footballs, if the videos here are to be believed. Fox Footy also advises that the shirt should not be washed, at least until the "electronics pack" that delivers sensation has been removed. It's possible to re-insert the circuitry and re-charge the shirt: a USB cable is included and Fox Footy advises that a mobile phone charger should do the trick.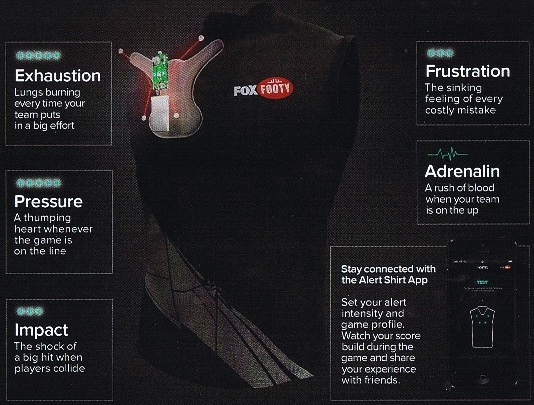 A shirt so powerful, you'll feel tired just wearing it
Fox Footy explains that it already collects myriad statistics about Australian Football games in real time, and is now piping selected data in real time to the Alert Shirt app. Feedback appears to be two-way, as Fox Footy says wearers will be able to compare their personal score with friends' during a match.
Sadly, only 2,100 Alert Shirts will be created. To get your hands on one, you'll need to pay at least $AUD1,038 for a year of Fox Footy, live in Australia and like Australian Football. About half the nation doesn't, but the mere existence of the Alert Shirt exists tells you about the ardour for the game displayed by the remainder. ®