Original URL: https://www.theregister.co.uk/2014/03/11/does_the_spring_update_save_windows_8/
Satisfy my scroll: El Reg gets claws on Windows 8.1 spring update
Let's have a look
Posted in Software, 11th March 2014 11:59 GMT
Hands on Microsoft's Windows 8.1 Update 1 – with pain relief for those suffering from "customer satisfaction issues" – is widely expected to be released in early April.
It'll probably coincide with the Build developer conference starting on 2 April. This spring update has already gone to computer manufacturers to install on their new machines, and in the last few days it has leaked out on the internet – meaning anyone who wants it can pull it off the Microsoft servers without waiting.
I've been giving it a try. The "satisfaction issues" addressed are intended to make life easier for users of non-touchscreen PCs who rely on the mouse and keyboard to get around.
I prefer to use a Thinkpad X-series laptop when traveling and covering trade shows – such as Mobile World Congress 2014 in Barcelona last month – mainly due to the durability of the hardware.
For this, Linux-powered Ubuntu 10.x used to do me fine, it's unfussy and unobtrusive and uses the PC's resources well. That went out of the window when Ubuntu started smoking the Unity crack pipe. For longer documents, Word on Windows is simply a better tool than Word on any Mac. This all makes me the kind of "desktop and mouse user" Microsoft says it wants to make happier with 8.1 Update 1.
This is the Modern world...
Microsoft has implemented many excellent optimisations within Windows during the past five years, distancing the operating system's kernel from the version in Windows 7 and Vista. But despite this under-the-hood work, Windows 8.x has proved highly disruptive to users, IT managers and the entire PC industry, largely due to the touchscreen-friendly user interface changes Microsoft forced upon people in 2012.
There are a number of areas where Windows 8.x really caused problems. Familiar on-screen elements such as the pop-up Start Menu were removed. Secondly, software settings were scattered to the wind. Some disappeared altogether, some of the rest landed in a new Control Panel and others in apps; the older Control Panel remained. Another common "WTF!" provoker was printing: it seemed you couldn't easily print from most Metro Modern apps. WTF?
Fourthly, Windows 8 gave the user a shock when he or she flipped between traditional desktop applications and the elephantine new Modern apps and back again. This was a bit like reading a book in which random pages would be set in EXTRA LARGE TYPE – but you couldn't read ahead to see when they were coming.
Finally, the Modern apps seemed anything but modern: they represented a step-down in functionality. Nobody could argue that the Mail app was anything like as functional as Vista Mail.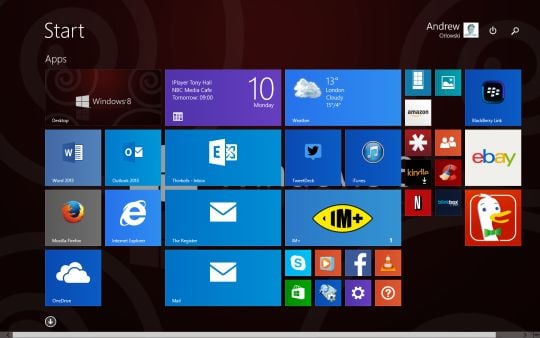 Windows 8.1 Update 1 ...
For Windows tablet users, this wasn't an issue – these users weren't context switching, and didn't need continuity. They still found settings hard to find. But it was the fourth - the limited Modern functionality – that was the killer. Since then Android scaled up well into low cost 'slabs, while iPad apps are far more sophisticated. This left no reason to buy a Windows tablet. It was desktop users who had to shoulder the pain.

It's the Windows 8.1 Spring Update, the Windows you know and love. Note the horizontal scroll bar, redundant as there's nothing to scroll.
Subtle changes
At MWC in Barcelona last month, Joe Belfiori claimed that according to Microsoft's own user testing: "Users of touch devices are more satisfied than users were with Windows 7. But users of Windows 8 on non-touch devices were in general a little less satisfied".
The Windows 8.1 Update 1 gives a better non-touch experience, more hardware options, better IE compatibility for education and enterprise users, and the hardware requirements and licensing has been tweaked.
I found the UI changes are mainly small and subtle. More options are now available by right-clicking the mouse. Modern apps become Windowed Windows apps, bounded by traditional Windows conventions – they get a menu bar and close button. They also now appear on the Windows taskbar, although you can turn this off. They get a "live" preview thumbnail, just like in Windows 7, although this doesn't work for all third party apps. The popular Tube app just shows its icon as a preview.
The more useful shortcuts implemented in Windows 8, such as switching to the previous app, are retained. In Microsoft's taxonomy, though, "everything legacy" is considered one app, and bunched together as the "Desktop".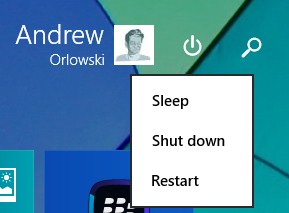 Everything legacy? Yes please...
Overall, given a Windows 8 machine, I found that banishing Modern was the best way to retain sanity. If one installed Start8 or a free equivalent, it was possible to refrain from plunging into the Modern environment for weeks at a time. If there was a need to run a Modern app, it could be tamed using ModernMix, which "Windows-ised" the app.
I found with the Windows 8.1 Update 1, I could dispense with ModernMix, even though I lost the ability to run the Modern-style app in a Windows. However, I'll probably opt to retain Start8 as it has extra conveniences, such as turning off Taskbar transparency and giving me right-click access to the Win-X menu.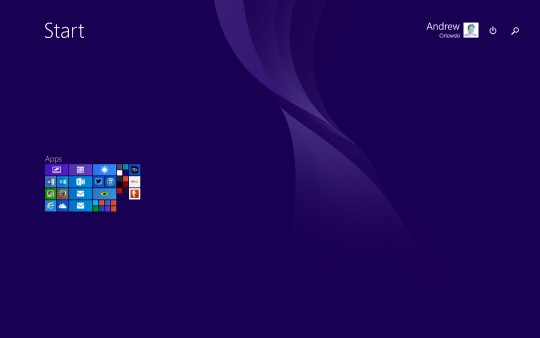 Mystifying shrinkage
However inconsistencies remain. Users who preferred their window chrome to be dark, which is less distracting, have had to sacrifice legible title bar text since Windows 8 arrived. You cannot set the title bar text to be light against a black background. This is trivial, but it's pretty silly.
You still see a horizontal scroll bar on the Start screen, even when there's nothing to scroll. Why? And the Start screen retains a button that does a quite baffling miniaturisation. I'm not sure why.
A few tweaks is not enough
Some things require not just tweaks, but proper design decisions, and these have been ducked in the Update. For example, tablet-friendly corner activation has been retained, but this results in a very ugly overlay when the Taskbar is docked on the left. Here you can see it attempting to draw the Win 8 style switcher – but failing. After a bit of mouse wiggling, it works, eventually.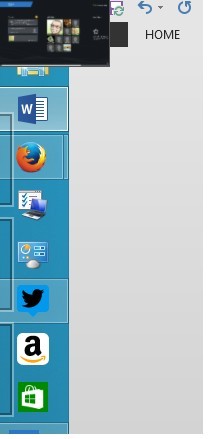 Another Windows 8 WTF moment.
It's trying to draw new-style thumbnails
over the old-style Taskbar
Almost everything in this "Spring Update" is welcome – and it's the most usable Win 8.x yet. But it doesn't really do any spring cleaning. Windows 8.x is still a shotgun marriage of two different UIs, and while it's easier to navigate around them, Microsoft doesn't grasp the nettle, and show any sign of long-term planning.

Metro Modern apps go on the taskbar, and get a little menu
Yet the one outstanding problem – the fourth in the list above – hasn't been solved by the tweaks, and will never be. This is that the Modern apps simply aren't very good.
Many, if not most, appear to have tumbled out of an industrial park in Malaysia. One or two do appear to come from a well-funded Western corporation with a history of design: Microsoft's own Bing News looks quite slick. Nokia Mix Radio does what it says on the tin. Viewer-style apps do OK.

In the ironically named "Personalization" box, you can choose
any title bar text colour you want - as long as it's black
But who, given the choice, would use the Modern Twitter app when the old, Desktop-style Tweetdeck is available? Who'd use Evernote Touch for Windows, when the Evernote app can be installed? The Touch version is really just a very crude viewer – it doesn't allow you to choose which Notebooks to sync. I have a Symbian-era third party Evernote client that does that. The "Modern" eBay and Amazon apps belong in a different universe to their iPad counterparts. And lastly, there's nothing as sophisticated as a fairly standard physics-based children's game, or music app, found in the iPad section of the iTunes Store.
So, for all the discomfort that's been inflicted on desktop Windows users, Microsoft needs to answer the question: has this been worth it? Is it time to "reimagine" Windows again, so that tablet and phone users get one experience, and PC Windows – if it has to do anything - simply provides a runtime for these phone and tablet apps?
Answers below, if you please. ®