Original URL: https://www.theregister.co.uk/2014/03/07/review_south_park_stick_of_truth/
'Mommy got me an UltraVibe Pleasure 2000 for Xmas!' South Park: Stick of Truth
Enjoy Zombie Nazi Chef's salty chocolate balls
Posted in Personal Tech, 7th March 2014 12:41 GMT
Game Theory Over the last few seasons South Park has become a bit of a stinker – and, more often than not, licensed video game adaptations are pretty whiffy too. When I first heard rumblings of South Park: The Stick of Truth I was dubious whether it would be any good, despite assurances that the production was being overseen by the creators of the animated classic.
Thankfully, by level 5 I have realised my doubts are completely misplaced. I am an RPG nerd, playing an RPG, of kids RPGing. Things don't get much better than this.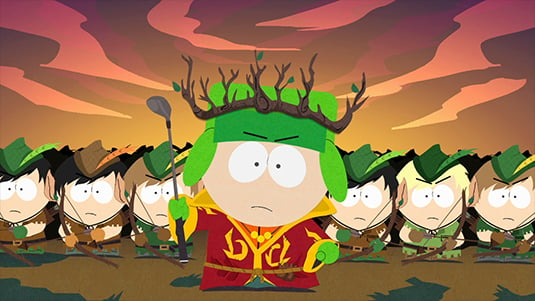 Dark Elves, South Park style
The introduction to my own personal South Park episode starts with Cartman expounding on the perpetual war between humans and dark elves over the legendary Stick of Truth: a mythical object that bestows the wielder complete power over the entire universe. It is foretold that a new kid could bring an end to this timeless conflict, so I am guessing that burden falls squarely on my 2D paper cut-out's shoulders.
This intro's animation is an obvious homage to the inopportune 1978 rotoscoped Lord of the Rings, with Orcs just looking like they are on some kind of dirty protest – I'm sure Mr. Hanky would approve.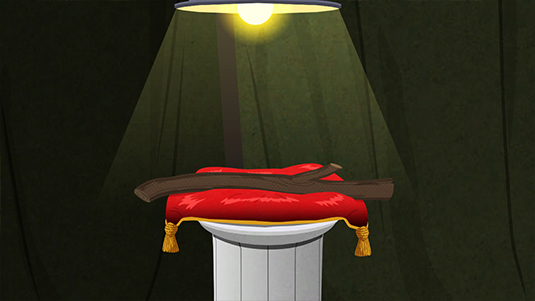 The legendary Stick of Truth
I have "South Parked" myself online before and used it as the basis for a couple of lesson plans ("There's a time and a place for everything, and it's called college." – Chef) so it was easy to pick from the abundant choice of options how my new kid would look. I picked a New Jersey Spray Tan and a ginger 'fro.
Just saying, but it would have been nice to play a girl as I am like, you know, a fucking girl. Maybe this option was absent just to avoid Sexual Harassment Panda. But I also understand this gender imbalance is so I feel like one of the South Park clique and these nine-year-old boys just don't hang out with girls.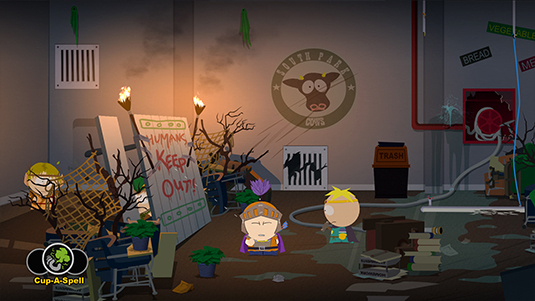 Getting skilled up
After some product placement from UPS and a discussion between my parents of how I will fit in, I finally get to see my character and explore my brand new house, with virtually everything ripe for the plundering – so many bedroom drawers full of pocket change and dildos. In the words of Cartman: "Well, I looked in my moms closet and saw what I was getting for Christmas, an UltraVibe Pleasure 2000."
This being South Park, my first interaction with the game is to go sit on the toilet and poop, as I didn't want to go out and get caught short.
Whiff of familiarity
My parents start vigorously encouraging me to step outside into the snow-white suburbia and make some new friends. Indeed, it's outside the front door when I suddenly start feeling as though I am actually immersed in an episode of the TV show.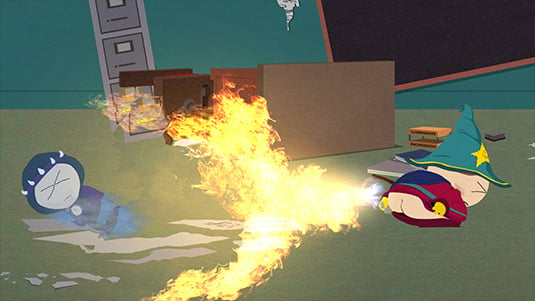 Just call me Fartmaster
The attention to detail creates a South Park world authentically realised. All the buildings are recognisable as I trot past houses, The Town Hall, shops and The School. I can explore them from the get-go, looting them of any available spare change and junk, while being sure to leave something lingering – just call me Fartmaster.
Mirroring the TV show's side on camera view and movement, I move from left to right through different planes in rooms, knocking down shelves to climb and even at one point saving Princess Kenny from rape – "Oh my god they raped Kenny!" – by niftily sliding down some well placed soft furnishings. Navigating the environment's 2D planes can get slightly confusing, at least until I get my alien anal transporter.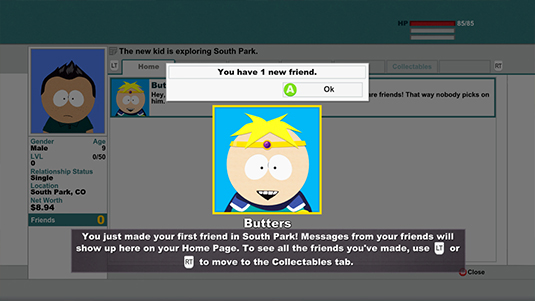 A Facebook style interface monitors your stats
Accessing the menu that shows my stats and skills is the only thing that breaks the feeling that I am directly inside an episode of South Park. Magic, wealth, health levels and relationship status are all displayed in a Facebook clone interface.
In my Friends list and news feed I can check Jesus' whiny status updates, once I have added him after completing his quest chain. My friends react to each other's feeds, often with hilarious interchanges, and I felt it was a shame I couldn't get in on the action. The more friends I have, the more perks I unlock. Er, just like real life then.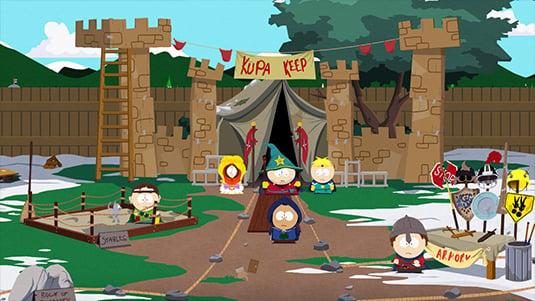 The Kupa Keep base of Cartman and co.
After falling foul of some drow elves – their leader Kyle comes across all Drizzt Do'Urden later on – I am taken to Kupa Keep, the base of the KKK and backyard of Cartman and his human army, into which I have been recruited. It's here that I choose my class.
Twerk coffee and magical farts
In homage to the best South Park episode for ages Ginger Cow, I choose to be a Jew. I was planning to see just how racist Cartman could be without falling foul of an Ubisoft self censor. Who doesn't want to have a go at the Sling of David or a special scalpel for circumcisions? Choosing a name though was not an option – douchebag.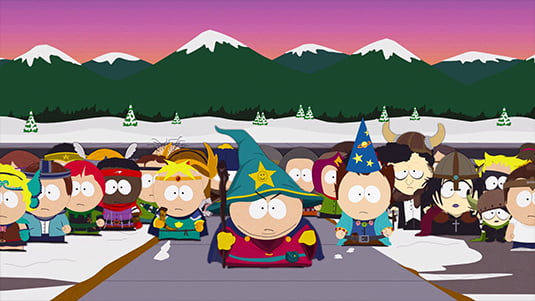 Cartman's Human Posse
Each class has different skills and abilities, and is clothed with a unique outfit during the campaign. Overall, the game felt a lot like a cosplay convention with a new increasing comical outfit for every level. To try out my newly acquired Jew skills, I am introduced to the turn-based combat system, where my combat options are assigned to a wheel including Magic, Abilities, Attack, Ranged Attack, and Items.
Playing dirty
My Magical Farts cost mana, my jew skills cost Pee Pee to perform and buying potions to glug at an opportune moment keeps these topped up. Consumables ranging from twerk coffee to cheesy poofs are essential. Having Butters, my first and best friend, to heal me never went amiss either.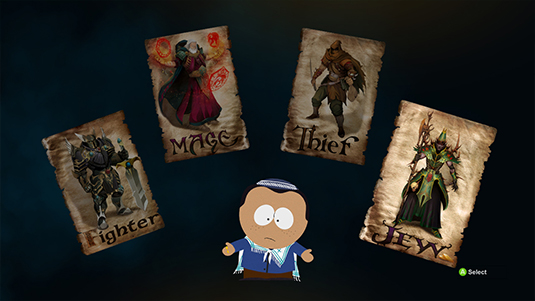 Character building
Combat, straight out of Paper Mario, is introduced by some pretty awesome lightning, and it's your standard select attack and bash, apart from the prompts such as a glint of light where I have to push buttons according to the action taking place on screen.
Defending and blocking also takes some sense of timing to reduce damage taken and I can even avoid attacks such as Timmy's Ballard, if I am vigilant enough. Enemies are often sporting shields or armour that I need some tactical prowess to counter – it's this that makes the combat varied and rewarding.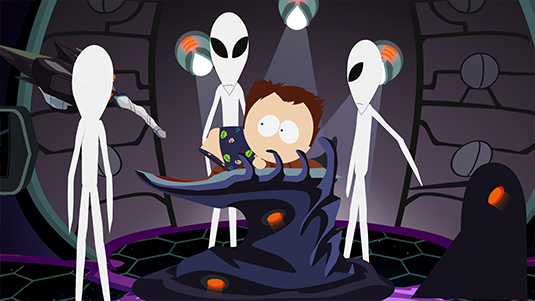 The obligatory anal probe
An attack that leaves me on fire or bleeding will reduce my health with each turn and are best dealt with quickly with a bottle of water. Weapon Strap–Ons and equipment upgrades can be applied for health buffs and Pee Pee regeneration adds another level of depth to the game.
There are quests I cannot complete without the help of my buddies and they become part of the turn-based battles, with me controlling their combat. Only one companion can be utilised in combat at any given time, but I can swap different buddies in and out as many times as I like, yet at the cost of their move – and even I was distracted by Princess Kenny's flirt attack.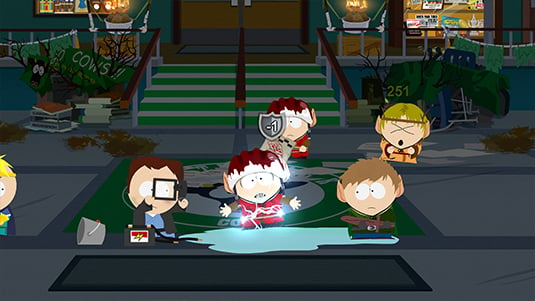 Combat zone
If I am still taking too much damage there are a handful of summon abilities that make this game as enjoyable as insulting Cartman's mom. The likes of Mr. Slave and his lethal anal cavity, Mr. Hanky with a shit storm, and Jesus sporting a machine gun will help me out and their attacks usually oneshot my opponents.
Obsidian Entertainment doesn't miss a brown note with the pacing in the narrative of this game. The sweet plot twists between locations as diverse as an abortion clinic, someone's lower intestine and an old school 8-bit version of Canada. For me The Book of Mormon set the bar for anything related to Trey Parker and Matt Stone and I can confirm that the writing's superb in the game too, with enough stinging social commentary and parody to taste just like a lick of Zombie Nazi Chef's salty balls.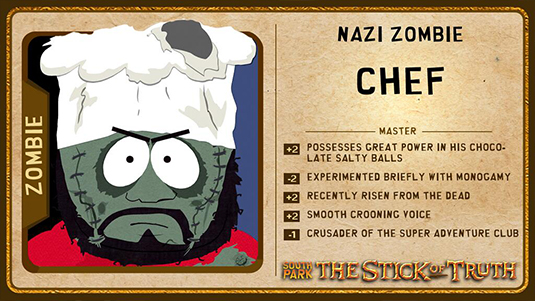 Chef's particulars
If I were to be picky, jaunty camera angles, fiddly controls and repetitive reminders of my noobishness from Randy, all annoyed me. Also this is a short game: 15 hours gameplay does not an epic make. Even though I found every scene replete with references (Tom Cruise is still stuck in the closet) and Easter eggs (the taxidermy trophy of my favourite character Scuzzlebutt) you'll find that just like some of the better South Park episodes, it's all over too soon.
Want to feel like you're injecting Grade A South Park? Seriously, this is a pretty sweet game. Minor performance quirks and negligible irritations aside, this is a must-play for followers of the franchise, and is the most innovative and hilarious licensed title I've ever played.
"Just remember what the MPAA says: Horrific, deplorable violence is OK, as long as people don't say any naughty words!" – Kyle's Mom. ®