Original URL: https://www.theregister.co.uk/2014/03/07/new_violin_ceo_makes_numbers_look_ugly/
Violin CEO gazes at red-smeared accounts: Firm posts $149m loss
Old management exodus effect hits; can new CEO fix the firm?
Posted in The Channel, 7th March 2014 12:04 GMT
Incoming CEO Kevin DeNuccio has presided over Violin Memory's first quarterly results since assuming the hot seat and painted a real poor picture. The only way is up, right?
It's traditional; an incoming CEO rescuing a troubled firm clears out all the lousy items on the first earnings call to help make subsequent ones look good. So Kevin DeNuccio appears to have done just that with the company's fourth fiscal quarter, ended January 31, and full fiscal 2014 year.
Violin Memory ships 3000 and 6000 series all-flash arrays and has just entered the PCIe flash card market with a Velocity line. DeNuccio came in to stop the firm bleeding red ink, regularise the product line, fix a missing software feature issue, ands turn the business into a profit-generating one. His first set of results are firmly in the "blame the previous management" camp and, oh boy, how he has ladled out the red ink.
The fourth quarter saw revenues of $28m; $300k less than the previous quarter but more than the $22.9m recorded a year ago. Losses were a surprising $56.5m, worse than the $34.1m last quarter and the $35.4m loss reported a year ago.
The quarterly revenue and profit/loss history looks like this: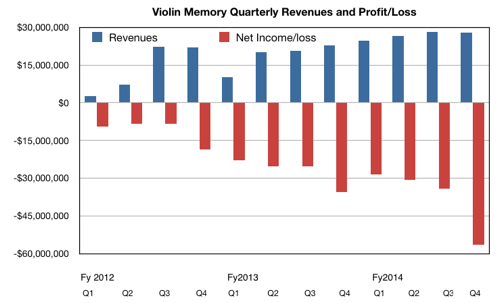 Violin Memory quarterly revenue and profit/loss numbers
The full fiscal 2014 revenues were $107.7m, which compares to $73.8m a year ago; the business is still growing. The full year loss was a horrible $149.8m; it was $109.1m last year. Charting the annual figures make the relative revenue growth failure and grossly increasing loss trend shine out in stark detail: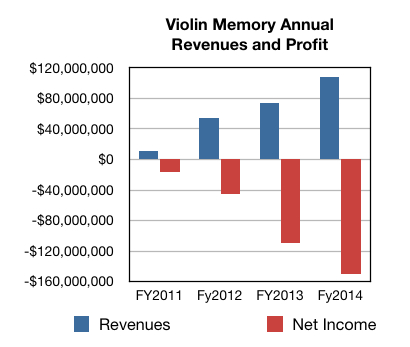 Violin Memory annual revenues and profit/loss history
Let's glory in red ink for a minute and chart the loss history: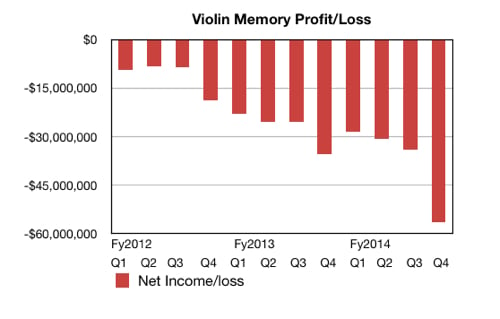 Violin Memory quarterly loss history
That's ugly, with a deep dive into the red ink in the latest quarter.
So, what did the firm say in its results release? Want to bet that DeNuccio said things went well? You're on the button there.
"Throughout our fourth quarter and full year," said DeNuccio, "we continued to gain some of the largest IT customers in the world because our technology can fundamentally transform the way they do business. Violin continues to demonstrate that it is one of the few franchises well positioned to capitalise on the future of storage and lead the market in its transition to the all-silicon data centre."
Let's translate that: The fourth quarter was horrible with the CEO and other top management changes helping to lower sales and deepen losses. Hopefully me and my team can rescue the company...
The 2014 year net loss included a net charge of $52m consisting primarily of:
Stock-based compensation expense of $36.4m
PCIe card inventory provision of $9.2m
Restructuring charges of $4.9m
Impairment of cost method investment of $0.7 m
Amortisation of acquired intangibles of $0.4m
Litigation settlement of $0.4m
The earnings call should tell us more and we'll report on it once we get access to its contents. ®