Original URL: https://www.theregister.co.uk/2014/03/05/john_lewis_christmas_erp_rollout/
John Lewis to respray with coat of Oracle ERP: Don't worry, we won't be 'wall to wall' Larry
New 'omni-channel' strategy includes (shock) Windows 8 tabs
Posted in Software, 5th March 2014 09:58 GMT
The CIO of John Lewis makes no apologies for what he's about to do. Quite the contrary.
I'm meeting Paul Coby at John Lewis's offices in Victoria, a concrete tower fitted with JL's fittings and furniture that overlooks the jumbled innards of London's £700m upgrade of the Victoria underground line. It's also a tube-strike day. It's a mess out there.
"I'm totally unapologetic about investing in the supply chain," Coby tells The Reg in the cushioned and co-ordinated calm above the high-viz, rain-splattered chaos at street level.
"I understand what I'm letting myself in for – it's horses for courses," he presses on.
What the IT chief for this flagship British retailer is about to do is open a real can of worms: a company-wide ERP rollout.
Oracle will replace a patchwork of 50 legacy systems that have grown as John Lewis and the Waitrose food business have grown over the decades. It's a four-year project that's expected to finish in 2017. The retailer is not saying how the project is priced.
ERP rollouts can be fraught with risk and when they go wrong there are real consequences.
Down in the streets, when things have gone wrong - like when builders filled the Victoria control room with concrete - the result was nothing worse than a storm of angry Tweets, incredulous headlines, and red faces for those in charge.
ERP is worse. If ERP goes wrong, the result can be material.
Botched projects at the Hershey's confectionery biz and at Levi's clothing firm cost the companies millions of dollars in lost sales that were so significant they had to be reported on the balance sheet.
Door-to-door cosmetics firm Avon recently cancelled its planned SAP rollout, writing off the whopping $125m it had spent on a global project cancelled following a failed pilot in Canada.
But as far as Coby is concerned, this project is important to John Lewis's future and the reward is justified.
In an exclusive interview, Coby told The Reg the the existing kit has served John Lewis well but is reaching the end of what's possible or desirable for the business. Meanwhile, the competition is getting smarter.
"In terms of the scale of our ambition and growing the business and in terms of being able to move more quickly, now is the time you want to modernise those core systems," Coby said.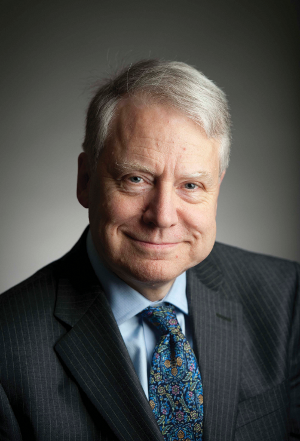 Coby: horses for courses on John Lewis' Oracle rollout
"You can get so far with legacy, in many respects legacy is a great thing - you have paid for it and the bugs have been removed, but the business is changing," he said.
You could see this the second installment in John Lewis' omni-channel retail strategy.
Omni-channel is big in retail – the ability to sell online, through mobile, the call centre and, yes, the store.
But, more channels make the view of the customer fragmented; it's harder to know when a customer has browsed in the shop but made their purchase online, or rung the call centre.
Coby reckons John Lewis was on to omni-channel ahead of most, thanks to the vision of its managing director Andy Street, but that's only part of the story.
We know people research online before they come into the store
"People [in retail] say 'channels' but that's only where the money is spent. To take away those boundaries is really important," Coby said.
"What we are about is recognising that customers are changing the way they shop," Coby said. "We know two-thirds of John Lewis customers will be shopping across channels – researching online and coming into the store. If you buy a TV, you will want to look at it and then order it online – not try to carry it out of the store."
Arguably, John Lewis doesn't need to do this, of course, judging by this Christmas' results.
This retailer saw its sales grow seven per cent compared to the year before, bagging £734m for the Christmas period.
Online biz was driving most of the growth – it accounted for 31.6 per cent of the retailer's entire business at its peak.
Click and Collect, which lets you buy online and pick up at the store of your choice, exploded – was up 60 per cent compared to a year ago.
Such was the pace John Lewis sold an iPad every 15 seconds making a shop founded in 1864, when Queen Victoria was on the throne, Apple's second largest reseller in Europe.
Coby attributes the seasonal success to "substantial" investment in customer, business and online systems. Within the last few years that has included a brand-new EPOS systems going into 40 stores and a £40m new ATG web platform that only went live in February 2013.
ATG runs on John Lewis's own hardware – 150 servers, mostly AIX, running at two data centres in the South East – which also support the Waitrose online operation.
The ATG system was on the front line: handling a 323 per cent increase in orders over a normal trading Friday on 28 November (Black Friday), for John Lewis and a 1,340 per-cent overall spike in mobile traffic.
The new site broke company records: by 9.30pm on Black Friday it had processed the most amount of kit John Lewis had ever sold in a single day online – with two-and-a-half hours trading left to go. John Lewis was making use of the site a few weeks later, when it was provisioned by IT and spun up in co-ordination with marketing for the opening of a 5pm Christmas Eve sale. The site peaked at 890 transactions per second.
All this helped nudge John Lewis into the winner's quadrant for the holiday season. Some retailers stumbled badly, despite the existence of an online presence and attributes such as home delivery.
And yet, John Lewis wasn't the best performer: that honour went to Next.
Next grew 11 per cent with online up 21 per cent and made so much money it declared a one-off £0.50 dividend. House of Fraser grew 7.8 per cent with online up 11 per cent.
The heat isn't just coming from the high street: it's coming from internet pure plays too.
Asos claimed a 38 per cent increase to £336m with CEO Nick Robertson crowing Asos had been benefiting from a structural shift online for 10 years.
And then there's Amazon, even though Coby says John Lewis differentiates itself by value and selection. It doesn't – can't compete – with what he calls "infinity" retailers.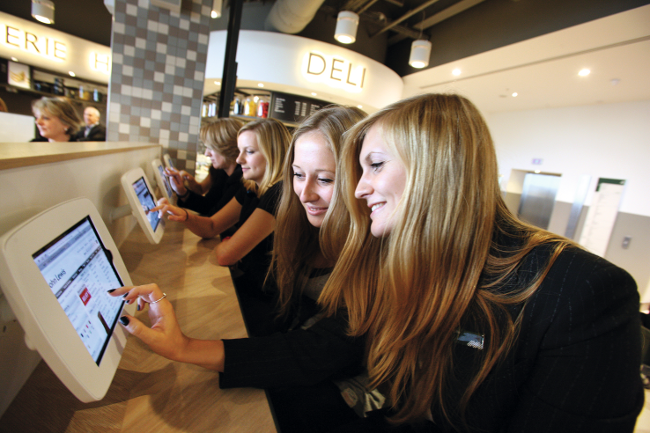 From Click and Collect to touch and go, with tablet shopping
John Lewis doesn't try to beat the online retailer on endless choice, rather to offer carefully selected items and additional extras like free returns and extended guarantees.
The John Lewis website has been designed to be clean and colourful and to get customers to check-out points easily. Fashion now comprises a third of online goods – 200,000 to 250,000 different lines.
Meanwhile, John Lewis has faced some challenges.
C&C me-too factory
The physical shops didn't grow as fast as the online business and that's a problem given they occupy expensive land so must pay for themselves.
Also, while John Lewis pioneered the idea of Click & Collect, it lost that edge years ago. The concept of Click & Collect has become a universal standard among British retailers and they are chucking it back in John Lewis' face.
It's time for John Lewis to refine its operations and know more about the customer. Click & Collect is a massively complicated logistical operation behind the scenes, spanning ordering, inventory, delivery and notification all within a very short time frame. The trick for John Lewis is how to improve this with things like new ordering, delivery and returns options.
Returns is a particularly hot topic, given customers buying clothes often order multiple items to try them and return those they don't want.
When it comes to getting to know the customer, John Lewis needs know who is browsing where and what interests them – now and in the future.
"How we used to run IT in retail was like this," Coby says. "Technologies focused on supporting the shop, or the new online environment, or the distribution, or marketing. What we need to do is to manage across channels, and you can get only so far with legacy systems."
He says he learned from his former employer British Airways, where it wasn't enough simply to have a glossy website that was separate from the business. Online must be integrated with the business. He says he saw the budget airlines like EasyJet and Ryan Air nearly knock out the traditional players through their exploitation of the internet.
Looking at this Christmas's trading, not everybody did well just because they had a website or offer fancy delivery options. Tesco and Marks & Spencer both fell - 2.4 per cent and 2.1 per cent – at a time when selling to consumers is supposed to be like shooting fish in a barrel.
These big names suffered a combination of problems but two of the chief issues were the growth of budget-priced competition and web and mobile shopping.
Coby joined John Lewis in 2011 and first presentation to the foreshadowed the changes needed and that he's now putting into practice.
Coby said he told the board John Lewis had to do three things – track, know and manage. That meant following every product coming in from suppliers and moving to warehouses and stores. "The knowing bit is to understand what they bought from us, because you may wish to return it or may wish to buy more," Coby said. "Being absolutely in control of your inventory and flexibility across all channels is something you need."
Keep calm, it's only ERP
All of which brings us back to that potentially risky ERP rollout.
ERP projects can go wrong in all kinds of ways, but they boil down to three basic causes: a failure to specific the system properly at the start, the addition of more features as the project progresses, and over customization. These problems manifest themselves as extra costs and missed deadlines and staff hating, and not using, the new system.
Companies pay dearly for ERP because these systems run their operations.
If anybody is in a position to captain this, surely it's Coby.
Formerly the CIO of British Airways, Coby left the company in January 2011 after 11 years. He had started that airline's ERP rollout in the 2000s. The project was shelved in 2009 as the management decided to conserve spending in response to the economic recession. Coby has been with John Lewis since March 2011.
The design phase of the John Lewis implementation is now in full swing with employees in the loop. Customisation will be kept to a minimum – the retailer is using Oracle workflows and adapting its own where there's a gap. The project has also undergone a "readiness audit" by KPMG while Coby has hired a programme manager from Accenture whom he said has relevant experience.
Keeping an eye on things – along with Coby himself – will be director of operations Dino Rocos, who oversaw the installation of John Lewis's £70m, 850,000ft2, semi-automated national distribution centre Magna Park, near Milton Keynes, which was finished in 2007.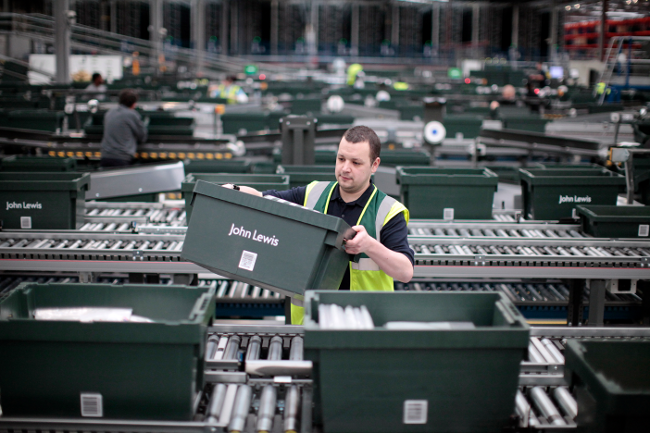 Click and Collect: behind the scenes of a complicate fulfilment process
Coby reckoned he has also been "realistic" in terms of the ERP project's different stages and "we are giving ourselves enough time to design it properly and them implement".
That said, Coby and Rocos will be keeping "a very close eye" on changes to the Oracle specs that might lead to feature creep. "I think we are going into it with our eyes open," he told us. "You need to monitor and manage these things very, very carefully."
Search and rescue
Coby said he has already been working "very closely" with Oracle and Oracle's uber head of retail, senior vice president and general manager Mike Webster.
According to Coby, he conducted exhaustive scrutiny of Oracle and SAP and "others" in terms of functionality and reckoned Oracle came out on top. "We spent a lot of time talking to them. We did an exhaustive scrutiny of them and SAP and others in terms of functionality; they [Oracle] scored best.
"They didn't do everything we wanted or need. Clearly one of the traps is customisation, but you have to recognise all businesses are different, so you can't escape it entirely," he said.
The SI search was also rigorous: Tata Consultancy Services (TCS) was picked from a list of 12. "We chose the team, not the company: the people with the right experience," Coby said.
Of course, some wouldn't just be wary of changing the ERP system – they'd also be concerned about betting a crucial part of the business on a single supplier.
As Oracle buys more software companies and diversifies into servers with the 2010 purchase of Sun Microsystems, CIOs want to diversify and rely less on one company.
There are also plenty in the business who also feel Larry Ellison and Oracle are rich enough already.
With the ATG web engine – ATG was bought by Oracle in 2010 – and now ERP, John Lewis looks like it is starting to get pretty deep in the embrace of Ellison.
A decision has yet to be taken on the hardware that'll run the ERP system – picking it is part of the current design phase - and Coby he says he doesn't intend to be "wall to wall" Oracle. Since buying Sun in 2010, Ellison can do you a nice line in servers, too.
But, Coby reckons working with Oracle is simply a matter of managing the supplier relationship. He says he wants to work closely with Oracle in order that John Lewis gets the best from the system by working with those who know it best.
"I spend a lot of my own time getting to know the senior people and key suppliers because that's important. If the first time I speak to [senior vice president and general manager Oracle retail] Mike Webster is if something has gone wrong, it's not the best time to talk to him," he says.
Further, Coby is picking technology on a case-by-base basis. And, in come cases, he is embracing ideas hurting traditional IT suppliers like Oracle. Coby's picked Salesforce for John Lewis' new CRM; it's cloud-based versions of traditionally site-based software like CRM that's hurting Oracle.
The CIO is also testing cloud-based versions of collaboration services rather than sign a licence for site-based software from the likes of Microsoft.
Gmail and Google Docs and Drive are being offered to staff in three of the 10 John Lewis @Home stores which sell home goods, in Chichester, Tamworth and Ashford. The idea is to give staff the ability to share docs and to communicate at a price that makes sense for the business, without having to fork out for lots of new software licences. Familiarity and ease-of-use are also important, as many staff will already be familiar with Gmail.
"We are supporting our partners who we haven't invested in," Coby said. "They don't need enormous super computer power but they need easy access to emails and collaborations. Just getting something that enables people to share docs and spreadsheets seemed like a good bet to us."
Coby's keeping an eye on the companies in Silicon Valley that are now considered to hold the baton on technology innovation.
The John Lewis board recently toured Silicon Valley where they met executives from Apple, Google, Twitter, Facebook and Oracle. "We need to stick close to Apple and we need to stick close to Google, to see how they go," Coby told us. "I guess we know wearable devices will be there, but do we know how they will develop as products and who will win? No we don't."
"How the hell will we use those in stores? We don't know yet, but clearly the ability to give our partners [employees] access to information is going to be really important," Coby said.
Tablets are making an appearance inside John Leiws, too – only here there's a twist as Coby is giving Microsoft a crack at the whip.
He is piloting Hewlett-Packard tablets running - shock - Windows 8. They are being tested by staff in three stores. Coby has gone Windows 8 rather than the more popular iPad or the cheap-as-chips Android route. Elsewhere, it's Windows 7 on PCs with John Lewis last year completing a Windows XP desktop migration ahead of this April's end-of-extended-support deadline from Microsoft.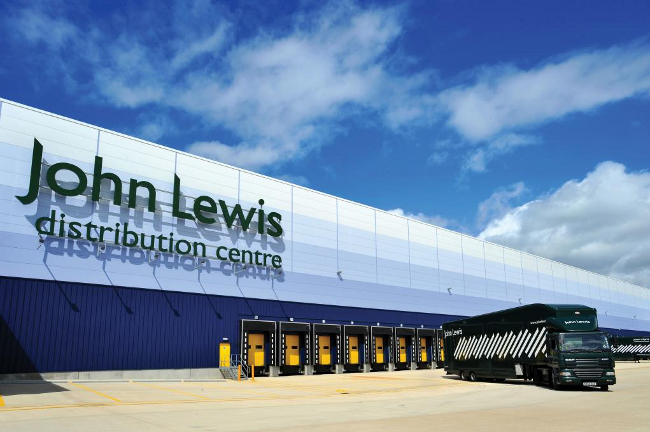 The exec behind this Magna Park monster will steward John Lewis's Oracle landing
Coby didn't give anything away on how the HP and Windows 8 tablets will be used but hinted at "secure checkout". He also reckoned Microsoft is "very excited" about the pilot. We're not surprised, given how badly uptake of Microsoft's supposed answer to iOS and Android has gone so far.
Why keep the faith with Microsoft when the consumer-going world's gone Android and Apple and when such devices are leaking into the workplace?
Coby told us John Lewis operates a two-pronged device strategy: customer-facing systems are written for Apple's iOS and then for Android, tracking what customers are using so they can buy from the website and through mobile. Like most, the majority of online traffic for John Lewis is via Apple smartphones and tablets. But for in-house and staff-facing systems, it's Windows.
The tablet pilot is tapping into existing Windows-based stock and some green-screen systems. "It will enable us to find out if this really works," Coby says of the tablet experiment.
John Lewis, like many businesses, has a considerable investment legacy in Windows infrastructure and IT skills. That makes Microsoft a relatively safe and sensible bet rather then blow time and money on a fancy new mobile computing project that might not work and that gets scrapped.
"We have so much there," Coby said of Microsoft. "There is a big decision at a point in the future, about where you go: do you go Android, do you go iOS, do you go Windows? But in terms of taking core legacy systems, turning them into apps and presenting them on Android or iOS - that's going to take some time and effort. We could invest a lot of money on that and find it didn't go fantastically well."
These are challenging times for British retailers and some big names are wobbling. Cut-price competition combined with rise of mobile and web shopping and some flat-footed business decisions means some familiar high-street names are losing customers to internet pure plays and switched-on high-street rivals.
John Lewis has embraced new channels to keep ahead. Multi-million-pound investments in the web are paying off in spades - and so very soon after completion. All eyes will now be whether John Lewis can complete a clean ERP delivery and whether that pays off equally well. ®