Original URL: https://www.theregister.co.uk/2014/02/26/lohan_v2_mead/
LOHAN chap brews up 18% ABV 'V2' rocket fuel
Commemorative Vulture 2 mead will knock your socks off
Posted in Science, 26th February 2014 12:01 GMT
It hasn't escaped some readers' attention that our Vulture 2 spaceplane's moniker might handily be abbreviated to "V2", which got Low Orbit Helium Assisted Navigator (LOHAN) team member Paul "Lord Shax" Shackleton thinking about rocket fuel, and indeed fuel for the human elements of our audacious ballocket mission.
Hitler's Vergeltungswaffe 2 was powered by a liquid ethanol/water mix plus liquid oxygen (LOX), while its ground crews presumably ran on lager and schnapps.
Our rocket ship is propelled by ammonium perchlorate composite propellant (APCP), and its operators have responded favourably to fuelling with a mixture of ale and bacon sarnies.
The liquid nourishment element of that may be about to change, though, with Paul's announcement that he's taken to the reinforced concrete shed at the bottom of the garden to experiment with a commemorative "V2" 18% ABV mead.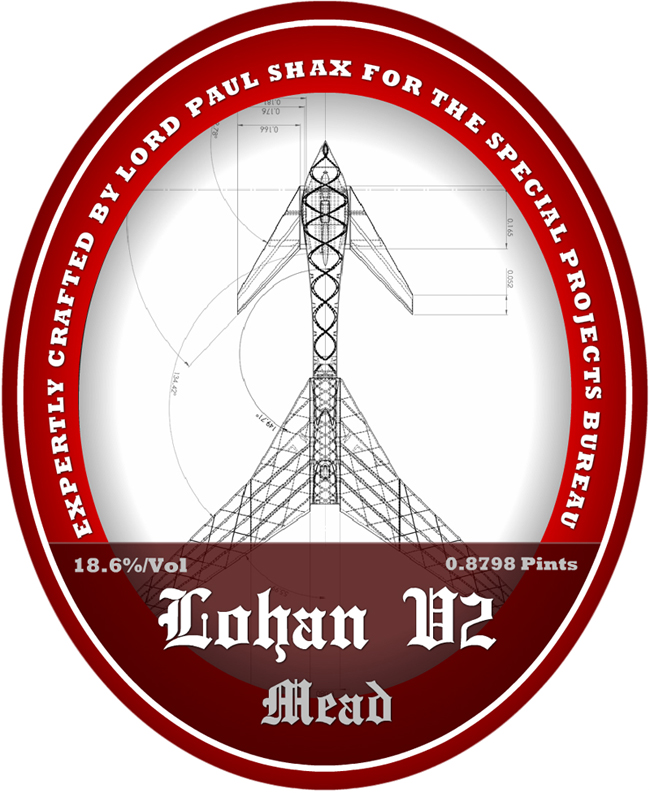 Yes indeed, not content with imperilling life and limb wrangling rocket motors, Paul also regularly risks having his socks blown clean off with a range of homebrew concoctions, some of which give "Devil's Venom" (the Russian-brewed hypergolic blend of unsymmetrical dimethylhydrazine [UDMH] and nitric acid with a dash of cranberry juice) a run for its money.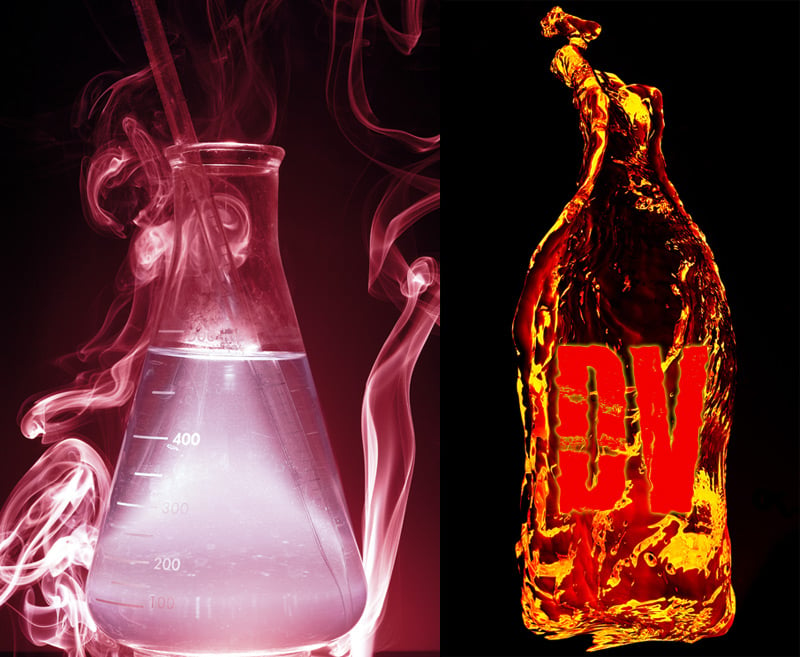 Here's the man himself, seen third from left during last year's LOHAN Spanish jaunt with, from L-R, Dave Akerman, Rob Eastwood and Claire Edwards...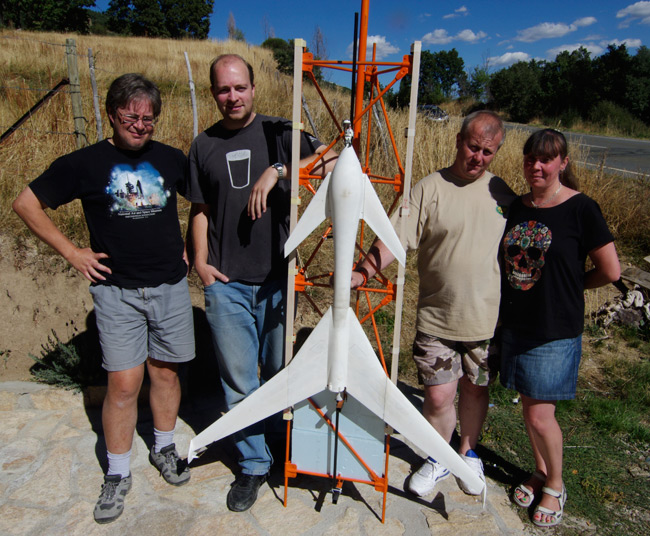 ...and we'll now bring you details on how you too can get your laughing gear round some meady goodness, and then fall over to awaken later in the hospital surrounded by weeping relatives and nurses bearing biros and organ donor consent forms.
To make 5 litres of LOHAN V2 mead, you will need...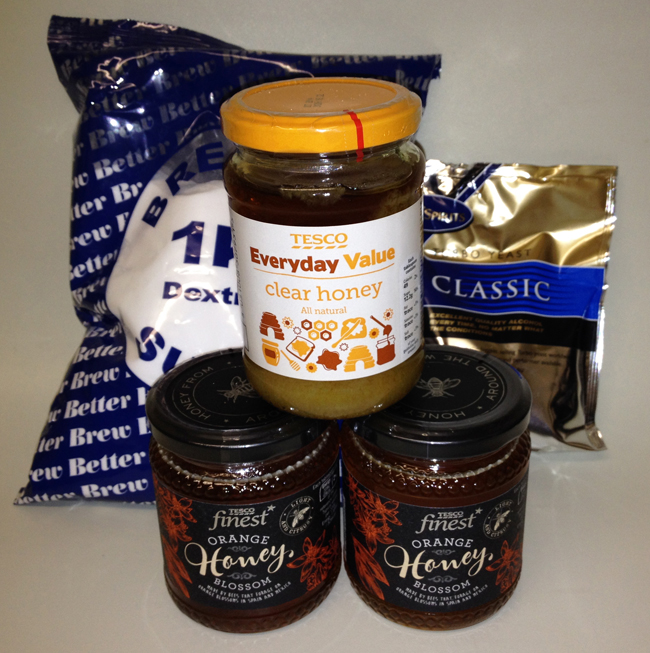 ...2 x 340g jars Tesco Finest Orange Blossom Honey
1 x 340g jar Tesco EveryDay Value Honey
1kg Brewer's sugar (dextrose)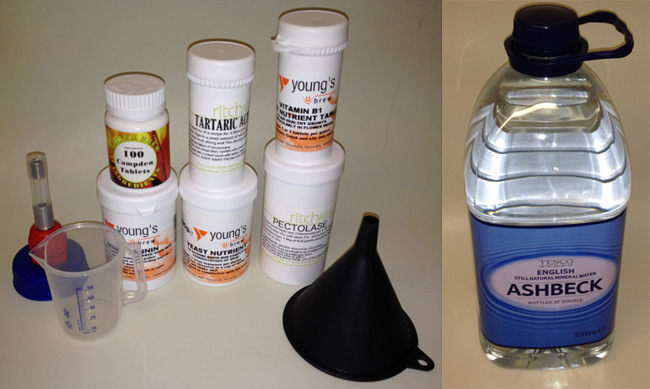 4 x Vitamin B1 yeast nutrient tablets
10g Tartaric acid
15g Citric acid
2g Tannin - a little bit goes a LONG way
7.5g Pectolase - Not technically needed, but I always add it...
10g Turbo yeast
5g Brewer's sugar
Ashbeck Spring Water to make brew up to 5 litres
Before getting hands-on, Paul did a quick ABV calculation
3 x 340g honey = 1020g
1020g * 0.82 = 836.4g sugar
836.4g + 1000g = 1836.4g total sugar
Therefore by using 20g sugar per 1% ABV/litre, (1836.4/20) / 5 = 18.364% ABV
Close enough to 18% for me!
Well quite...
Here's the recipe
1: Chuck 1kg brewers sugar in clean, sterilised 5 litre water bottle. Add approx. 1.5 litres warm water, and shake it like mad to dissolve. When you shake the bottle, don't forget to put the bloody cap on or it'll get VERY VERY sticky, VERY VERY quickly.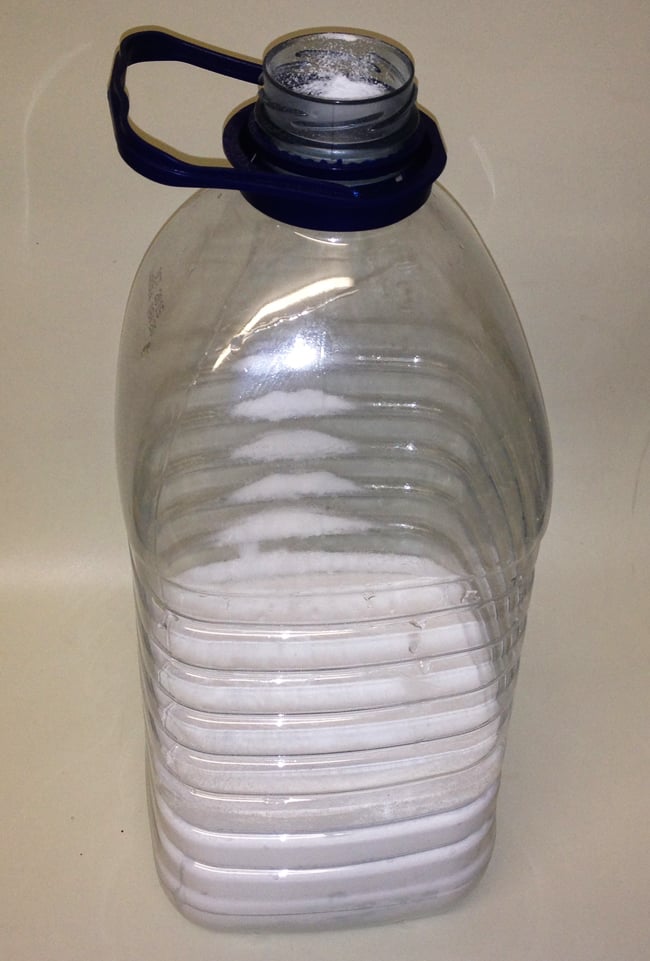 2: Pour the honey into the bottle, rinse the jars with hot water to get all the goodness out, and add to bottle. Add another 0.5l water and shake like ballyhoo for about five minutes, until all is dissolved.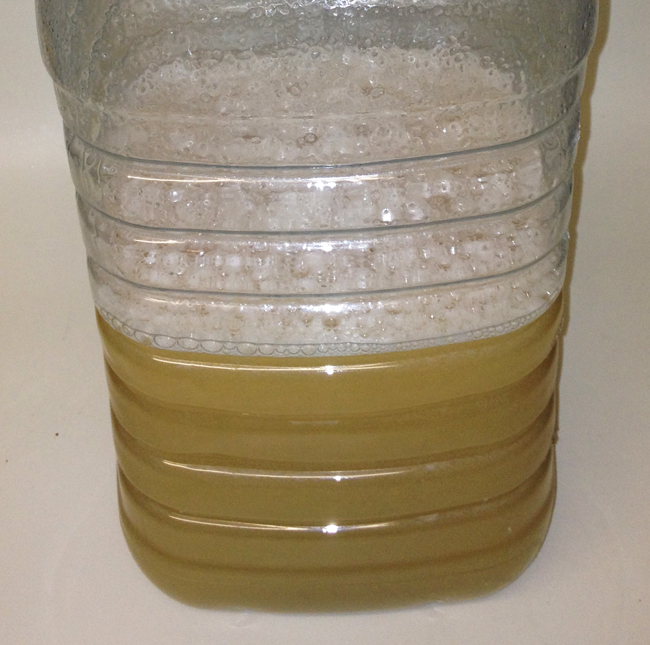 3: While this is settling, prepare the "spice mix" (actually no spices used, but it sounds cool!), plus all the chemical-type stuff in the recipe. Bung the "spice mix" in and give the bottle another shake like an epileptic rattlesnake on acid. Let it sit for 10 mins while you prepare the yeast...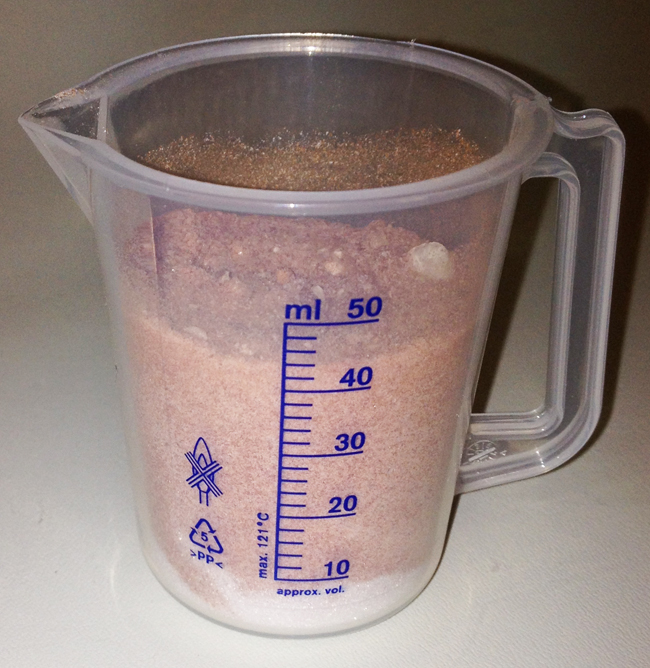 4: Add 10g Turbo Nutter Bastard High Alcohol Yeast to a glass of lukewarm water with 5g of brewer's sugar to help the medicine go down and activate the yeast.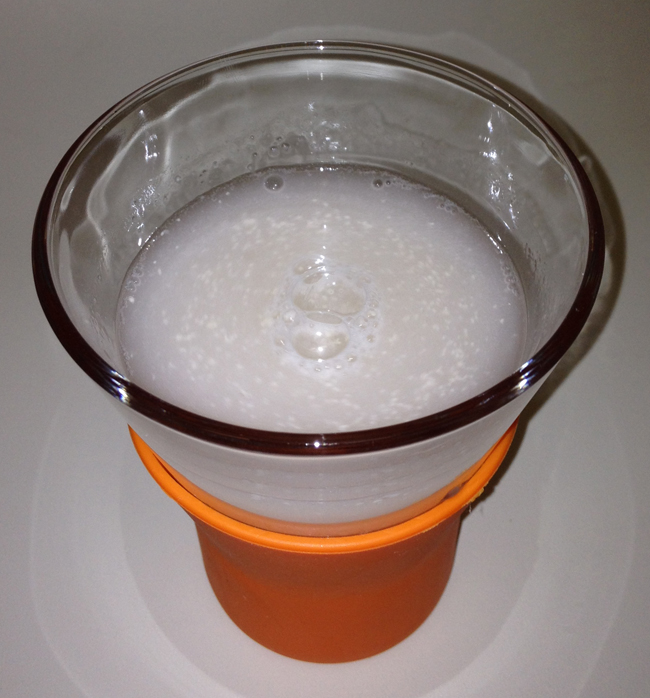 5: After 10 - 15 minutes, carefully chuck the cloudy sludge into the water, honey, sugar and spice mix prepared earlier. Yet another violent attack of shaking the mix is needed. Thankfully, this is the last one. Decant some brew into a long sample jar, and test with a hydrometer. My reading was a tad over 1.124, so assuming the yeast does its job, we're looking at a brew of about 18% ABV. NICE!!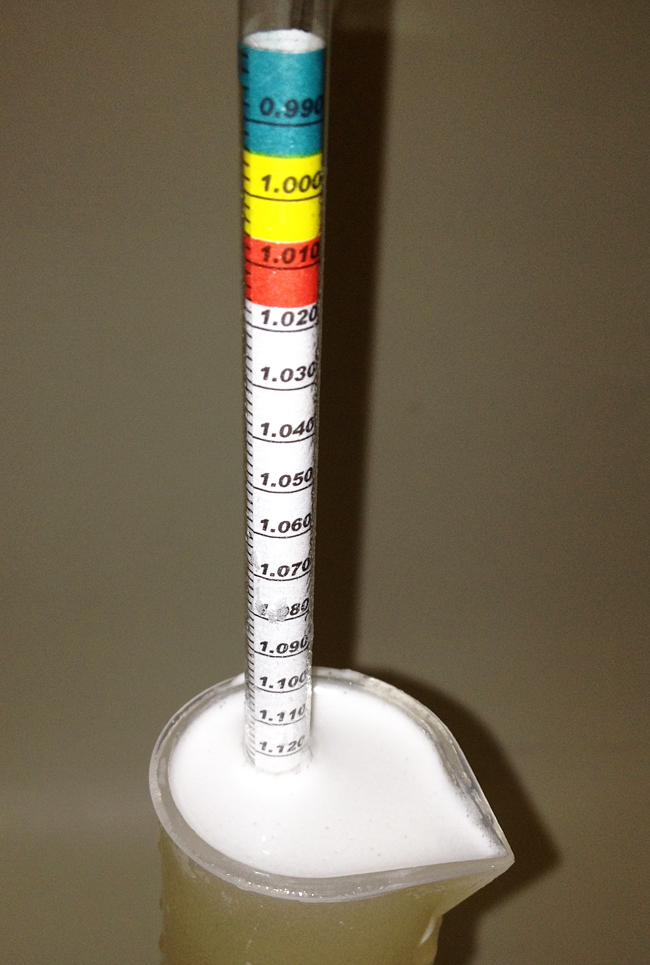 6: Tip the test jar contents back into the 5 litre bottle, coz we don't want to waste any of the delicious beverage, and screw on a SHAX BUBBLER, which is a homebrew zero maintenance airlock. Pop into a warm dark place for a couple of weeks, and come back for the next instalment...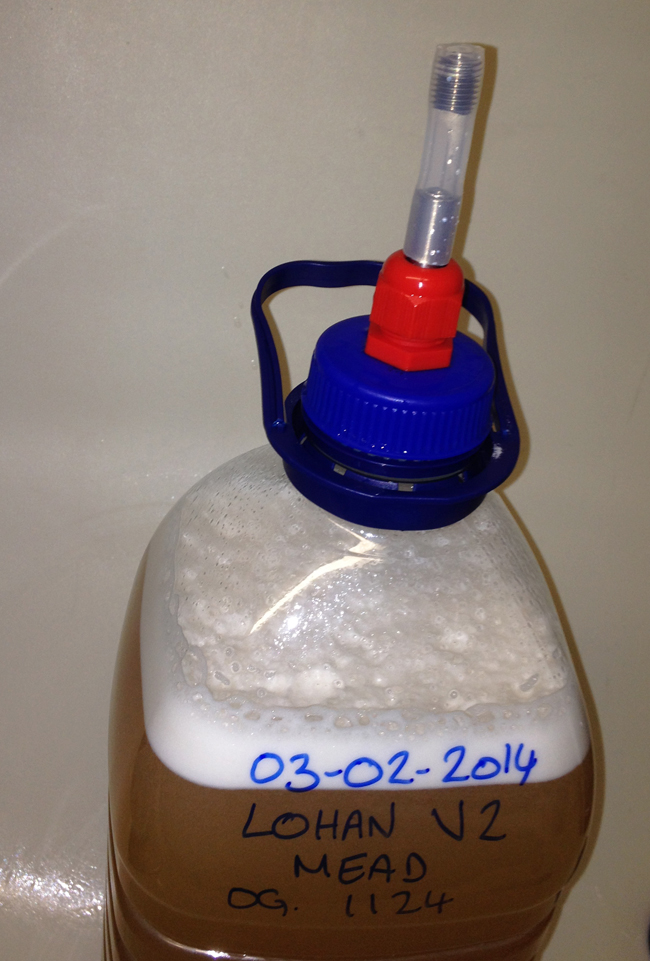 Splendid. Bottling is next up on Paul's V2 mead agenda, and here's his teaser of how the finished brew will look: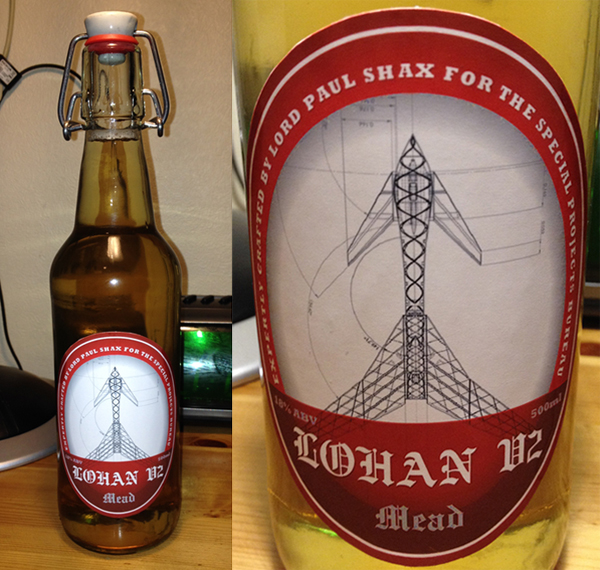 Note the volume on the label in this case is rendered in millilitres, rather than the pints on the mock-up label at the top of the article. Both are accepted El Reg units, but we reckon the Bulgarian airbag would be more appropriate. ®
Accordingly, the rest of the LOHAN team is looking forward to cracking open a few 0.8681 Bulgarian airbag bottles of V2 in the course of the forthcoming Punch and Judy flight tests. Cheers. ®