Original URL: https://www.theregister.co.uk/2014/02/21/obama_administration_call_for_patent_reform_legislation/
Handcuffed Obama administration pokes patent trolls, pleads for Senate legislation
New executive actions but bipartisan compromise needed
Posted in Policy, 21st February 2014 00:07 GMT
The Obama administration has renewed its call for legislation to combat patent trolls, and has issued three new executive actions that – although limited in scope – underline its intent to do whatever it can without Congressional help, as Secretary of Commerce Penny Pritzker put it, "to encourage innovation, not litigation."
Pritzker was speaking at a White House event on Thursday, discussing not only the administration's new executive actions, but also the progress it has made on the executive actions it announced last June: to increase patent-ownership transparency; to tighten scrutiny on overly broad patents ("particularly software patents," Pritzker said); to provide help to "Main Street" businesses hounded by trolls; and to step up research and outreach efforts, engaging legal scholars to study patent litigation and reaching out to trade associations, business groups, advocacy organizations, and individuals to both provide help navigating the patent system and gather public opinion on the system and its problems.
The three executive actions announced on Thursday are fine in and of themselves, but they sadly illustrate how limited the administration's efforts are doomed to be without help from Congress:
1. Crowdsourcing Prior Art: The US Patent and Trademark Office is launching a new program to gather information from "companies, experts, and the general public" to help patent examiners track down prior art.
2. Improved Technical Training: The USPTO will expand its Patent Examiner Technical Training Program by calling on "technologists, engineers, and other experts" to provide volunteer help in keeping patent examiners up to speed on developments in technical fields.
3. Pro Bono Help to Inventors: The USPTO will appoint a full-time Pro Bono Coordinator to enlist volunteer patent attorneys to provide help to inventors who can't afford legal representation, and expand the current America Invents Act pro bono program to all 50 states.
We seriously doubt that patent trolls will be quaking in their finely tooled Italian leather shoes when they hear of these three new initiatives – it will take new laws to rein them in.
That need was delicately addressed at the same White House event by Gene Sperling, Obama's assistant for economic policy, who generously seasoned his talk with the term "bipartisan."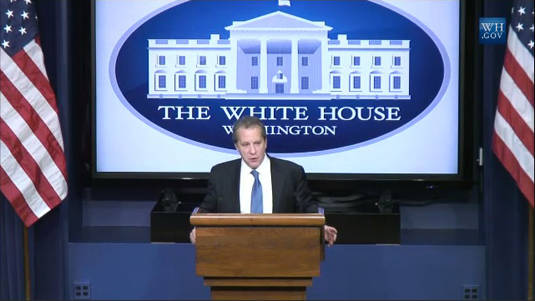 Gene Sperling: 'We would like to see 2014 be a year where the President of the United States
signs patent-reform legislation ... that helps deal with the patent-troll issue'
"This is an area where we have seen some very constructive bipartisan action," he said, citing the Innovation Act shepherded by House Judiciary Committee chairman Bob Goodlatte (R-VA), which passed in the House by "the impressive margin of 325 to 91," according to Sperling.
"I think that there's no reason that there shouldn't be that same ability to work together in the United States Senate," he said. "I think this is an area where you can see a sweet spot for bipartisan compromise."
Having spent eight years as head economic advisor in the Clinton administration and now in his fourth year in the same position for Obama, Sperling is no naïf. He's well aware that there are ideologues on both sides of every debate in Washington, but he fairly pleaded for Senator to not see patent reform as yet another battle of "black and white issues," as he put it.
"These should not be things that we are incapable of working together [on] and finding compromise," he said. Speaking of the administration's call for fee-shifting – making the loser of a lawsuit pay for the winner's costs as well as their own – he tried to move the argument away from ideological minefields.
"It's not going to be about what our principles are for overall tax reform, we're looking [at fee-shifting]. And in this area it's not black or white – there are ways of giving discretion that people can work on together," he said.
"This is a place where people of good faith should be able to find [compromise]," said Obama's economic headman.
Fortunately for patent trolls, however, in today's Washington finding a quorum of people of good faith is a more Herculean task than cleaning out ol' King Augeas' stables. ®