Original URL: https://www.theregister.co.uk/2014/02/21/gnome_3_12_beta_review/
Sanity now: Gnome 3.12 looking sensible - at least in beta
Even baring your privates to world+dog isn't compulsory any more
Posted in Software, 21st February 2014 13:42 GMT
Review The GNOME team has released the first beta of GNOME 3.12, the next major release for the popular desktop and UI environment.
Unlike the past few releases, there's a ton of new stuff in GNOME 3.12. The highlights include a slew of new apps, a major makeover for the long-standing video player, better privacy controls, support for jump lists and quite a few other interface tweaks that make GNOME 3.12 more pleasant to use.
Another noteworthy change in GNOME 3.12 is better support for high-resolution screens. GNOME 3.10 actually has some of the better high-DPI screen support you'll find in a Linux desktop, but there are still a few glitches.
GNOME 3.12 will fix some of the small, but annoying high-DPI scaling issues like poorly sized icons and thumbnail images. That means the Alt+Tab switcher, the Activities view dock, and other parts of the GNOME shell interface should all look a bit nicer on high-resolution screens. There's still work to be done in this area, but GNOME 3.12 will likely be one of the best Linux desktops for those with a high-res screen.
Other visual changes in this release include a significant makeover for Totem, the default video player in GNOME. In fact, unless you know the backstory you'd be forgiven for thinking it was an entirely new video player.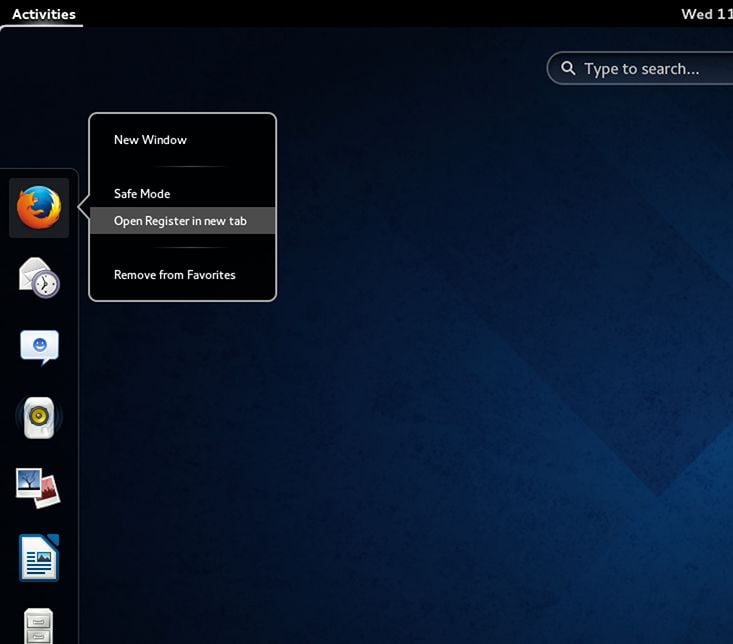 Jump lists lets you add almost anything you want to the favourites bar for right-click access
The app has been renamed Videos (or GNOME Videos if you want to be more specific), though the project itself retains the Totem moniker. The interface has been completely redesigned to fit with the look of GNOME 3.x apps and there are some new plugins for online services like Pocket (more on that in a minute).
The 3.12 beta sees GNOME developers once again doing an about face on a capricious decision that seemed totally pointless - removing the wired network indicator from the status bar. In GNOME 3.12 the wired network indicator is back, which means it's once again simple to toggle wired connections on/off and quickly open your network settings for more fine-grained control. Sanity prevails.
Sanity prevails more generally in this release with several tools that - gasp! - complicate the interface a bit to give users more functionality. GNOME is not just minimalism for the sake of minimalism any more, apparently.
Perhaps one of the most immediately useful new tools in this release - which would seem to fly in the face of GNOME's belief that features confuse users - is GNOME 3.12's new "quick lists" or "jump lists" for the launch bar. Right click on the launch bar in GNOME 3.10 and earlier and the only menu items you'll see are "new window" and "close".
With 3.12, GNOME adds support for customizable right-click menus in the Activities view and in any running apps listed in the favourites bar. That is, you can now add pretty much anything you want to the right-click menu in the GNOME 3.12 favourites bar. So you can right click, for example, LibreOffice Calc and not just open it, but create a new spreadsheet at the same time.
Build your own menus
Perhaps the best part is that it's pretty simple to create these menu items yourself. For example, suppose you want a shortcut to quickly launch a frequently visited URL in Chromium. All you need to do is create a text file with a few key lines (see World of GNOME for some example code) and you'll be able to right click and access the URL from the menu directly.
Other possible uses include opening an app with a blank document ready to go or opening an app with a new document based on a template of your choosing. GNOME is a bit late to the jump list party - Unity, Windows and OS X all offer similar features - but it's no less welcome.
Like Ubuntu's Unity, GNOME 3.12 sees the online world continuing to creep into your desktop apps. There are quite a few new services supported through the various GNOME 3.12 apps, like the aforementioned Pocket integration in the Videos app.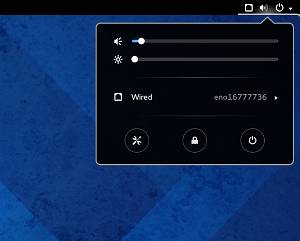 Return of the wired network indicator for on/off toggling
Pocket, which began life as Read It Later, is still a read-it-later service, but it also supports saving videos. The integration with GNOME Videos means you can see all your saved videos in Pocket right alongside the rest of your media library in Videos. Videos also supports plugins for a few other online services like Guardian Videos and Freebox TV.
The list of new online services in this release is not limited to Videos. GNOME's Photos app has added Facebook support - which is a system level online accounts option. Using it with Photos means you can interact with your Facebook photos directly inside Photos.
Depending on your view of Facebook, the new integration is either amazing or horrifying - there doesn't seem to be a middle ground when it comes it Facebook.
If you fall in the latter category, chances are you'll like the new geolocation privacy controls in GNOME 3.12. You can flat out turn off locations services in this release, but should you choose to leave them on there's a nice new indicator applet that will let you know whenever an application (like Maps, Weather and Photos) is using your location data. In the future the GNOME devs plan to offer more fine-grained location privacy controls, but for now there is at least an off switch.
There's plenty of other new stuff in the GNOME 3.12 beta that makes it well worth a look for GNOME fans, including support for app folders and search results that now include software from repos - that is, software that's not yet installed.
If you'd like to try out GNOME 3.12 I recommend Fedora's Rawhide release, though I suggest, for now, sticking with a virtual machine.
The final stable version of GNOME 3.12 is due early April.