Original URL: https://www.theregister.co.uk/2014/02/13/okay_startupland_this_data_shows_you_can_stop_your_whining/
Okay startup-land: this DATA shows you can stop your whining
Technology startups faring well despite annus horribilis for VC down under
Posted in Business, 13th February 2014 23:11 GMT
It's holy writ for Australia's IT industry that if only we had more technology startups, everything would be better and the nation's economy would have a bright future once its to-all-intents limitless iron ore, coal and sunshine resources are depleted or become unfashionable.
The reason Australia doesn't have more startups, the argument goes, is that we don't provide them with a sufficiently fertile environment in which to grow, which is to say an environment just like that in northern California. Australia's venture capital community is also held to be so dozy it has not noticed that tech startups do very well indeed in the USA.
In short, Australia Is Missing Out and This Should Not Be Allowed To Happen. And let's not mention the underpants gnome problem of just how more startups attracting more investment turns into a better future economy.
But let's hold on for a moment: according to the Australian Bureau of Statistics 's new wodge of data, titled Venture Capital and Later Stage Private Equity, Australia, 2012-13, tech startups are doing okay.
The news isn't all good: 2012/2013 was a shocker in which "new capital committed to Australian venture capital and later stage private equity funds decreased by 77 per cent ($2.4 billion) in the 2012-13 financial year". "This is the largest decrease we have seen since we first started publishing this data for the 2004-05 financial year," the Bureau's assistant director of research and development surveys Ms Tracey Rowley said in the media release for the data.
But there's better news for the tech sector on table 13 of the ABS' data, which concerns new and follow-on investments.
Here's a chart detailing the number of companies that attracted what the ABS shortens to "VC & LSPE" investments over the last few years.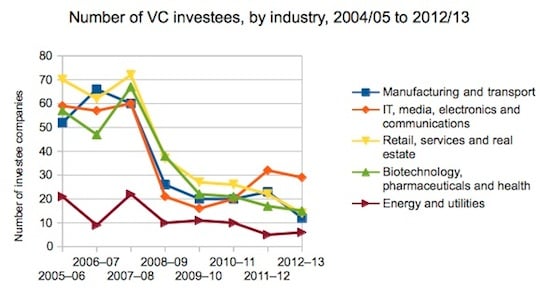 Tech startups are doing alright there, aren't they? Indeed, Unless I'm reading it wrong, that data shows a collapse in VC & LSPE investment in every sector but technology!
Now let's have a look at how much money is flowing to each industry, again from table 13.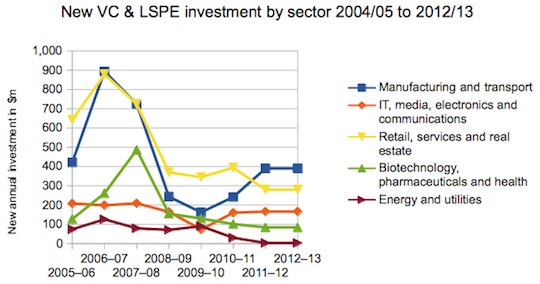 Startup-land could get grumpy about this one. I'd rather they didn't, not least because this cloud thing we all keep hearing so much about means a tech startup can surely get by with less capital than others. It's probably more worthwhile inquiring about just why manufacturing and retailing still get more cash than technology, but that's easily answered: investors want a return on investment and send more money where they think they'll get it.
The ABS offers a lot of data, rather more than we could do justice to. But the trend of the last couple of years looks good for local tech startups. The data also offers some interesting numbers for those backing the "superannuation funds should back more startups" argument, because elsewhere in the data it's suggested they've got about $9bn of skin in the VC & LSPE game.
Overall, then, good news for Startup-land Australia. Now if only then can sort out step two in their plan to reform Australia's economy. Then it might be easier to take their calls for tax breaks and reform of employee share schemes seriously. ®