Original URL: https://www.theregister.co.uk/2014/02/05/fujitsu_laptop_elderly_grannote/
Fujitsu launches lappie for oldies
What big keys you have! All the better to type with...
Posted in Personal Tech, 5th February 2014 06:30 GMT
Fujitsu has taken a plunge into the grey market by launching a notebook designed specifically for the over 60s.
The aptly named "Grannote" is aimed at "active, mature adults" and will debut in Japan on February 13.
The Lifebook AH90/P lappie has been fitted with some extra features to make it easier for old folks to use.
Specifically, these include "Intellicolor", which automatically adjusts the screen's colour settings according to the surrounding lighting conditions, and "Awaseru Voice", which adjusts the volume levels of high-frequency sounds depending on the user's age.
High-frequency sounds are generally more difficult to detect the older one is, so this feature should theoretically help users hear better on Skype calls or when watching movies, Fujitsu claimed.
To maximise ease of use, the firm said it has included three different key weights to match different finger strengths, and included 3-mm key stroke and 18.4-mm key pitch for "satisfying key action and comfortable hand placement".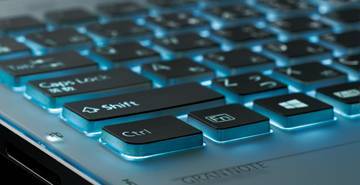 The backlit and raised keyboard of Fujutsu's lappie for oldies
Not having had the chance to test the keyboard we'll have to take Fujitsu's word for that, although the blue backlit keys and illuminated laptop icons – to indicate where the various ports are – look pretty nice.
There's not much mention of specs on the release – presumably as grandparent-aged technology users aren't interested in that sort of thing – although we do know it comes with an Intel Core i7-4500U processor, a 1-TB hard drive and 8GB of memory.
It's no surprise that Fujitsu is turning to the olds with its latest notebook – roughly a quarter of Japan's population, or over 30 million, are over 65.
What's more, the PC market in APAC, as elsewhere, is in dire straits, suffering its biggest ever yearly decline of 10 per cent in 2013, according to IDC – although these figures excluded Japan.
Fujitsu has of course appealed to the more mature customer before, with its Stylistic S01 Orange smartphone launched in February last year.
For the record, the firm also unveiled a series of PCs for the enterprise market, including a new convertible ultrabook, the Lifebook AH42/M, three new Lifebook E series models and a new Esprimo desktop, the D552/H. ®