Original URL: http://www.theregister.co.uk/2014/01/29/stubilizer/
Reg reader crafts 3-axis GoPro 'Stubilizer' for skull-mounted cameras
'Vertical learning curve' for CAD and 3D printing novice Stuart Smith
Posted in Science, 29th January 2014 16:02 GMT
Interview As our title suggests, we at the Special Projects Bureau like a nice project, so we're pleased to share with you today reader Stuart Smith's ambitious 3-axis stabiliser for the GoPro HERO3 - dubiously dubbed the "Stubilizer".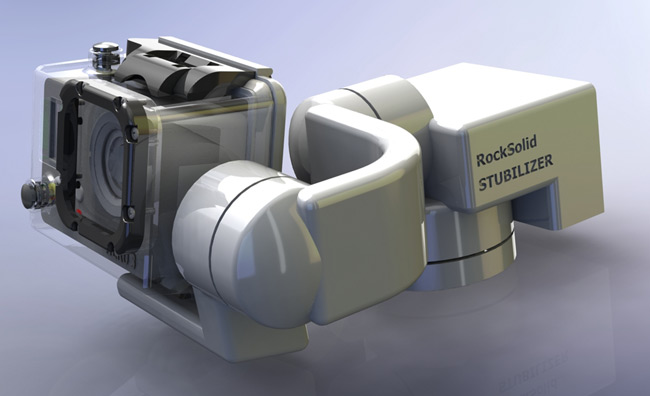 The Stubilizer in 3D rendered glory
Stuart's an IT consultant based in Ipswich, Suffolk, but when he's not fiddling for his supper down at the likes of British Airways, he's slaving over a hot 3D printer in his pursuit of his dream to take the stabiliser market by storm.
He and his company RockSolid Technologies will shortly be rattling the tin on Kickstarter, hoping to raise cash to get the Stubilizer into full production.
The development process has been heavy on CAD and 3D printing, so we asked Stuart - who was a novice in both areas when he started the project - to explain just how the journey to the current working prototype has been. Read on...
El Reg: What inspired your cunning plan for world camera stabiliser domination?
Stuart: Aha... seven years of trying to get good in-flight video while flying my paramotor and paraglider with helmet-mounted cameras.
I'd previously tried servo-based stabilisers but they were rubbish. In Jan/Feb last year a bloke in Russia, Aleksey Moskalenko, came up with a novel way of using brushless motors instead of servos in gimbals. - initially rewinding motors by hand into a different wiring pattern which let them become more like "torque brakes" than motors.
That technology progressed last year, initially as 2-axis stabilisers (roll and pitch only). As an avid RC quadcopter flier, I was on the bandwagon from day one.
By the third quarter of last year; 3-axis controllers had started to be supported (yaw added), and I build many DIY versions cobbling together bits of gimbals from here and there.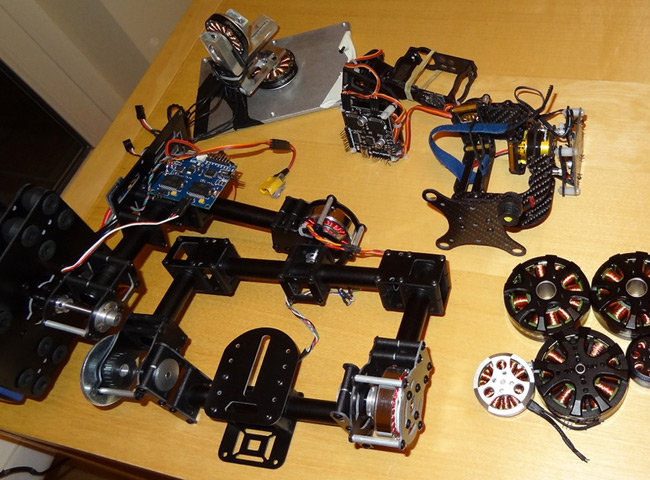 Some bits from Stuart's early cobbling
And, by the end of 2013, a fair number of 3-axis gimbals were available from from China for R/C use. However, what they all have in common is:
They are all pretty DIY looking things with wiring hanging off them everywhere. Usually the pictures don't show the wires, or the controller, so the end result looks like a rats' nest.
They need setting up on a computer, which needs the user to know what they are doing, farting around with closed loop PID controls and the like.
They are all for either handheld or R/C use, using potentially dangerous LiPo batteries.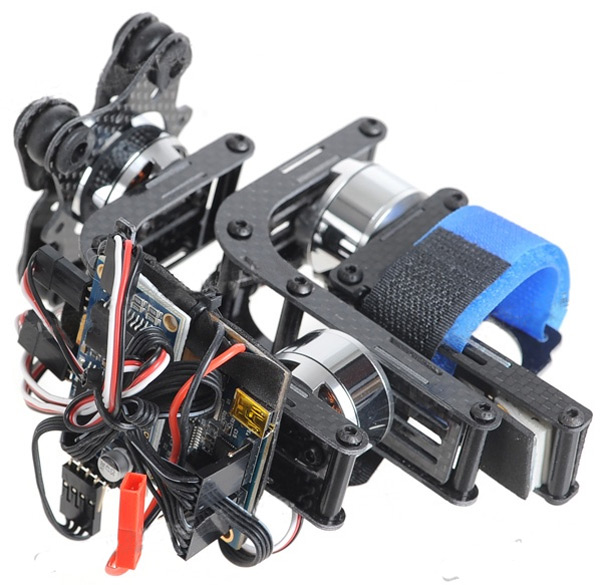 Room for improvement: A typical Chinese-made 3-axis gimbal
El Reg: Room for improvement, then. What were your initial design criteria?
Stuart: I wanted to create something that was:
Sleek and robust with no wires anywhere.
Works in the more aggressive area of action POV sports.
A consumer device - no computers required, no LiPo batteries, and balance chargers, etc.
Able to hold a GoPro INCLUDING the protective case - unlike everything out there.
True plug-and-play for the GoPro POV market - paragliding and paramotoring, mountain biking, skateboarding.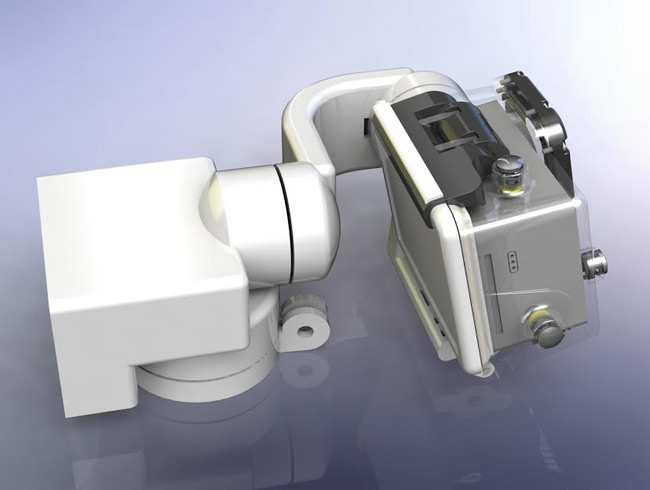 Sleek and robust: Another rendered view of the Stubilizer
El Reg: So, the rig is powered from the GoPro battery or does it have its own supply?
Stuart: No, it has its own battery in the design - the box at that back houses all the electronics and the battery. The GoPro hasn't exactly got stunning battery life as it is (you're lucky to get an hour out of it), so sucking power out of that wasn't feasible.
El Reg: Where are you at with the project?
Stuart: I've completed all the technical challengers - can it work, is it robust enough, are the motors powerful enough, are my chosen batteries safe, and do they have sufficient capacity. I've also made several electronic changes that no one else has which get rid of one of the main problems with current 3-axis gimbals - that of the yaw "losing its direction" after it is knocked off. Mine ALWAYS comes back to straight ahead.
I'm in talks with local assembly companies and Chinese companies for parts and circuit boards.
El Reg: What 3D kit are you using for prototyping?
A FlashForge dual extruder. It's a clone of the MakerBot Replicator, but arguably better. Weirdly, the Chinese are producing a clone which is , in my opinion, superior to the original.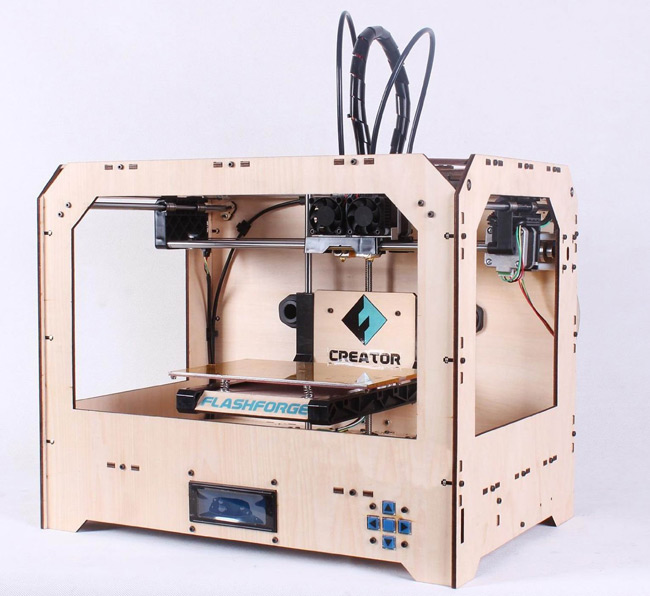 Attack of the clones: FlashForge dual extruder
El Reg: Did you have any previous experience of CAD or 3D printing?
Stuart: No. Bog all. It's been a bit of a vertical learning curve to be honest. From weeks trying every CAD package under the sun before finding one that I though could do the job, and be used by someone with an IQ of less than 300, to then trying to actually learn how to "build things" rather than just how to use the CAD package.
How hard could it really be?
El Reg: What CAD software did you finally settle on?
Stuart: SolidWorks, the evaluation version, but the final design tweaks will be done by a freelance CAD professional (via his existing licence, so all above board) to make it fit for injection moulding.
I think if it wasn't for my need to end up with something that can be injection moulded, I could have chosen something else. However, it seemed sensible to go with an industry standard modelling tool which had built-in support for moulding and plastics.
It's certainly not an area where free stuff excels, so you're left with the big boys - and they all charge a fecking fortune for licences.
El Reg: What have been the challenges?
CAD has been the big one. But tackling the 3D printer went hand-in-hand with that. I think without it I'd have been stuffed. I've lost count of the number of times I've been happy with the design, printed it out and then found it was total bollocks for some reason or other.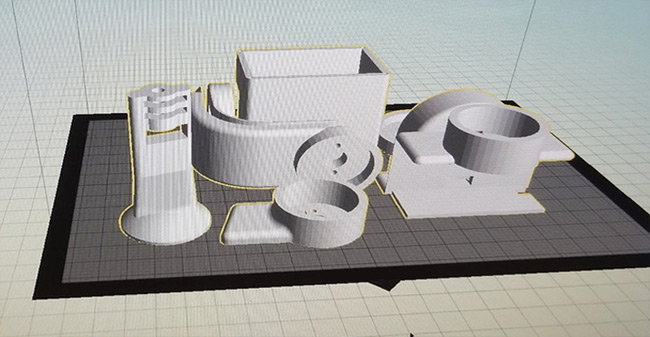 Arranging the Stubilizer parts prior to printing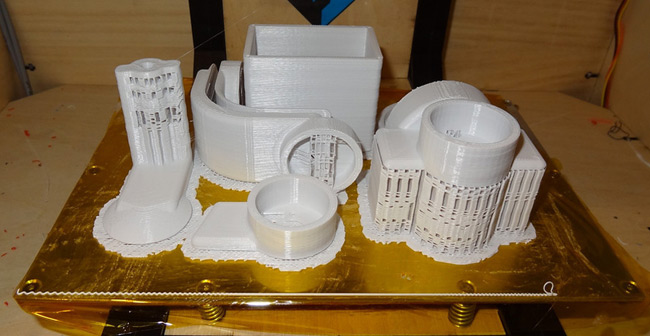 The Stubilizer bits hot out of the printer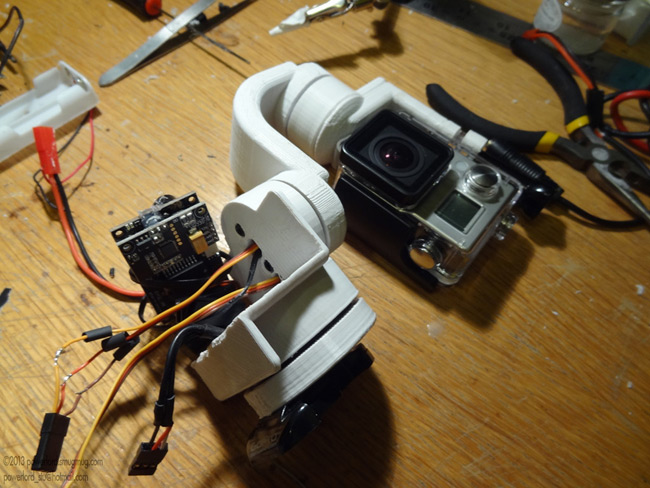 Wires, camera, action: The prototype Stubilizer during assembly
El Reg: Is there any other way you could have done your prototyping?
Stuart: I could have tried to whittle parts out of wood by hand or trying to mould polymorph by hand. It's only been after holding it in my hands, trying it on a helmet, for example, that you get a feel for what works and what doesn't.
An alternative to printing your own stuff is to send the designs off. I've currently got orders in with a couple of online 3D printing firms, but it's still expensive at £60 per Stubilizer, and turn-around is around 10 days.
There's also CNC, but that's pretty much what every existing Chinese cobbled-together gimbal design uses - flat CNCed parts of carbon fibre/aluminium. And that leaves you with all the problems I'm trying to solve, like exposed wires and a Heath Robinson look.
El Reg: You're evidently on the right track, as the above vid of an early prototype shows. What's on the agenda now before you start rattling the tin for funds?
Stuart: I've got to iron out a few technical issues with the latest design. It just doesn't work as well as I'd like, and I don't want to take it to Kickstarter until I'm 100 per cent sure that I can fulfil on promises I make.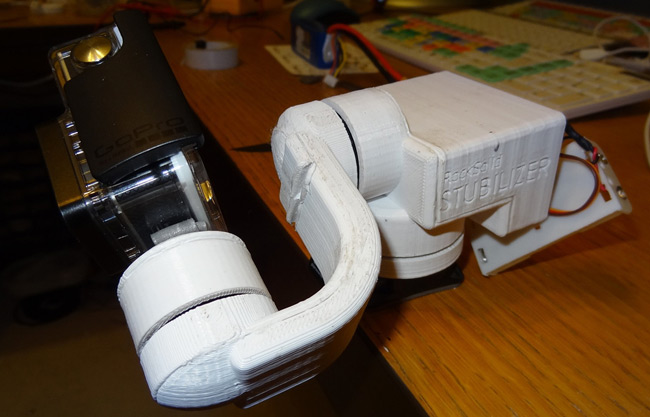 Awaiting ironing: The current Stubilizer prototype
El Reg: Fair enough. How much are you looking to raise?
Stuart: £50k. That's what I need for injection moulding, part orders, assembly in bulk, warehousing, and a stable base for future production. I don't intend to take any personal profit from that, nor am I paying myself a wage or taking any of those funds for my expenses so far. It will all be invested in the company.
However, I can't afford to lose any more time, so I'm moving forward on the assumption that I can raise the cash. I've already probably spent £3k+ on the printer and parts, so what the hell - in for a penny, in for thousands of pounds.
El Reg: Vital question: How much will the finished Stubilizer be?
Stuart: I'll be pricing the initial Kickstarter run at £299 each including battery and charger, so I need around 167 or so people to pony up.
El Reg: Sounds like you're on your way. I was going to ask you to apologise for the truly terrible "Stubilizer" pun, but it appears you have linguistic support from an Oz outfit also involved in vital stabilisation work.
Stuart: Yeah, I found that link too! No idea why they called it that though unless it's for the same reason.
El Reg: The name must come from "stubby", as our Australian cousins call beer bottles. Evidently their device is doing vital work Downunder maintaining a stable beverage.
And speaking of beer, I note in one of your snaps you use a webcam so you can monitor print progress from the boozer.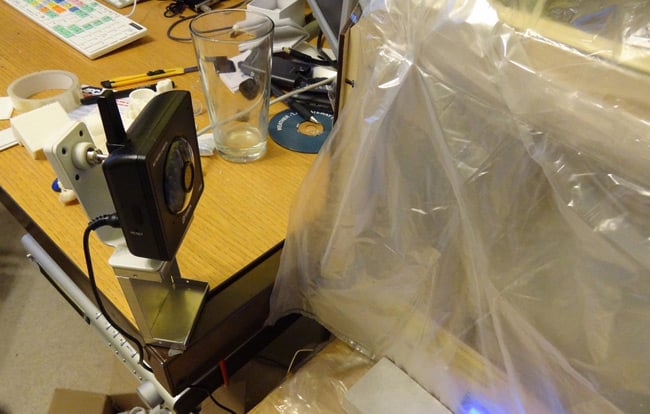 Right, that's running, let's hit the pub
f
Stuart: Well, these things take hours to finish. What's a man to do? ®