Original URL: https://www.theregister.co.uk/2014/01/21/review_lenovo_yoga_10/
Lenovo Yoga 10: Mediocre tech, yes, but beautifully fondleable
The ten-inch Android tablet that takes a stand
Posted in Personal Tech, 21st January 2014 10:03 GMT
Review Do tablets have to be dull, flat slabs? If you are Asus, Apple, Samsung or Nokia, the answer to that question is clearly 'yes'. Sure, each may boast a decorative lip here, an extra button there, or an unusual profile curve someplace else, but essentially they all look much the same.
Sony once tried something different with its Tablet S and P models, but then made the Xperia Z Tablet another slab. Diversity of form, then, is not a keynote of the rise of the tablet. Until now.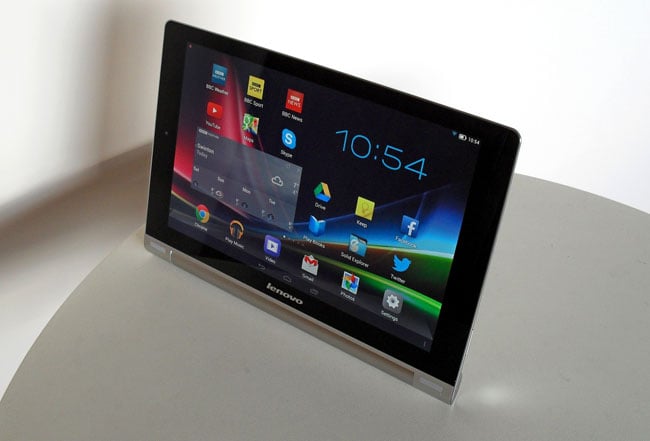 Lenovo's Yoga 10: stand it up one way...
Lenovo's Yoga 10 may have mediocre innards (about which more below) and a rather average screen, but by heck its designers have been at the Shredded Wheat. In a number of rather important ways this is the most usable slab I have ever had the pleasure of fondling.
Let me give you a guided tour. On three sides the Yoga 10 is just another plain old Android tablet. It's an average of 5mm thick and no wider or taller than it's 10.1-inch screen necessitates. But at the bottom – assuming you are holding it so the Lenovo logo is the correct way up – is a 20mm diameter rounded protrusion. Think of a generic Android tablet with a long rolls of £1 coins glued to the bottom and you get the idea. Built into the rounded end is a small, pull-down stand.
The benefits of the this design are several. Pull the stand down and the Yoga stands up at an angle of around 80 degrees. The stand is deep enough to let you use the touchscreen without the thing toppling backwards. Leave the stand open but flip the Yoga over and you can rest it on a flat surface at around 20 degrees. Or you can close the stand and rest it at about ten degrees. Between them, these positions have most bases covered.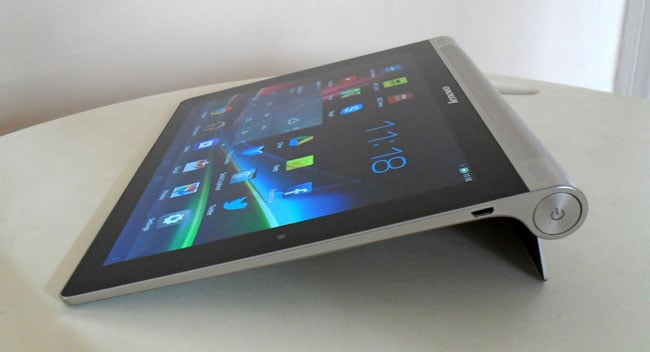 ...or another
Usefully the volume controls on the side swap polarity so no matter which way you have it, the top button increases volume while the bottom one reduces it. There is also a screen adjustment toggle in the settings pull-down that makes subtle changes the brightness, contrast and sound settings for Tilt (at a slight angle), Stand (upright) and Hold (handheld) modes. That's the sort of attention to detail I like to see.
Assuming you want to hold the Yoga rather than rest it on your desk, bed or coffee table, the bar makes an excellent hand grip. I took to holding the 605g Yoga 10 by the bar as an ebook reader like a Catholic takes to guilt. If holding your 10-incher in your hand is something you anticipate doing regularly [Steady on, old chap – Ed] the Yoga 10 is self-recommending.
The rounded edge also does a few extra jobs. It houses the power button and a 3.5mm audio jack in places you never have to search for and behind the flip stand are the slots for Micro SD and SIM cards, though there is an issue with the former: the memory card slides all the way into the slot so I only managed to trigger the spring to get it back out with the aid of an expertly bent paper clip. The tubular section also means there is room for two forward-facing speakers at each end.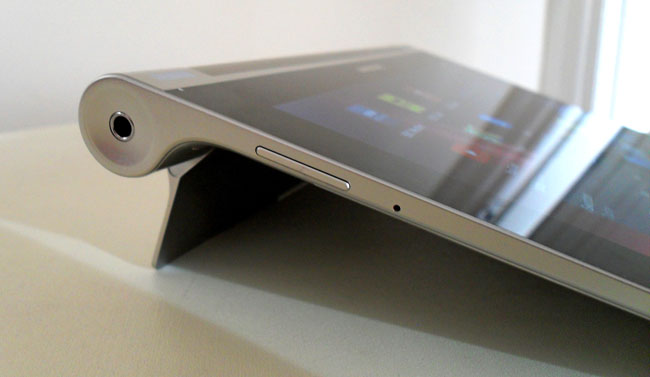 The sound buttons cleverly switch so the topmost of the two always ups the volume, whichever way up you hold the tablet
Now these speakers - despite Dolby Digital Plus enhancement - are not exactly game changers and sound just a wee bit tinny. But they do pump out a fair old volume and make a decent fist of stereo separation. And the position means you are not forever accidentally covering them with your hands when holding the device.
For it's decidedly mid-range asking price - £249 direct from Lenovo - the Yoga 10 is pretty well made too. The silver and black casing feels solid and robust while the hinged stand is reassuringly stiff and I suspect well able to withstand a lifetime of use and abuse.
If all this sounds too good to be true, there are some downsides and cut corners. The 1280 x 800 LCD IPS screen isn't the sharpest around as you can guess from the numbers, and though it is very bright and demonstrates excellent levels of contrast, the colours are a tad wishy-washy and lacking in saturation. Viewing angles are solid though, which is just as well given the form-factor.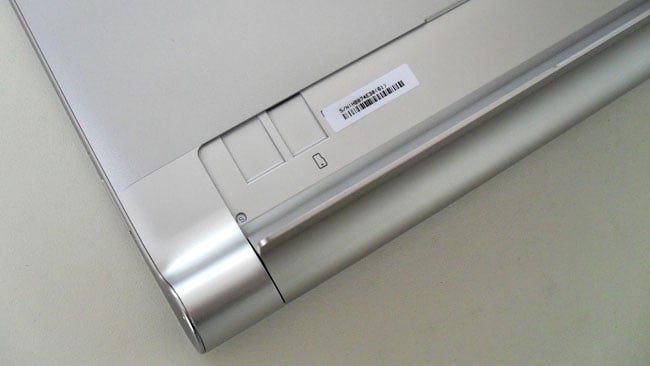 There are Micro SD and SIM slots tucked into the stand
So-So AnTuTu
Similarly, the chipset isn't going to set your pubic hair on fire if you use the slab as a literal laptop device. Running the show is a Mediatek MT8125 system-on-a-chip boasting a 1.2GHz quad-core Cortex-A7 processor, PowerVR SGX544 GPU and 1GB of RAM. That's a combo that returns an AnTuTu score of around 13,400 which is on the lower side of average in this era of devices that can turn in scores of well over 30,000.
Still, 13,400 is large enough number to suggest the ability to yank the skin off a least a couple of rice puddings at the same time.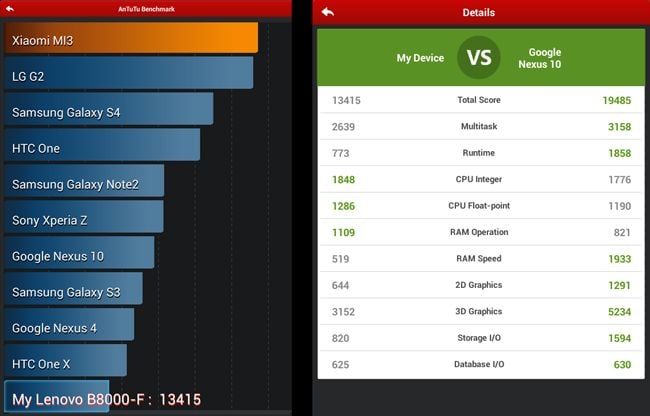 AnTuTu benchmark performance
And so it proves. The Yoga 10 can run games like Real Racing 3 and NOVA 3 without any trouble, and in use it never feels slow or hesitant even if it's not as supremely fluid as the new Nexus 7.
I've read a comment in a British broadsheet that when updating apps the Yoga 10 "slows to a crawl" - granted, a problem with many an Android device running a less-than-manly chip - but let me say for the record that in this case No It Doesn't. Yes, it slows a little, but come on, for £250 you can't realistically expect the sort of performance you will get from a 10-inch Android slab costing £150 more or an iPad costing at least twice as much.
Internal storage is pegged at 16GB - or 12GB and change after system requirements - but that Micro SD slot is good for cards up to 64GB in capacity, so this is a feature of the specification you don't really need to lose sleep over.
And rest of the boys in the band? The 5MP main camera is dismal (but who really cares?) while the 1.6MP webcam is very good indeed, so at least Lenovo is spending the money in the right place. The cameras are also cunningly positioned. The main snapper is built into the right-hand end of the bulge so it's directly above your hand when you are holding the Yoga in portrait orientation in your left hand. Ditto the webcam, which, when you hold the Yoga in the same way, is directly above the centre of the screen. Lenovo really has thought all this design through with some diligence.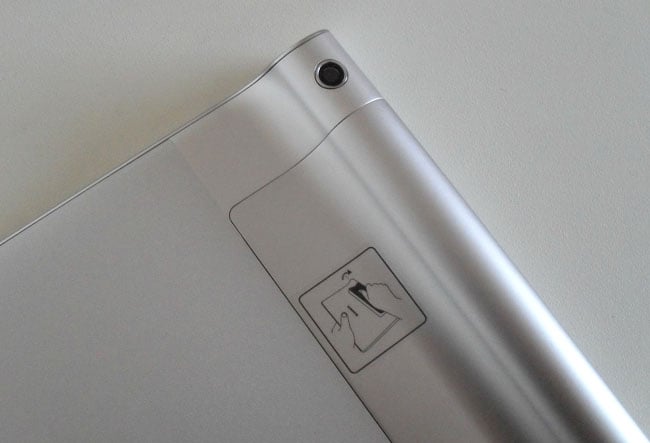 A dismal 5MP camera - but who cares?
Battery life is impressive thanks to a 9,000mAh power pack that will pony up well over nine hours of 1080p video playback or half as much again of more mixed usage, and there is support for USB hosting out of the box. GPS, Bluetooth and single band 802.11n Wi-Fi are all present and correct, but there's no NFC chip or IR transmitter. Given the price, that is exactly what I expected. There was some bloatware pre-installed on my review unit, such as Navigate 6, but all of them can be removed just as you would any other downloaded app.
The Yoga 10 runs Android 4.2 with a Lenovo makeover which essentially means the design has been tweaked and the app tray has vanished in a misguided attempt to give the interface a more iOS-ish feel. This is a pain until you get around to dumping all the apps you seldom use into one folder after which it ceases to be an issue. If you want an app tray, just install a good third-party launcher like Nova Launcher.
Will there be a KitKat update? Yes. Do I know when? No.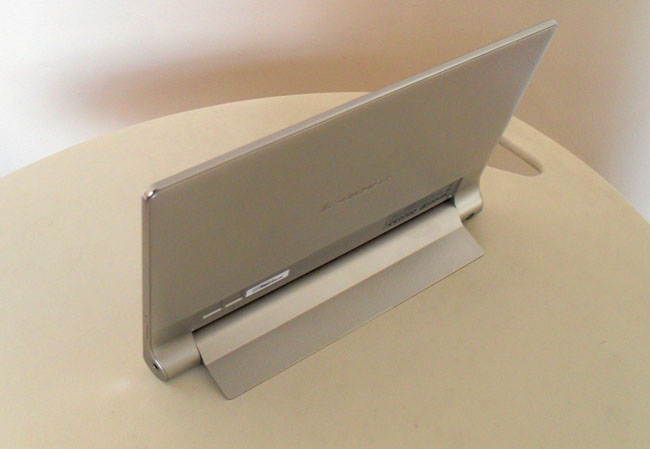 Round the back
Finally, Lenovo deserves a tip of the hat for only asking a £30 premium for the 3G version of the Yoga 10, which retails for £279.
The Reg Verdict
In line with its asking price, the Yoga 10 has a mediocre screen resolution and a mid-range chipset, but it still does everything you are likely to want a tablet to do and with a decent lick of speed. What separates it from the herd is the rather clever form-factor, which pays dividends should you wish to pop it on a desk or hold it in your hand.
If you plan on using your tablet primarily for reading books, watching videos or video chatting then the stand-me-up and sit-you-down stand options and ergonomic bulge are well worth having. ®