Original URL: https://www.theregister.co.uk/2014/01/14/game_theory_walking_dead/
ASSAULT CORSE: Eager Walking Dead heads get a second series
Plus puzzles and spells in The Room Two and Sorcery!
Posted in Personal Tech, 14th January 2014 12:02 GMT
Game Theory Ah, the post-Christmas lull. The time of year to take time to reflect on the year just gone and plan for the one ahead. Traditionally, January is also a quiet month for the games industry, and this year's new releases are similarly sparse.
Thank the god of apps then, that nowadays games come thick and fast down our internet pipes. And so, without further ado, we stay a night at The Room Two, head on out with The Walking Dead Season 2 and roll the dice with Steve Jackson's Sorcery! Part 2, Kharé Cityport of Traps.
The Room Two
Like an infinitely more elaborate version of a Rubik's Cube, the original Room, from Fireproof Games, proved to be a delightful puzzler. It rewarded the player's well-pondered prodding of a series of sealed boxes with a sprung lock here and the discovery of a hidden switch there.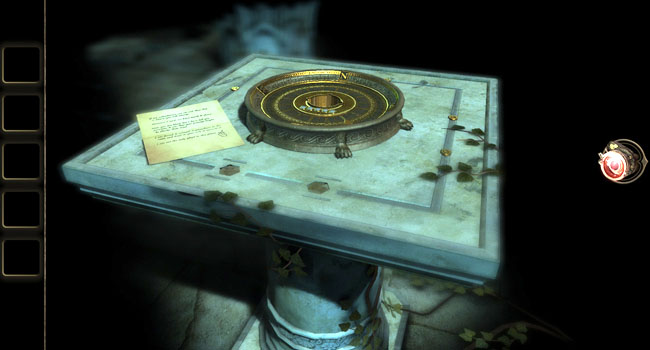 Point and it clicks
The Room Two continues the theme, but provides even more complex machinations to keep its mysteries locked up tight. Its stages – always based on a particular theme from mad scientist's lab to séance – are now much larger and usually packed with numerous areas of interest rather than a solitary locked box.
Once again, the difficulty is set just right, being not so easy that you'll fly through the game's five main stages, but not so tough that you'll need to resort to the hints option. Along the way, I met but two particularly teeth-gnashing puzzles that I solved as much by trial and error as by deduction.
I don't know if that was the intended approach, but not once did I meet a room that I didn't get a fuzzy warm feeling from after the successful unravelling of its secrets. The many eureka moments that come from discovering the way forward make for a constant stream of endorphins.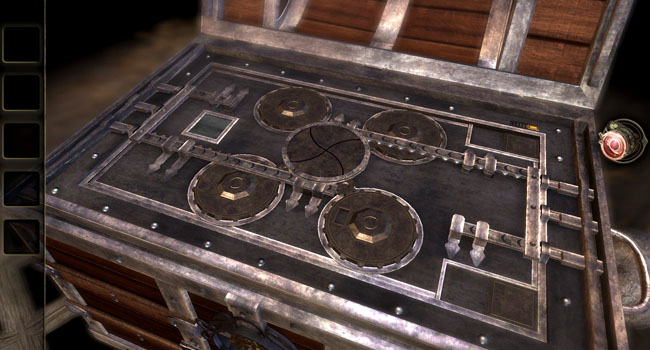 Tyrannical mechanical
The general atmosphere is one of eerie unease, but the game does fall somewhat short in the plot stakes, however. A heavy Lovecraftian slant seems the right approach, but never does the narrative titillate to a similar level as the game's "touch me, tease me" gameplay.
What story there is gets delivered once more through notes and letters discovered across the various venues. Most are too cryptic, however, to ever really provoke any real interest beyond an initial feeling of "well, what do we have here then?"
For me that's a real shame, as a plot to match the gameplay would have been the final piece in the jigsaw on the path to game being recognised as the classic it deserves to be. Regardless, the iOS-based Room Two is well worth checking into – it's a mere £2.99. And if you're lucky enough to have missed out on its predecessor too then be sure to pick them both up.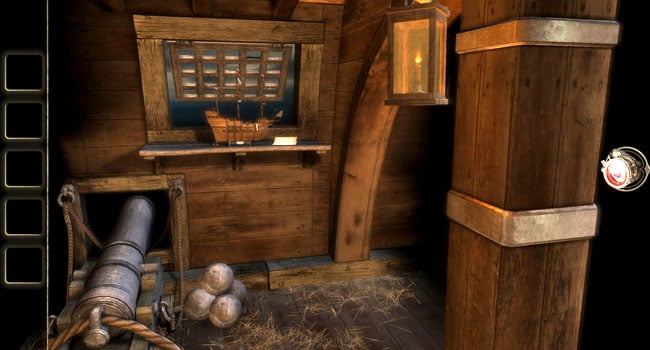 Lost in the Myst?

Steve Jackson's Sorcery! Part 2
If I was a traveller I think I might give Kharé, a town that's known colloquially as the "Cityport of Traps", a wide berth. I guess I know nothing though, because that's precisely where our intrepid hero heads in this new chapter of Sorcery!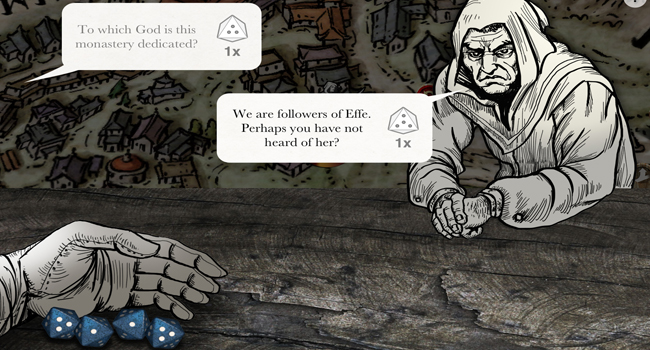 Dice, man
Once more based on Steve Jackson's choose-your-own-adventure book, this is a completely standalone iOS edition that works independently of Sorcery! Part 1, The Shamutanti Hills. However, those who did venture through that initial entry can import their character – so transferring any rations, gold and magical items that they might have amassed.
It's also worth pointing out that Sorcery! Part 1 has also recently been rather drastically patched, with its developer, Inkle, keen to implement a new spell casting system, additional hero - you can now play as a lady adventurer, don't you know? - and a myriad minor fixes that makes this second part all the better.
Once again the game is part ebook, part RPG and unfolds in the order you see fit as its branched paths diverge. And, better yet, where the previous adventure simply halted at its end - so leaving multiple jaunts up to the player - here your venture through Kharé lends itself to repeat run-throughs by virtue of the plot, therefore increasing the completion time considerably.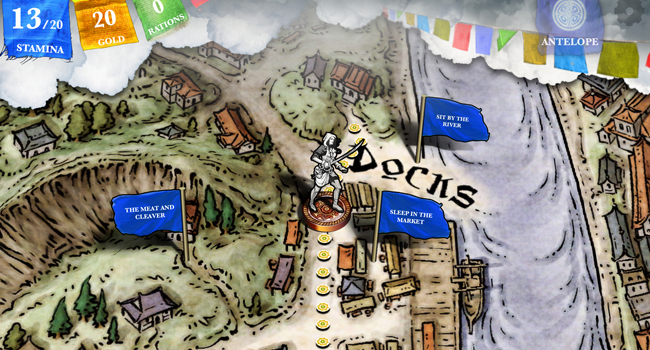 Topping the chart
The fantasy plot won't be winning any awards for originality, but there's enough imagination on display throughout to make every line worth reading. Especially given the fact your life depends on the deciphering of a number of clues. What more did you expect from the Cityport of Traps?
2d6
Appropriately enough for a game called Sorcery!, magic plays a big role too. The improved casting system and spell-book offer all kinds of spells – from summoning creatures to creating really bad smells – to help get you through some of the trickier sections.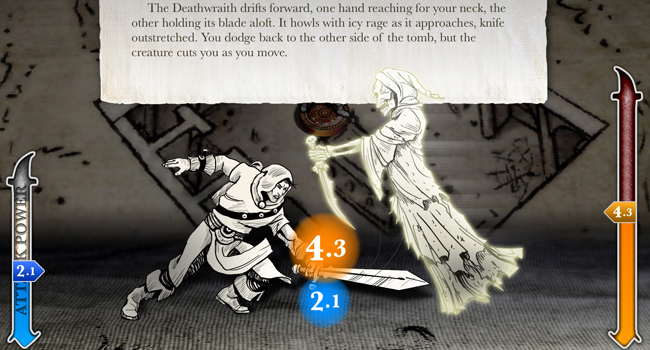 Hector the spectre
Combat, meanwhile, returns in much the same guise, and boils down to a game of bluff and counter-bluff. The trick being to attack your enemies with enough force to break through their attack while keeping enough strength back for the next round of fighting.
All in all, I enjoyed my tormented travails through Kharé, with the journey not only feeling fresh today, but also rekindling fond memories of reading the original book as a kid. May your stamina never run out and your dice rolls always come up sixes.

The Walking Dead: Season 2 Episode 1
"Violent and depressing" was how my wife summed up this initial episode of the second series of Telltale's The Walking Dead, and I'm inclined to agree.
That's utterly in keeping with the series' whole edgy feel of course, so it's not something I'm using to beat it with. However, I feel like there are only so many gratuitous eviscerations I can witness, and I'm rapidly reaching my fill.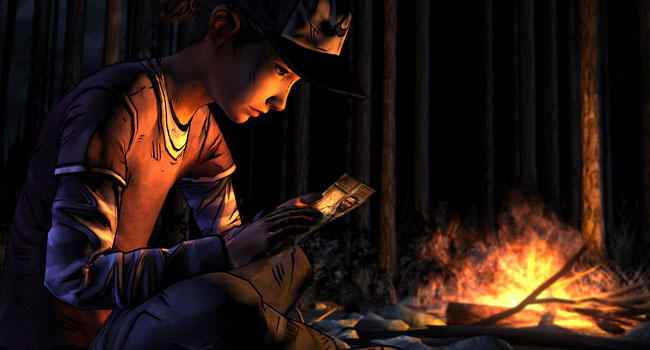 The life of pyre
I'll assume that everyone reading this has heard of The Walking Dead, most likely from the TV series than the (better) comic book series that spawned it. Telltale's games take the series' post-zombie apocalypse world and melds it into a point-and-click adventure that is light on head-scratching puzzles, but heavy on nicely scripted dialogue and fierce QTE sections.
It's these Quick Time Events that lend the point-and-click formula some urgency. Failure to mush the prompted buttons in time generally ends up in a sticky end for Clementine – yes, the very same Clem as was featured in Season 1.
I didn't enjoy such QTE trials here, however. My inputs sometimes went unrecognised - particularly analogue stick movements - which proved incredibly frustrating. And the sequences often suffered from stuttering frame rates on my Xbox 360. The game is also available on PS3, PC and iOS, by the way.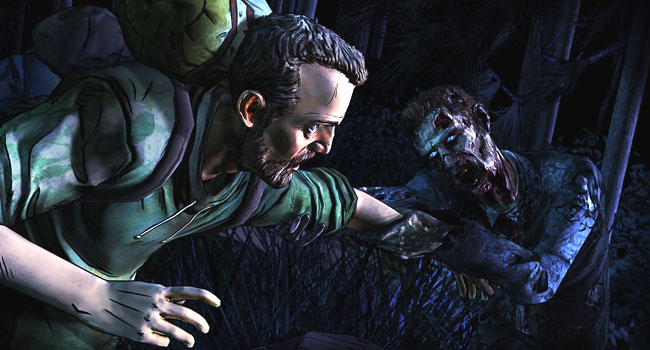 Johnny's rotten
As for our new heroine, Clem, she's now a few years older but seemingly remains destined to dash from one zombie-filled horror to the next, thus endangering her current group. Frankly, by now she really should come with a health warning.
It seems that this second series could well be her coming-of-age story, and one where she's destined to meet some old acquaintances. Consequently, if you have an old Season 1 game save, this latest Walking Dead will take every decision you made and change certain events accordingly, a clever way of making the adventure entirely your own.
I do remain sceptical, however, that your choices of who to save really make an impact on the story as a whole. Non-significant actions might vary, but for necessity's sake the overall story arc remains largely unaffected. The idea of a bespoke adventure is therefore more illusion than reality.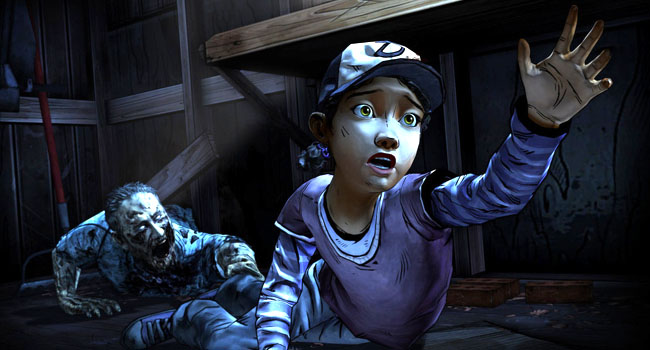 Cadaver palaver
Despite such misgivings, this is still a good start to The Walking Dead: Season 2 - £18.99 for all the episodes - and one that should leave fans happy. Personally, I'd recommend the more subtle experience of Telltale's other comic book adaptation, Fables, but if flesh-eating, brain-hacking zombie action is your cup of tea, then go right ahead. ®

Bootnote
Before you click on the corrections button, the "corse" in the headline is the archaic word for corpse...