Original URL: https://www.theregister.co.uk/2014/01/09/meth_arrests/
Classy Oregon diners tipped waitress with 'crystal meth' – cops
Jail on the menu for 'dumb' steakhouse pair
Posted in Policy, 9th January 2014 06:02 GMT
A couple of Oregon diners were cuffed last Thursday night after allegedly tipping a steakhouse waitress an envelope of methamphetamine, the Oregonian reports.
Ryan Bensen, 40, and Erica Manley, 37, were chowing down with friends at the Twisted Fish Steakhouse in Seaside, a coastal town some 100km northwest of Portland.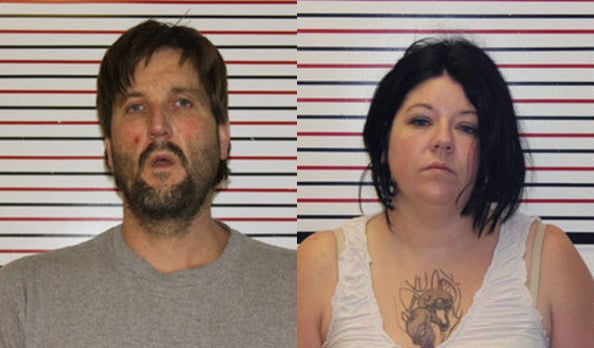 Ryan Bensen and Erica Manley pose for portraits at Clatsop County Jail
Evidently a bit light in the wallet department, the pair first offered a gift card as payment for their victuals, then handed their waitress "an envelope with a question mark scribbled on it" by way of a tip.
On discovering its contents, the waitress unsurprisingly reacted with a "Whoa - what the ....?", as steakhouse manager Steve Keszler described it, and called in law enforcement. Cops arrested Bensen and Manley on the premises, and said they found a substantial 17 ounces (482 grams) of methamphetamine in the latter's purse.
A later search of the couple's temporary digs at the nearby Holiday Inn Express turned up "a meth lab comprising a small torch, batteries and other items", according to police.
Benson, of Beaverton, was charged with possession and manufacture of methamphetamine. Manley, of Cascade Locks, faces similar charges, with delivering meth also on her rap sheet. According to the New York Daily News, they're both "being held at the Clatsop County Jail awaiting arraignment".
Seaside Police Chief Robert Gross said: "While I should be shocked and surprised, it's just another example of how dumb these users and dealers are. The whole thing almost made me chuckle." ®