Original URL: https://www.theregister.co.uk/2014/01/06/seagates_lacie_goes_bonkers_posh_at_ces/
Seagate's LaCie whips out bonkers posh silver-plated storage ball
Apple's not the only one with 'design' chic
Posted in Storage, 6th January 2014 15:02 GMT
CES 2014 You can see yourself reflected in the bright shiny, mirror-smooth surface of La Cie's Sphère - a storage ball - and you'll pay a lot of cash for the privilege.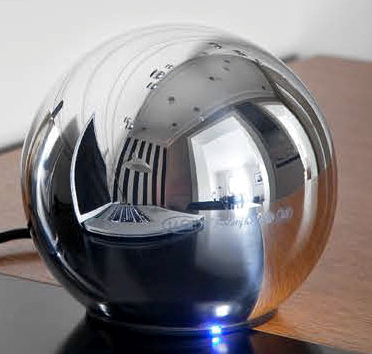 LaCie's mirrored storage ball - see the keyboard reflected in it.
In this case mirroring doesn't mean data protection but the device's surface reflectivity, devised by a French designer called Christofle. The ball is actually covered with polished silver plate and has the posh Christofle signature stamped into it.
LaCie's marketing blurb croons: "Gracing any desk or table, the LaCie Sphère never fails to turn heads and spark conversation."
The product costs $499 and stores a terabyte of data inside its USB 3.0 accessed ball, using a 2.5-inch drive we think. There's no power cable, the USB link delivering power as well as providing data access. It comes with LaCie Backup Assistant software.
A 1TB WD My Passport Essential SE 1 Portable Hard Drive (USB 3.0/2.0) can be had for £127.99 on Amazon so you're paying well over the odds for this load of balls. But the Sphere will look good next to a Mac Pro with its mirror-finish black cylinder. Just remember not to put the Sphere silver ball on top of the Mac Pro's black cylinder because it will mess up the Pro's cooling.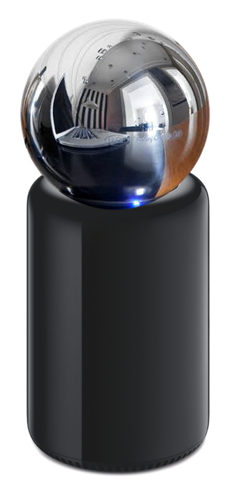 Not to scale... and DO NOT TRY THIS AT HOME.
Seagate and LaCie have other CES storage goodies too:-
Look, no wires - LaCie Fuel is a 1TB wireless portable hard drive for Apple's iPhone, iPad and Mac lines (in a boring oblong case), powered by a battery and with AirPLay compatibility and Dropbox integration. Its battery is recharged through a USB socket with a cable and wall plug.
LaCie Little Big Disk Thunderbolt 2 with data travelling at up to 1,375MB/sec from its pair of 500GB SSDs (Samsung XP941 PCIe x2 SSD) in a RAID 0 configuration - but with no hardware RAID controller, LaCie relying on OSX's software RAID. It's a Neil Poulton-designed, black-coloured desktop external drive - Christofle had no part in it. AnandTech has a mini-review of it.
Seagate's 500GB Ultra Mobile HDD is being used in one of Haier Computer's 13-inch Tablet/PC products - the Sailing P13A.
Seagate's Rescue data recovery plan has been extended to Staples in the USA NCIX and Canada Computer in Canada. If files are lost or damaged then the consumer now has "a path to recovery of the data that is affordable", Seagate says.
Availability and pricing
The 1TB LaCie Fuel will be available soon through the LaCie Online Store and LaCie Resellers for $199.99 (MSRP).
The LaCie Little Big Disk Thunderbolt 2 will be available for purchase in the first quarter of 2014 through LaCie's resellers and LaCie.com with a Thunderbolt cable included.
The Seagate Rescue service is available now. When bought from Staples for laptop and desktop computers it starts at $49.99 for a two-year plan.
®