Original URL: https://www.theregister.co.uk/2013/12/20/review_tomtom_go600_go6000_satnav/
TomTom GO 6000 satnav chews on smarties and tablets
Kick out the jams this Christmas
Posted in Personal Tech, 20th December 2013 14:02 GMT
Review During the launch of the revamped TomTom Go series of satnavs earlier this year, the company reeled off some interesting statistics that revealed a considerable chunk of motorists don't bother with satnavs - 39 per cent, in fact. And of those 39 per cent, only 4 per cent were considering buying into the technology in the next 12 months. The question for TomTom, was how could it get all of that 39 per cent to change its mind?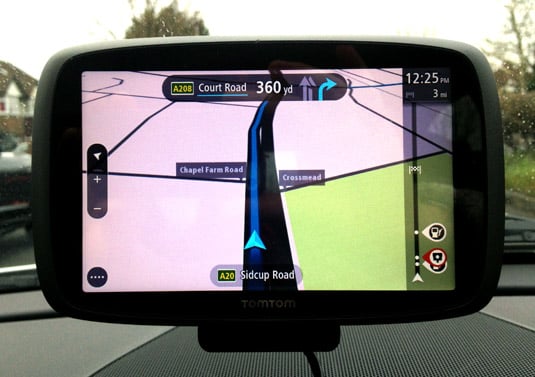 TomTom's GO 6000 flagship satnav but is it enough to stem the tide of map apps on mobiles and tablets?
The TomTom Commuter Concept pet project is one possible contender and there's more on this idea, the stats and the research here. Still, there's an awful lot of road between the satnav of tomorrow and what's being served up in the here and now.
Smartphones have obviously made their mark and it's not just the fact that mapping apps are available for free that has dented satnav sales. Mapping on phones and tablets has influenced customer expectations with many wondering: why doesn't the satnav with its touchscreen interface behave like a tablet?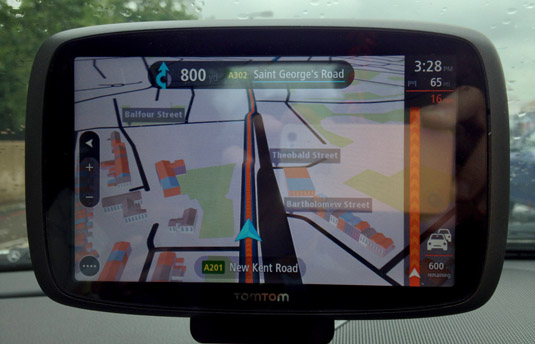 Congestion time estimates and length of jam shown, note the 3D buildings that appear in some areas
With the Go series, TomTom has endeavoured to meet some of those expectations and make inroads on price. The top of the range Go 5000 and Go 6000 respectively feature 5-inch and 6-inch capacitive touchscreen displays that support pinch-to-zoom. It might not sound like much, but it does make using one a lot less of a jolt. These two satnavs, or portable navigation devices (PND) in TomTom-speak are the only two in the range that have built-in GSM/GPRS communications needed to update the satnav with the latest TomTom Traffic data.
TomTom's realtime traffic congestion information is the jewel in the company's crown and is repurposed by a number of different service providers, including Apple. Having decided to make this data available free to new Go series users, the next problem was to make it accessible, namely affordable.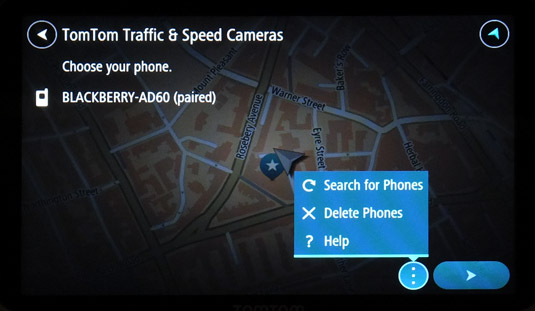 TomTom GO 600 paired with a BlackBerry Z10 – other handsets can be added to the list
Hence the Go 400, 500 and 600 models don't have the always-on, built-in GSM/GPRS, but that doesn't mean they're just stuck with GPS tracking over preloaded maps. These models feature Bluetooth and they can hook up to your smartphone tap into its comms functions to get the live traffic data.
To see how well this fared, I tried out both Go 600 and the Go 6000 – they look identical and in use, their performance was hard to tell apart too. That said, the Go 600 did appear to have a somewhat limited list of phones to choose from – iOS 6 or higher and Android 4.0 or higher, the surprise among them being a BlackBerry Z10 which I used for testing.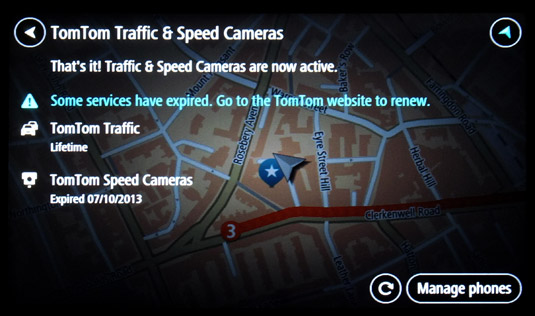 Tethered and now the bad news: some services are for life, but not all ... as this review unit eventually announced
TomTom goes to great pains on its website to describe the difference between the "Always connected" and "Smartphone connected" Lifetime Traffic service, but the Bluetooth tethering setup is simple enough – just create a personal hotspot on the phone and away you go.
The flaw I saw in all this was that you could easily have both mobile and satnav competing for the fag lighter power socket. Indeed, TomTom should really provide a dual USB socket adapter to prevent any untimely battery death on either device. The TomTom itself lasts for two houra on battery and thankfully relies on a micro USB port for charging.
Touch and go
Yet before you take to the open road, you'll need to sort out registration of the TomTom Go by hooking it up to a computer and running the MyDriveConnect app. Besides enabling any updates to be applied, it also has the facility to transfer Favourites, POI and other preferences from a selection of older TomTom satnavs to the latest Go model.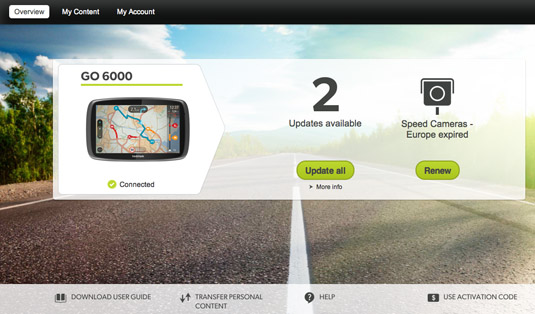 The MyDrive Mac and PC application handles updates. New users get Speed Camera updates as a three-month trial
Given TomTom's own acknowledgements of how tablet-friendliness should find its way into its navigation products, the absence of any kind of address book transfer is surprising. You'd have thought .VCF implementation would be easy enough or just some basic .csv importing, but no.
As one of the 39 per cent who have shunned owning a satnav – preferring my own local knowledge, maybe a quick glance at Google maps before setting off and on rare occasions, live phone tracking – I'm thinking TomTom could be a lot more helpful here, especially as you're having to link to a computer to get things started. Certainly, it seems like a missed opportunity.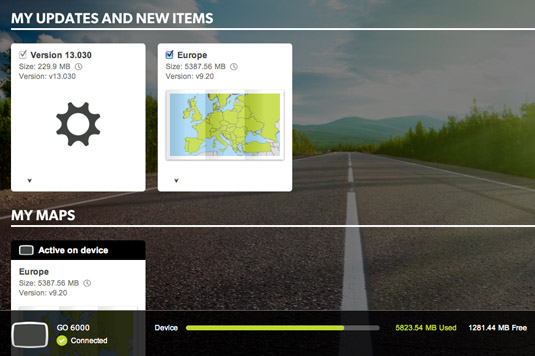 Updates available showing on the MyDrive app
My nearest and dearest is a potential customer for a new Garmin, Mio or TomTom as she doesn't venture any distance in the car without a satnav. She's been using a rather tired TomTom for over six years and was certainly keen to take the latest out for a spin. Despite some initial resistance to the idea of tethering her BlackBerry Z10, in use, this pairing with the Go 600 turned out to be trouble-free, although she did notice the battery drain. So when the Go 6000 turned up, she was a much happier camper.
Although you get free updates to the UK and European maps totalling 45 countries and Lifetime traffic too, the speed camera info is on a three month trial and updates cost £20 a year to cover 23 of those countries or £25 for additional info on mobile camera hotspots. It seems a bit of a swiz, but considering the cost of fines and the corrosive effect of points on the licence and it's hard to dismiss.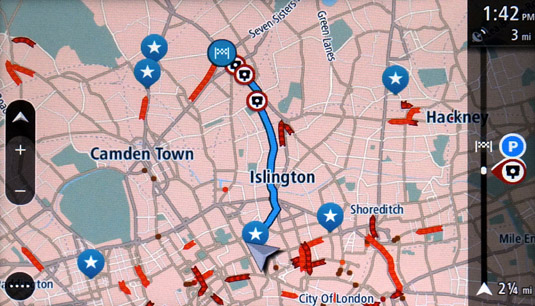 Two taps and you're away: Route with My Places locations shown as stars
TomTom's revamp is intended to allow driving in just two taps. This works up to a point. Sure you can prod an area on the map and then click the steering wheel drive icon that appears and you've a route planned to that point in two taps, but accessing your My Places address book involves a little more effort.
First, you'll need to tap the dotted Main Menu icon in the bottom right corner, tap the destination from the list which neatly shows you the place on the map, and then tap the drive icon and you're back to the map overview. So that's three taps. Press the View arrow above the Zoom buttons on the left and you'll descend to ground level.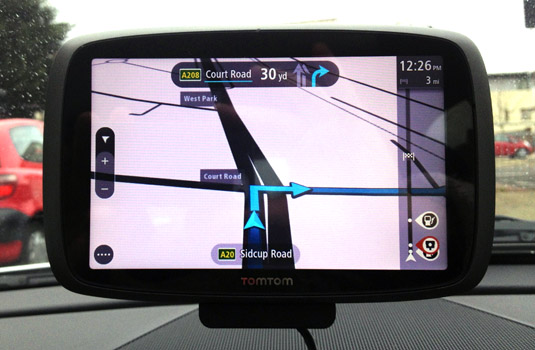 A clean interface with a very good screen mount and suction cup too
The interface looks really good and to avoid frustration you really should download the PDF manual get familiar with the on-screen icons. For instance, that View icon can easily get pressed accidentally when readjusting the position of the Go 6000 in its cradle and mysteriously change the view to overhead when you're in the thick of it. Needless to say, finding out the hard way how intuitive a product is can have its toe-curling moments.
Yet what really threw me had nothing to do with not knowing some new tricks, it was not knowing an old trick wasn't there any more. The thinking behind TomTom's makeover is to always offer the fastest route but in the process it has sacrificed offering alternative routes as a starting point. There is no option to calculate an alternative route from the off. So let's say I don't want to go into town via the Blackwall tunnel but would prefer to stay south while heading west, it won't provide that option. And yet those options will appear on any phone or tablet mapping app.
Travel plans
The only way around this is to deliberately add some Stop point to your route, so the journey is recalculated to go via this target. This is easy enough to do with a simple press and hold on the screen, but for a novice who say, has a phobia of tunnels, it's a rather clumsy way of performing one of the most basic satnav tasks – providing journey choices.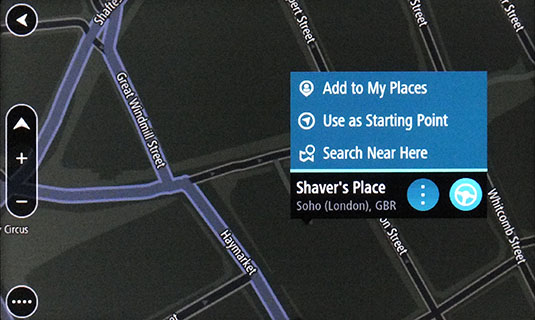 Tap anywhere on the map and drive to it and it to the My Places destinations address book
The TomTom Go 6000 only offers alternative routes when the current journey plan will take longer than originally anticipated due to congestion and a different route now appears quicker. And talking of quicker, the alternative suggestion doesn't hang about on the screen too long, so while you ponder the options, it can disappear and getting it back is another mystery. One approach being to clear the current journey and then plan it all over again. Again, this feels rather clumsy when you're on the road.
When it comes to adding new destinations, the TomTom shows some cleverness with attempts to auto-complete address names, displaying a dual view that simultaneously lists places of interest. This is a bit hit and miss though. Type in "Eltham" and you'll get various roads on the left and top of the POI list is Café Eltham followed by Costcutter Eltham – really interesting places – and scroll down the list of 20 POIs and there isn't a mention of Eltham Palace, which, being an English Heritage site, is a shocking omission.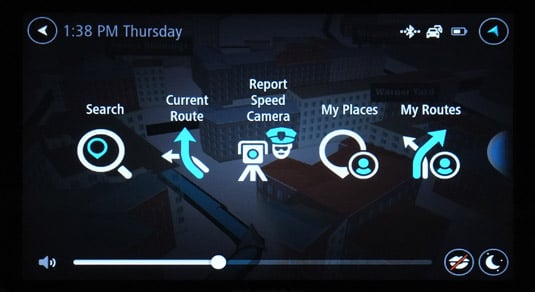 The Main Menu screen provides access to Search and other functions. Note the easy access to the volume slider at the bottom of the screen
Go the extra mile, so to speak, and type in "Eltham Palace" and it shows up, of course. Type in "Glastonbury Tor" and Tor appears in red as an unrecognised word. Admittedly you can't drive all the way to the Tor, but any mobile app will tell you how to drive close to it for a brisk walk up the hill. I actually tested this out on Apple Maps, Google Maps and Nokia Here, and all provided a route.
Still, if you know where you want to be, TomTom has copied some app sensibilities by allowing the Stop point mentioned above to be added to the My Places list. So if you can find it on the map – you can zoom and swipe around it like on a tablet – then you can add it to your destinations with just a couple of taps.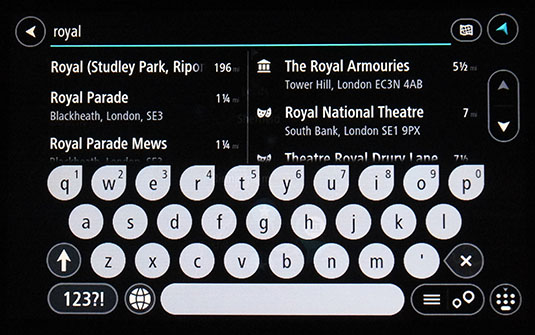 Search has a dual approach with both road and POI suggestions
TomTom's Traffic information is arguably the real reason for buying into the latest Go series as it is presented in well integrated manner on the main display, appearing on the position to destination Route Bar – a regularly changing information strip showing, among other thing, oncoming speed camera warnings and traffic congestion in different colours to convey severity, as well as the usual distance and arrival time estimates.
With the latter, the TomTom Go 6000 was pretty much spot on, and playing beat-the-satnav was only ever out by a few minutes from the off. Knowing about congestion trouble spots ahead of reaching them was helpful to a point, in that it would alter the destination time to suit. However, there were times on the motorway when the GPRS/GSM signal had failed, due to deadspots, likewise affecting mobile handsets too. Hence there were no warnings of the delays ahead. Only then does the reliance on this technology begin to grate.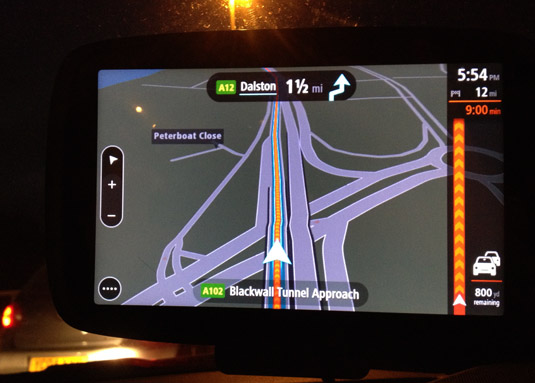 Estimated nine-minute delay time shown in red feels more bearable when the traffic is stationary
It happened in towns too with urban canyons, formed by towering buildings, blocking signals and almost always at the most complex of junctions so that the GPS tracking gets confused too. Other navigation devices aren't immune to this either, you just get caught out from time to time and it's another one of those experiences with travel tech that grates.
The Reg Verdict
Yet when it all comes together, you do get around more quickly. Her outdoors really noticed the difference stepping up to this new model, she liked the voices, the advance turn notifications and the improved address inputting aided by the Qwerty keypad. Having traffic congestion information with delay estimates and suggested alternative routes is something she'd never want to be without now, which is exactly the user reaction TomTom is hoping for.
Personally, I don't like flying blind and would favour the return of selecting alternative routes as a choice, rather have it appear as an option following traffic problems. TomTom's oversimplification with the revamped Go series does leave room for improvement but at least it delivers where it counts and consistently calculates the quickest way to get around.
However, the TomTom Go 6000 doesn't work miracles, as you still get stuck in traffic, but having an estimate of how long you'll have to endure a jam, does help subdue the frustration slightly, but given the widespread alternatives on mobiles and tablets, is that enough at this price? ®