Original URL: https://www.theregister.co.uk/2013/12/20/aws_new_i2_instances/
You've got $60k: So, 2013 sporty Corvette, or a year of AWS's new I2 beast?
244GB of RAM, 6400GB of SSD, 32 virtual CPUs at Amazon's Virtualization Palace
Posted in Cloud, 20th December 2013 22:35 GMT
Amazon has soothed developers miffed at the notorious variability of its rentable servers with a new expensive class of reliable instances.
The "I2" instances were officially launched by Amazon on Friday after being previewed at its AWS re:invent show in November, and see the company bring SSD-backed servers with fast networking to seven of its ten global data center hubs.
The four new instances range from 30.5GB of RAM, 800GB of SSD storage, and four virtual CPUs for $0.85 per hour all the way up to the titanic i2.8xlarge instance – 244GB of RAM, 6400GB of SSD, 32 virtual CPUs for $6.82.
The latter configuration will set you back $59,743 for a full year of operation, or $27,871 for 12 months if buying via a one-year "medium utilization" contract. The $60k cost is roughly equivalent to six reasonably well-specced Dell PowerEdge R910 servers with 64GB of RAM and two ten-core Xeon E7-4850 processors, albeit not including the electricity and other infrastructure bills, or simply a 2013 Chevrolet Corvette grand sport convertible.
A quick analysis via El Reg's stat-o-matic cloud model shows this (on-demand price-per-hour, Linux-based) pricing tracks Amazon's general model, and slightly tightens competition with Google's Compute Engine.
The instances mandate the use of Linux, rather than Windows, as they only support hardware virtualization (HVM) machine images – which requires use of either the Amazon Linux image, or virtual machines with version 3.8 or later of the Linux kernel.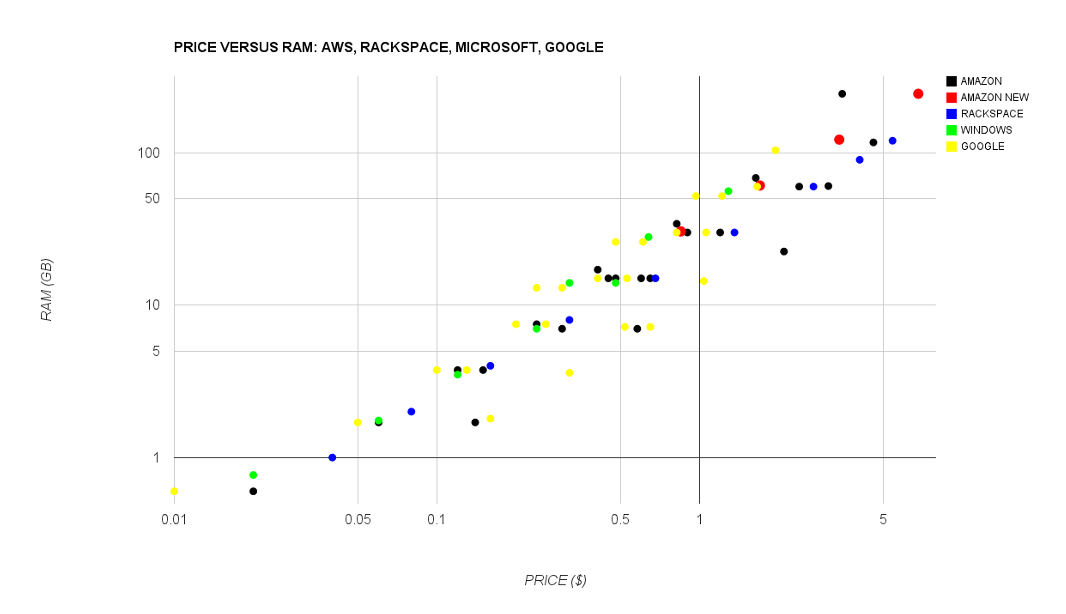 The I2 instances, labeled red "Amazon new", close in on Google's generous RAM allocations (click to enlarge)
As with many other Amazon instances, these ones depend on whopping great Xeon processors from Intel. In this case, the E5-2670 v2 (Ivy Bridge) chips, which come with support for Advanced Vector Extensions, Turbo Boost, and Non-Uniform Memory Access (NUMA).
All four of the instances use the "Enhanced Networking" AWS feature, which uses single-root IO virtualization (SR-IOV) to give instances a higher packet-per-second rate and lower inter-instance latencies.
SR-IOV lets single PCIe devices such as network adapters expose themselves up to virtual machines as a variety of distinct hardware surfaces with a physical function.
By adding these capabilities to the instances and combining them with the large SSD allocations, Amazon is ensuring that the new servers will have more reliable performance than some of the low-cost virtual machines, and that they can be used to run multiple IO-intensive applications such as real-time web-oriented databases. ®