Original URL: https://www.theregister.co.uk/2013/12/18/antique_code_show_sega_out_run/
Sega's Out Run: Even better than the wheel thing
From 1986, one of the world's first 'experiential' arcade games
Posted in Personal Tech, 18th December 2013 09:59 GMT
Antique Code Show How bereft the coin-op arcades of yesteryear must have looked before the arrival of the audacious, muscle-flexing Out Run machine. It's true that Hang On and Space Harrier laid the foundations a year before, but Out Run was Sega's golden moment in sit-down, "experience" videogame machinery.
There were two versions of the deluxe, non-upright cabinet, with the flashier one containing a 26-inch screen (whoa!) and luxury seat. Both contained heavy-duty motorised elements so that the plastic beasts could move and shake to simulate your car's racing manoeuvres.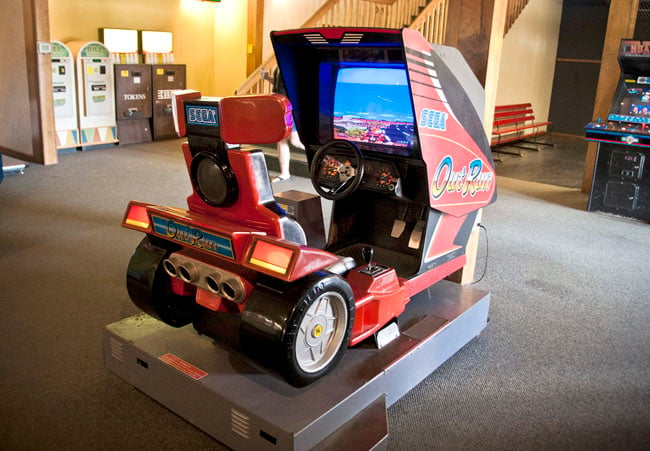 Drive of your life: Sega's deluxe Out Run cabinet
Source: Rob Boudon
Adults and children were duly lured to the steering wheel of the Ferrari Testarossa-like car – Sega hadn't gained the licence at this point. With the on-screen passenger seat filled by a provocatively dressed lady – who issues a good telling-off each time you crash – the game provided a heady fantasy for young and old alike.
No doubt there are still a few machines lurking in smoky old seaside haunts, more than 25 years on.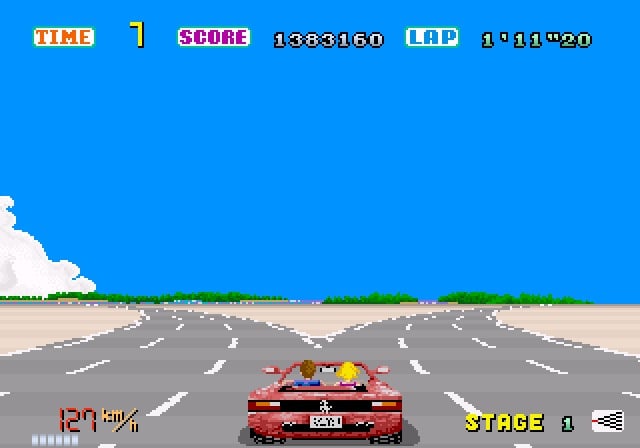 Which way now?
Sega's closely guarded "super scaler" code routines were employed to create the smooth moving, undulating roads and scenery. Unlike the standardized "System 16" hardware that would power Sega's bread-and-butter arcade titles for the rest of the 1980s, Out Run's hardware was custom designed, featuring two 68000 processors, both running at an impressively zippy 12.5MHz.
Hardware scaling took care of the vehicles and roadside scenery – of which there was an inordinate amount – on one layer. The road was made of tiled bitmaps on a separate layer, again scaled directly by the hardware, no less impressively. 128 sprites could be displayed simultaneously, shunted around at the breakneck speed needed to simulate driving a vehicle at almost 300 kilometres per hour.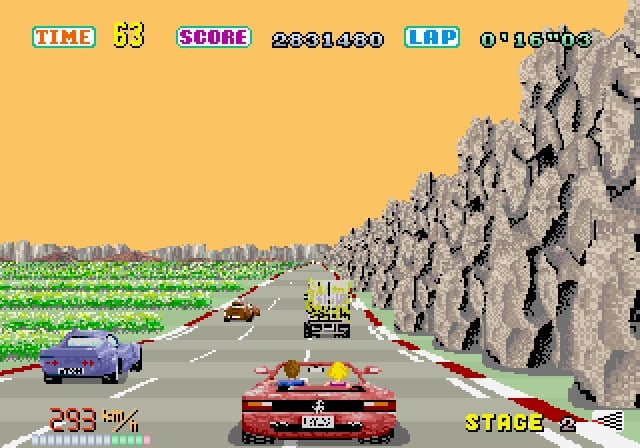 Awkward overtaking
Yu Suzuki, probably Sega's most infamous games producer – he would go on to create titles such as the Virtua Fighter and Shenmue series – was keen to bring realistic driving mechanics into video games.
"I wanted to make a driving game where people who were skilful drivers of cars could also achieve good results in the game," he later said. And so Out Run machines came complete with up/down gear shifters that needed to be used at just the right point for optimum acceleration, an analogue steering wheel and accelerator pedal, and a car that handled differently at higher and lower speeds.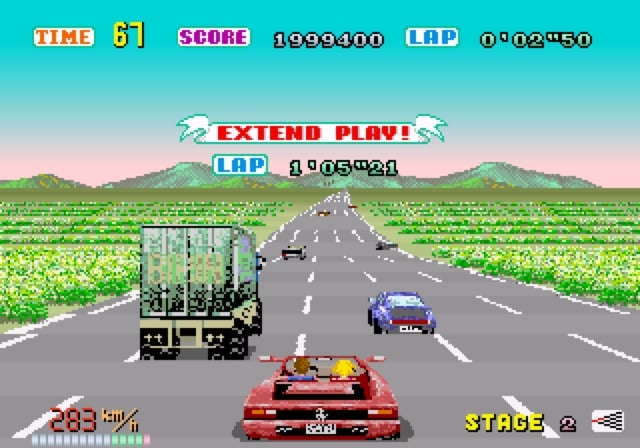 Each checkpoint provides more time
A distant forerunner of Gran Turismo? Absolutely.
Originally inspired by the film Cannonball Run, Suzuki found American landscapes too vast and empty for his country-wide race game. Sega's R&D budget sent him on a handy European road trip that gave him the inspiration he needed for his roads and scenery, taking in Swiss mountain passes and Italian cities, allegedly with a video camera strapped to the rental car. All for that vital need to understand Ferrari's homegrown territory, of course.
The Romanesque stone arches of the second stage – after taking the left turning – are especially memorable, with the illusion of speed enhanced significantly by those tunnel-like sprites. As many boy-racers found out, the hypnosis induced by the twisting, repetitive scenery was also very good at sending your vehicle off road and into a spin.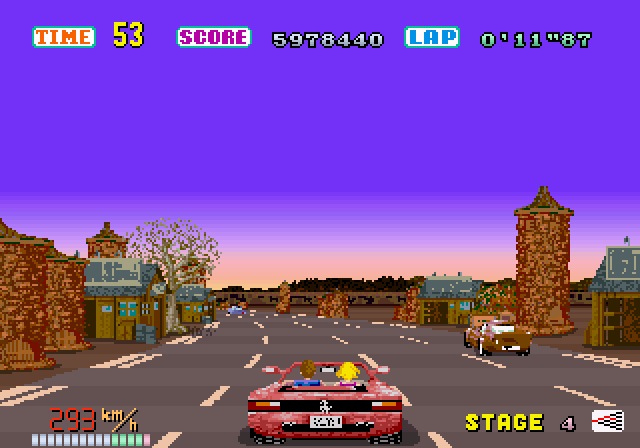 European inspiration
Suzuki appreciated that sound needed to make a significant contribution to the overall experience so he decked Out Run cabinets out with chunky speakers right next to a player's lugholes. High-quality digitised voices and vehicle noise samples were pumped out by the same sound chip that had been used in the Space Harrier chip, a 4MHz Yamaha 2151.
Many years before Grand Theft Auto started dabbling with the idea, Out run allowed the player to change the car radio to one of three bands at the start of play. The Magical Sound Shower, Passing Breeze and Splash Wave backing tracks are the stuff of folklore to Out Run fans, with original and reworked versions cropping up in the remakes and spin-offs that have appeared over the years.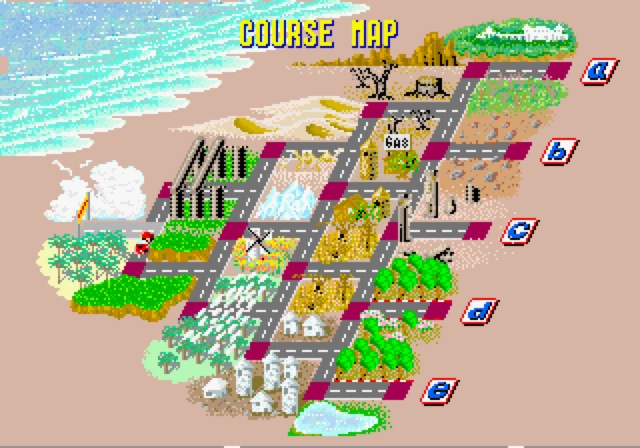 The course map with all its twists and turns
Inevitably, the home computer and console conversions became top-sellers on the back of the arcade game's success. Quality was variable, and it's a mark of the original title's graphical standards that it took the Sega Saturn release in 1996 – ten years after the debut of the original – for a fully realized, arcade-perfect conversion to finally do justice.
Pedal to the metal
The left and right fork-in-the-road choices – leading to different routes through the game map – which were handled so well in solid-state ROM, represented a bit of a challenge for disc and tape-based home machines. Some versions elected to remove them completely, others gave the player a little breathing space as the next stage loaded, yet neither option recreated the arcade experience particularly well.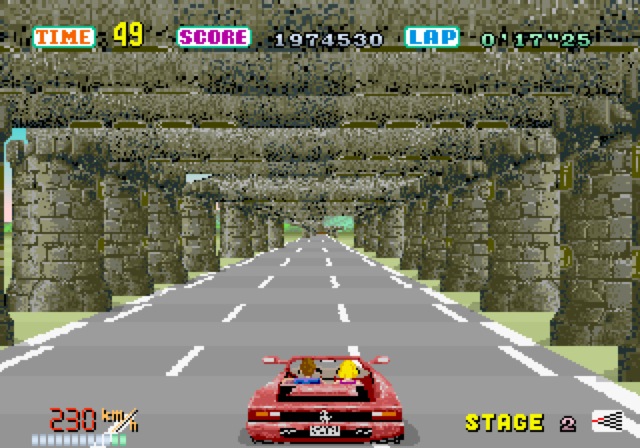 Hypnotic tunnels
Poor Speccy owners received a rather pedestrian affair – more of a Sunday drive through Tooting than Tuscany – though they did get the original arcade soundtrack to play through a tape-player whilr muting the in-game audio. Sadly, this simply highlighted the deficiencies of the conversion, with fond arcade memories jogged into life by the evocative arcade sounds.
The Amiga version was a wasted opportunity, with a badly judged altered viewpoint from behind the car, making it difficult to see what was coming up next.
And while the Megadrive version did play much better, it wasn't the classic it could have been. For a more extensive look at the different conversions, do check out this passionate fan's ode to Out Run:
The slew of imitators and sequels that have appeared over the years suggest that Out Run's influence has been vast. Of Sega's supplementary arcade titles, Turbo Out Run (1989) was popular with arcade owners since the PCB and arcade paperwork came ready prepared to be sneaked into the original arcade cabinet's surrounds. Outrunners (1993) was one of Sega's last bitmap-based racers, and would allow up to eight machines to be linked together.
Fans had to wait until 2003 for the well-received 'true' sequel, Out Run 2. Its development team was headed up by Suzuki himself. This time, along with lots of other playable cars, Sega got the official Ferrari badge too. Yet tellingly, as one may well have predicted, nothing has had quite the same impact as that original red car skidding onto the starting grid.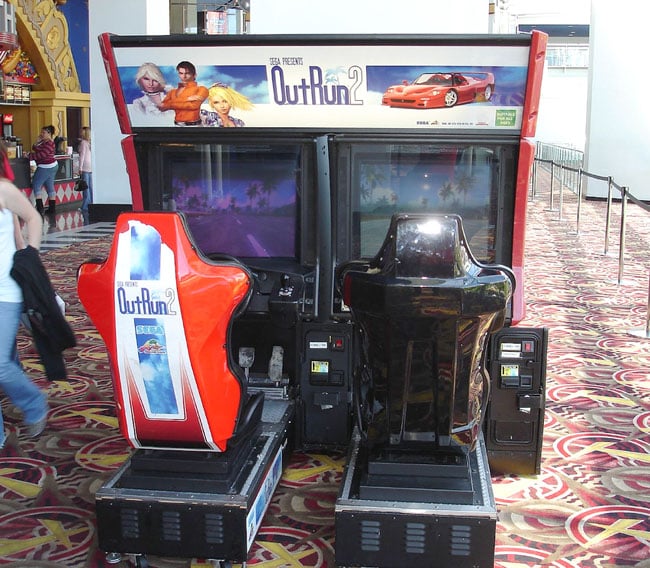 Take no passengers: Out Run 2
Source: Kevin Simpson
When those first, expensive sit-down cabinets – which took up precious arcade space – arrived in 1986, one can imagine that coin-op arcade owners were initially reluctant. Yet the oversized machine's trump card for gaming landlords was the fact that a machine of such stature could demand 50p per play – three credits for a quid, perhaps – whereas standard upright cabinets were still on a measly 10p or 20p credit.
And repeat plays were a certainty: Out Run was not an easy title to master. Novice drivers could crash and burn through credits in less than a couple of minutes – all the more likely if greedy old arcade proprietor had moved the DIP switches on the PCB to Out Run's hardest level: more vehicles in the way, and less time to reach each checkpoint.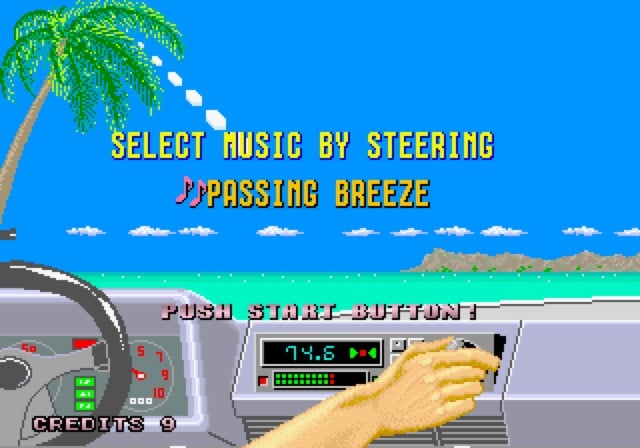 Choose your tune
The game set a precedent across the land for bigger, more extravagant, experiential coin-op machines. That trend would explode over the coming two decades, with anything from horse riding (Namco's Final Furlong) to punch bags (Taito's Sonic Blastman) to 360 degree rotating vomit-inducers (Sega's G-Loc).
These weren't machines for playing down the local chippy – they ventured towards the lucrative world of theme parks and dedicated arcade centres, where the physical controls and movement became just as important as any on-screen action.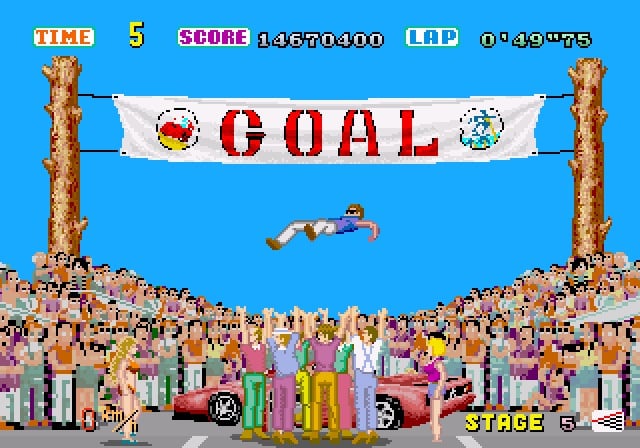 One of the five endings
When it comes to video gaming's most fondly remembered titles, it's projects like Garnet Hertz's augmented reality driving system that prove just how treasured a game like Out Run is.
I'm sure Hertz would proclaim that he chose the title because it's the most iconic racer of a generation, but deep down he must love that machine like a first-born son. If nothing else, he's got a great business lined up there for when us 1980s kids reach old age and get serious about mobility scooters. ®
Released 1986
Developer Yu Suzuki, Sega AM2 department
Publisher Sega
Platforms Arcade, Master System, Game Gear, Amiga, Amstrad CPC, ZX Spectrum, MSX, DOS, Commodore 64, Atari ST, Megadrive, PC Engine, Saturn, Gameboy Advance