Original URL: https://www.theregister.co.uk/2013/12/12/review_misfit_wearables_shine/
Heart part more art than state-of-the-art: Shine wearable activity sensor
I'm a lumberjack and I'm OK. I sleep all night and I work all day (it says here)
Posted in Personal Tech, 12th December 2013 09:34 GMT
Review I'm not a fitness fan. I don't jog and I'm more likely to be seen at the swimming baths picking up my kids after lessons than doing lanes myself. But with the big 5-0 coming close, and working as I do in a trade that has me sitting on my bum all day, I find I have a keener interest in my personal well-being than I did when I was younger.
This is why the new breed of wearable devices appeals to me. I'm not interested in pages of carefully coloured data I can use to fine tune my fitness regime: I haven't got one, though I appreciate other folk do. I'd just like to be sure I'm sufficiently active to keep body ticking over smoothly. Many of these wearables are designed to do just that.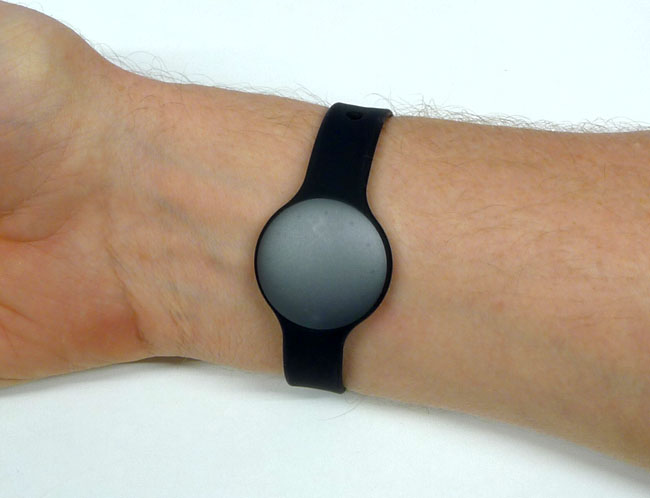 Wrist-y business: the Shine in situ
One such is the Shine, from Misfit Wearables, a US-Asian company backed by one-time Apple CEO John Sculley.
Unlike many a wearable device, the Shine isn't itself wearable. It's a metal disc about the diameter of a 2p piece, 9mm thick in the centre, falling to 4mm at the edges. It looks like a flying saucer designed by Sir Jony Ive, a similarity accentuated by the 12 LEDs arranged in a circle around its face, each barely visible until lit.
Twelve lights because the Shine doubles up as a watch. Tap it twice and sufficient lights illuminate to indicate your progress toward your day's activity goal. A moment later one light indicates 12, followed by another revealing the hour and a third the minute.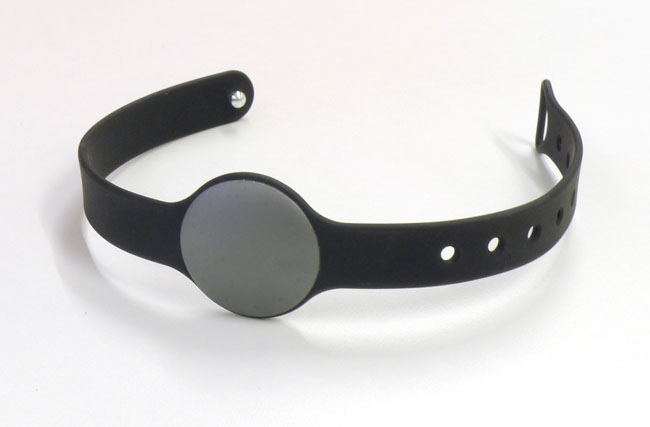 Rubber band: the Shine can be fitted into a bundled wrist-strap
Being a disc rather than, say, a strap like the Fitbit Flex means the Shine doesn't have to be worn at all. It tucks neatly into the watch pocket on your jeans, for instance, and Misfit supplies a rubbery plastic doobery with a loop on one end and a magnet on the other. The loop fits around the Shine and the rubber fits around a belt loop, bag strap or such, and then clasps the Shine with its powerful magnetic grip.
You have to shake the Shine rather hard indeed to dislodge it, but it is possible to do so I didn't want to trust while using the clip while out and about. More to the point, since the Shine also operates as a sleep monitor, you really want to keep it attached to your body, so I used the second bundled accessory, a wrist strap. This has a big loop in the middle, which fits into a notch in the Shine's waist.
This held the Shine in place securely at all times even - since the gadget is water-resistant to five atmospheres - while I was showering and, later, doing the washing up. It'll take swimming in its stride, says Misfit, and even shrug off inadvertent visits inside the washing machine, but it's probably best if you don't take it for regular dips in the sea apparently.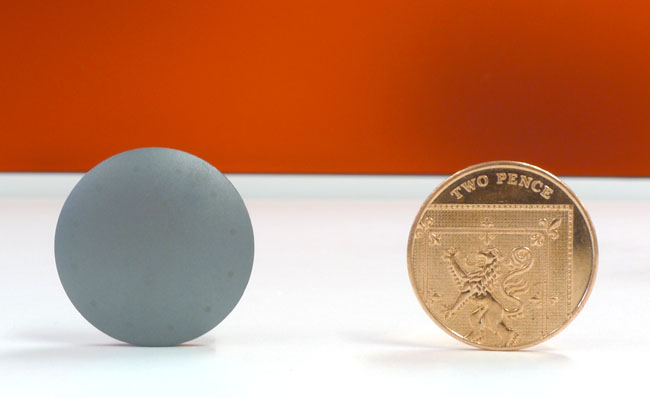 You can just see the 12 LEDs on the Shine's face
To get that level of water resistance, the Shine's battery and electronics need to be well sealed. Misfit bundles a tool to help prise off the back of the gadget, into which you drop the supplied lithium CR0232 coin battery. This is good, the company claims, for four months' use.
Clip it all back together - there's a handy marker to indicate the 12 o'clock position - and you're ready to pair the Shine to a phone or tablet running the inevitable app. It's available for iOS and Android. You'll need a phone that supports Bluetooth 4.0; you just pair up the Shine just as you would any other Bluetooth peripheral.
To conserve power, the app doesn't maintain a constant connection to the Shine. Instead, it syncs when the app is made to appear on the screen, though you can also trigger synchronisation manually from the widget, which you'll need to do after pairing the two devices.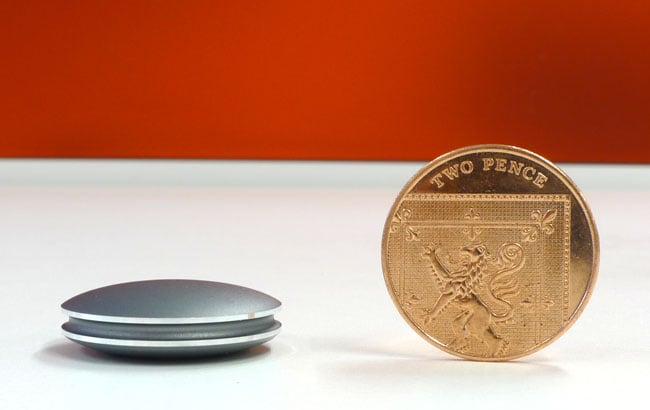 Not large at all
In essence, the Shine is a three-way accelerometer with a memory to store the values it records until they're synced to the host device. It's the app that makes sense of the data to provide a readout of your activity during the day and your sleep pattern at night. Syncing is two-way: the Shine also stores your chosen goal so it can give you a progress readout without delegating to the app.
Axis powers
What the app calls your goal is a seemingly arbitrary numerical value towards which walking for ten minutes will contribute 100 points. Five minutes' running or swimming will contribute the same amount. Based on your movement, the app calculates how many calories you've consumed and how far you have effectively travelled.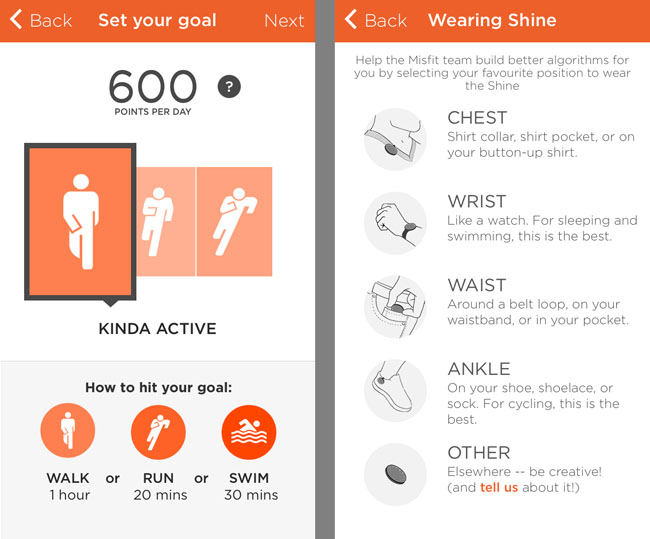 First, decide what you want to the Shine to measure and, next, where you want to stick it. Ahem...
It works out how many steps you've taken too. I say "works out" because I rarely got an accurate measure of the number of steps I took when walking, and usually a first check of the morning revealed I'd done a fair few steps without even getting out of bed. I can assure you, no other form of activity was confusing it, and I rarely get up during the night for a waz.
Clearly, then, the Shine is not for anyone who exercises sufficiently seriously to need a step-accurate pedometer count. I'm not one of those folk, so the gadget's "close enough for rock'n'roll" approach is fine for me. It tells me how much I've walked during the day and how many calories I've burned while doing so, so I can feel suitably rewarded when I have a beer on the way home.
What it doesn't do is provide any real qualitative analysis of your activity. The goal value provides an easy way to define a broad exercise target, but there's nothing in the app to tell you what that means for your health and well-being.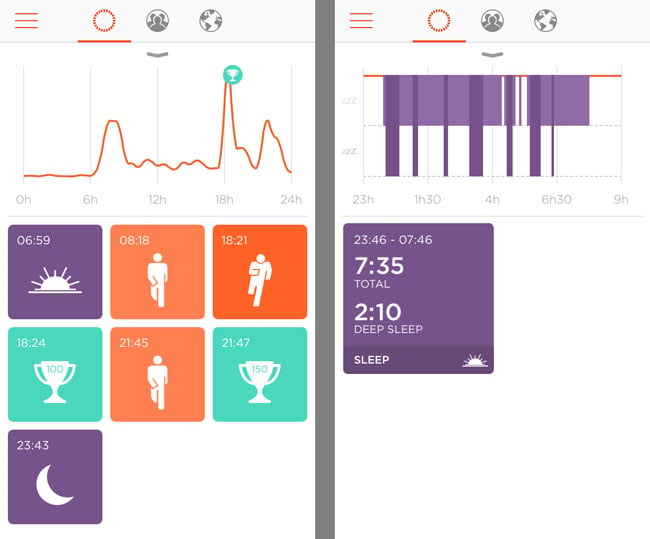 OK, so I got a trophy for walking, but am I getting a decent night's sleep?
And what about other activities than walking, running or swimming? What about cycling? Misfit advises riders to wear the Shine around their ankle or clip it to their shoes. Clearly, it won't accurately assess this particular activity if it doesn't detect a regular, circular movement pattern. But put the Shine in the right place to track that motion, and it will add points to your daily - or weekly - tally.
But the app won't yet tell you how long or how far you need to cycle to get a certain number of points. I suspect too that it's not sensitive to road conditions: are you going up hill or simply pedalling more slowly? It doesn't know. A good cyclist uses her gears to ensure she's pedalling with a steady cadence, but not all of us manage that smoothly, or at all.
The same is true for walkers. Misfit admits that the Shine doesn't detect stair climbing, so according to the Shine app, the London Underground escalators I always walk up and down may as well be flat. It doesn't give me extra points or note a higher calorie burn on my ascent.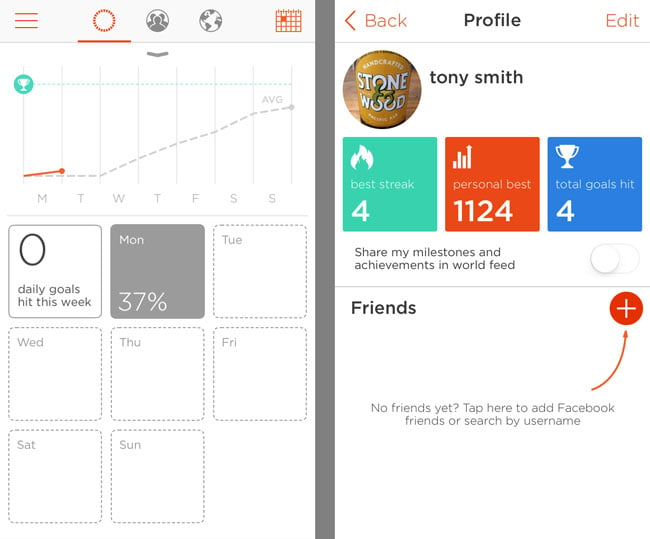 Track your progress and share it. If you must...
Cycling is one of six activities the Shine app will log specifically. The others are swimming, playing tennis, basketball or football, and sleeping. Not being remotely sporty, I tried the latter. Just triple-tap it to start logging. It gives you breakdown of the light and deep sleep stages of each night's kip, and even my semi-regular 5am wake-up-and-do-the-mental-laundry - as the missus puts it - sessions.
Again, though, it doesn't tell me whether my deep-to-light sleep ratio is good or bad, it merely logs it all without comment.
The unrestrained social sharer is catered for, so they can see how well chums are pursuing their Shine activity goals, and to share their own scores, either with pals or world+dog. Sharing centres on the achievements the Shine app dishes out, not the data itself. You can work solely through the app, or tie it in to your Facebook account.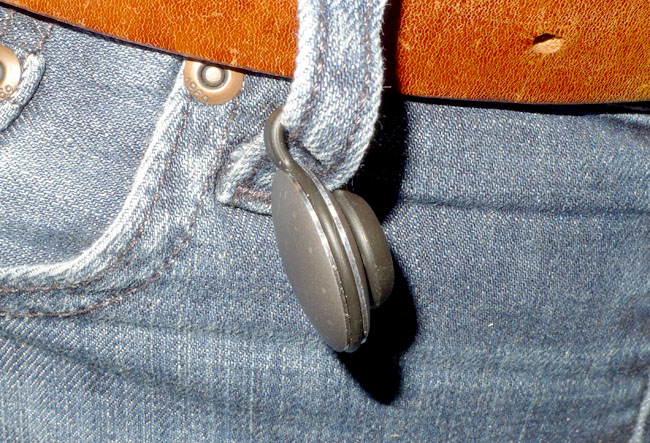 Stick it on your strides
The Reg Verdict
The Shine is an attractive enough gizmo, and if you're curious about quantifying your level of activity - or your sleep patterns, it has its appeal. It's not a bad product, but why choose the £99.95 Shine when you can have, for instance, a Fitbit Flex for £79.95 and which is just as discreet and provides a more qualitative assessment of your activities. It also has an on-board buzzer to wake you up, something the Shine lacks, though neither has a heart-rate monitor, which seems an odd omission for devices worn next to the skin.
The Flex comes with a dongle for computer syncing and a web-based UI, but the Shine app manages well enough. The downside with the Flex: its integrated battery needs to be charged every 3-5 days. The Shine's use of a coin battery is much more convenient, but I'm not sure it's worth paying 20 quid extra for the privilege, especially for a device which, when all said and done, is geared more to satisfy your curiosity than to provide medical/scientific data. ®