Original URL: https://www.theregister.co.uk/2013/12/12/blackberry_bes_we_have_a_look/
BlackBerry BES: Hey, biz bod, fancy an upgrade on that RIM job... for FREE?
Plus: Our vulture scratches around inside its managed sandbox
Posted in Networks, 12th December 2013 11:21 GMT
BlackBerry's Annus horribilis, which has seen the company bombed out of the consumer market has an upside for enterprise users. So keen is the company formerly known as RIM to get its installed BES 5 base onto its new, BYOD-friendly BES 10, it has waived the upgrade fees.
Customers who already have a BlackBerry support contract will now be able to move on up to BES 10 with no extra fees.
The company's tactics on BES 5 have caused much gnashing of teeth - see the Comments under many a Reg story for an example. With a footprint inside almost every decent-sized company, and across huge swathes of the public sector and military, it is really up to the Canadian firm to lose this business. BYOD is proving to be pretty expensive and BlackBerry feels - with some justification - that its MDM (Mobile Device Management) answer to this is the best in the business.
Last week the company showed off new apps that provide managed sandboxes inside an iOS or Android device. We took a look at them this week and found them to be surprisingly slick. No iOS user is going to feel uncomfortable with the look and feel of the iOS Secure Workspace Container. On Android, it can take over your home button - so the user feels at home.
Here's a couple of screenshots: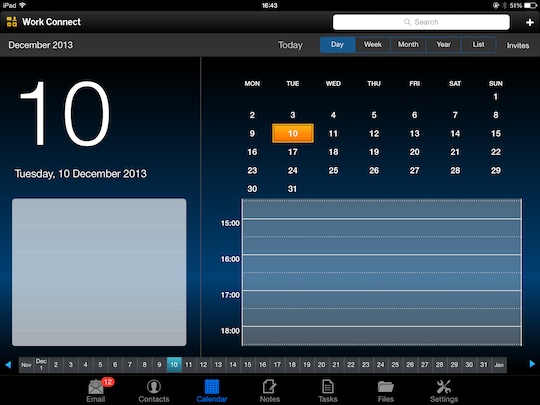 The secure workspace inside iOS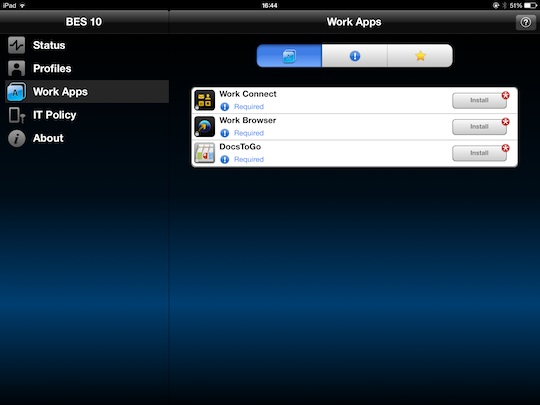 Your in-house corporate apps pop up here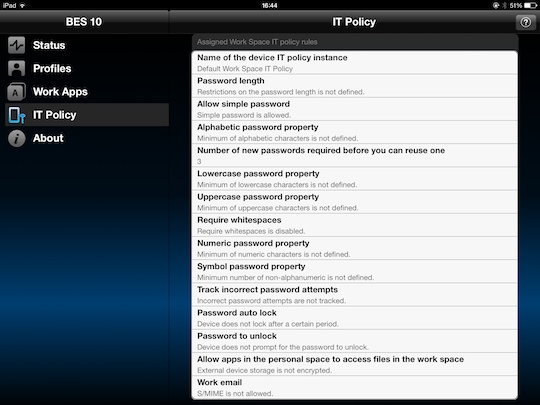 A reminder of what you can and can't do.
It's all part of making BES – which just one a year ago was an end-to-end proprietary system which only worked with BlackBerrys – work with and manage any kind of iPhone, iPad or Android device. On the server side, there's a management console with levels of permissions and warnings. On the client side there's a secure container that creates secure versions of email and calendar, and it's also an environment within which staffers can run corporate apps. And in between BlackBerry bundles an encrypted VPN - BES Endpoint - for free. The system scales to support 100,000 users per BES 10 environment.
Container drivers
The "container" can provide basic MDM controls such as wiping a device to full lockdown. Staff who are promoted can find more capabilities and access as they move up. Others can have defaults overriden of they wish – although it helps to be the boss here.
So an administrator can get an alert if a user's device has been jailbroken. Or if they haven't installed an update to a corporate app.
"The designers of iOS and Android did not envision it as very secure - we can do it bottom to top. People have iOS in regulated space - but it's not much secure and the user is not more productive," Mike Gibson, BlackBerry's UK enterprise director told us.
BlackBerry executives told us they are open to support Windows Phone alongside iOS and Android but it seems no sign of much usage in enterprises right now. Even though it has been spruced up with a new kernel, WP doesn't support VPN. The company sees larger enterprises are almost entirely looking at Apple – but medium-sized and smaller "there's a lot of Android".
Of course BB10 was designed with a partitioned environment built in, and switching between them is painless.
Last week's changes to licensing - enabling BES licence reuse - are designed to sway those enterprise sites which are shedding their BlackBerry devices – for whatever reason – but are fearful of the flood of important or sensitive work being handled on employees' BYOD Android and iOS devices. Cloud support should help too. BES 10 Unity,as it's called, will see BlackBerry host the consoles and allow managers to torture their users without requiring a BES server of their own. ®