Original URL: https://www.theregister.co.uk/2013/12/11/game_theory_death_star_need_for_speed/
Speeding cops, fearsome drops and Death Star shops
Enough next-gen kit already – here's the best of the rest
Posted in Personal Tech, 11th December 2013 13:57 GMT
Game Theory
Super Mario 3D World
There's been a marked downtrend in Mario's platforming adventures of late. Especially with the New Super Mario Bros. series, at first something of a welcome throwback, but soon hitting the wall in terms of innovation.
Never write off the heroic Italian plumber, however, for with Super Mario 3D World he's back in stunning fashion.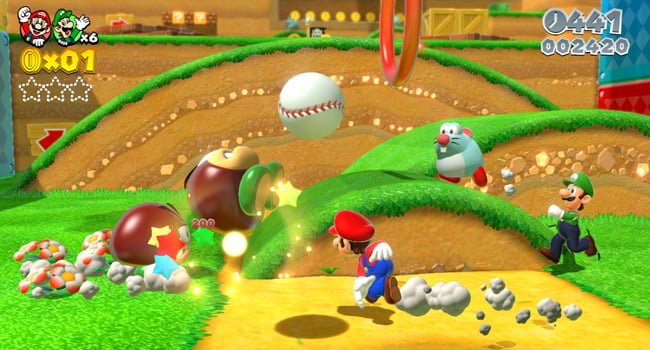 Some games just have the ability to make you smile. Perhaps they remind of playing a similar type of title as a kid. Or maybe they're just so joyful and intuitive that you just just get lost in them. Either way, 3D World is one of those games.
Nintendo has taken the best elements of both 2D and 3D Mario titles and melded them into an adventure that's straightforward enough for the whole family to enjoy. Crucially though, there are still secrets to discover for those who dig beneath the surface.
Mario's world, from desert kingdoms to frozen tundra, is simply beautiful here too. The imagination on show throughout is nothing short of wonderful.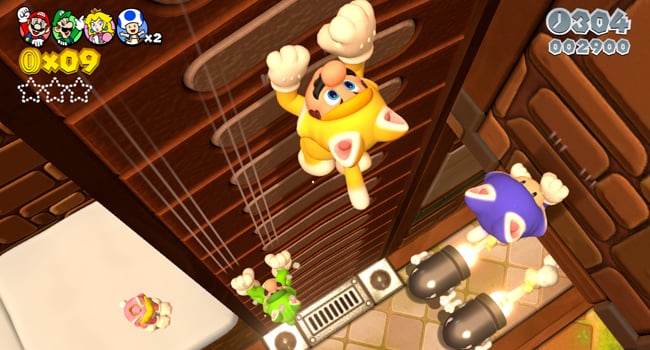 In one level you'll be scrabbling up vertical cliffs by way of the new Cat-suit – meeeeow – while next you're guiding Mario by use of his silhouette only, before river-rafting on board a plesiosaur soon after.
Earlier in the year, I praised the latest Rayman for its startling variation and sheer fun, but 3D World is streets ahead. Even local multiplayer – a cumbersome affair in the New Super Mario Bros. series – is handled well here, as Luigi, Peach and Toad have more leg room without the forced constraints of a 2D-only plain.
The Wii U's social media-lite features are even given a decent outing, as Miis appear to offer guidance on the map screen. Ghost characters of their level-clearing performances can even dash about in front of you should you want them to.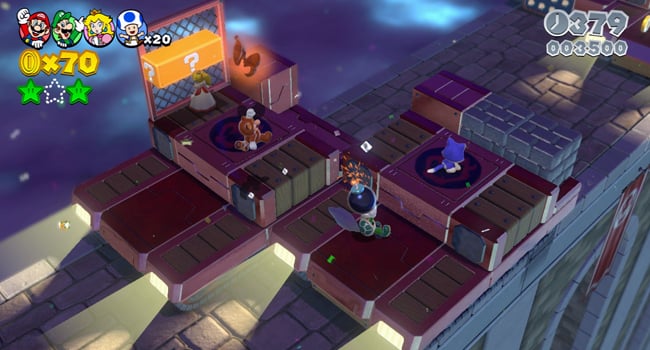 In short, seeing the Magic Kingdom brought to life in HD is worth the ticket price alone. And more than that, Super Mario 3D World could just be the first Wii U game worth classing as a system-seller. It's just a shame Nintendo couldn't deliver such a game at launch when it might have made a difference.

Need for Speed: Rivals
It seems we're steaming irreversibly onwards to a point where our single-player and multi-player worlds merge into one. Need for Speed: Rivals fires a marker into such untested waters, where the likes of Destiny and Tom Clancy's The Division are soon to follow.
Rivals' persistent online world is at least fairly unobtrusive. A handy tracking system means you can hook-up with real racers to compete in ad hoc events easily – or use it to avoid them. That said, you might still have a player-controlled cop car repeatedly run you off the road whether you like it or not.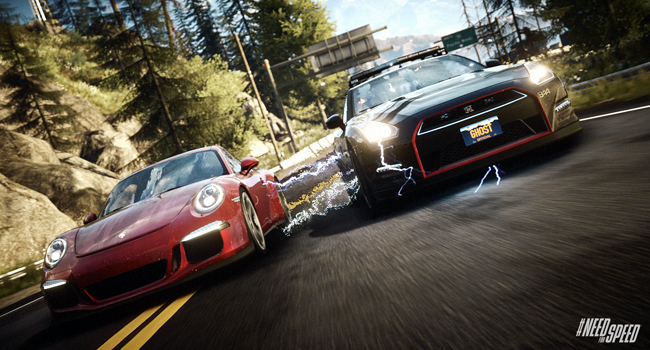 That's because Rivals is an almost identikit copy of Need for Speed: Hot Pursuit. And, where developerCriterion crafted a Chase HQ-style game – where cops hunt down fleeing racers – new developer Ghost Games does much the same here.
What this means is that in any given game you're bound to find at least one joker looking to smash you to bits. Depending on your mood that's either brilliant or incredibly annoying, especially as player-controlled police cars are much more adept and bloodthirsty than their AI-controlled counterparts.
Still, Rivals does carry an ace up its sleeve: score multipliers. These award event participation and race wins, and carry on ramping up your score – and therefore your cash – the longer you survive without being either busted or checking yourself into a safe hideout.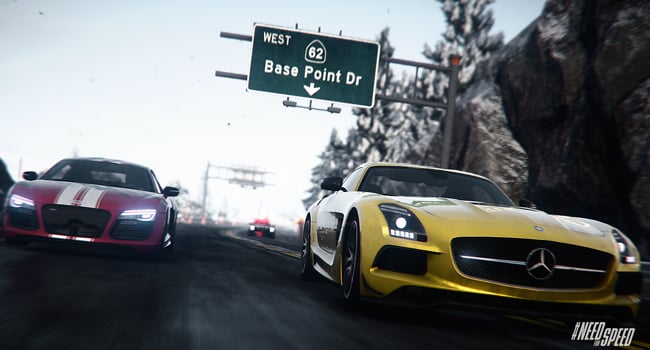 So once your car is in severe danger of being totalled and your dashboard is covered in warning lights, things swiftly accelerate into squeaky bum territory. Especially if you're still miles from a hideout – where you can stash your cash – and suddenly come into the sights of a cop car.
Reach the hideout and your score is yours for the taking, get arrested and it's goodbye to all your multiplied cash. All in all, it's a good formula for getting the blood pumping.
You're not forced to always be the prey either, as you can freely swap between the two styles of play at your leisure. Both roles have car unlocks and upgrade chains, and you can even buy Bond-inspired gadgets, such as mobile EMPs, with which to cause havoc to your fellow road users.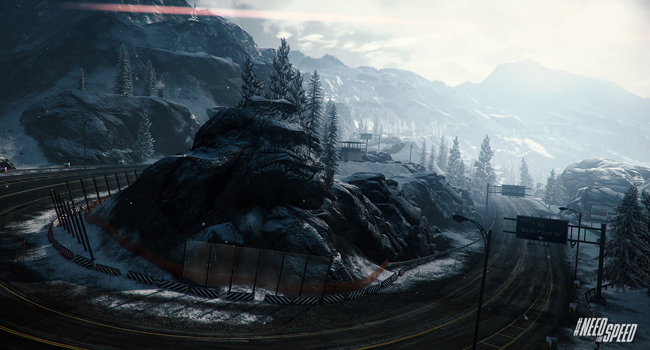 It's not all high praise for a job done well though, as heavy handling, a dearth of new ideas since Hot Pursuit, some pretty iffy AI and server delays – seemingly caused by a host leaving and a new one being selected – hardly scream 'must buy'.
The roads you race across are hardly inspiring, either. Redview County is home to some nice backdrops, but you never really get anywhere. You won't suddenly find a city for example, or even a noteworthy town.
Consequently, the playable expanse does tend to blend into one rather featureless piece of track. And while the illusion of speed is handled well, the visuals, even on next-gen systems, don't exactly push the pedal to the metal.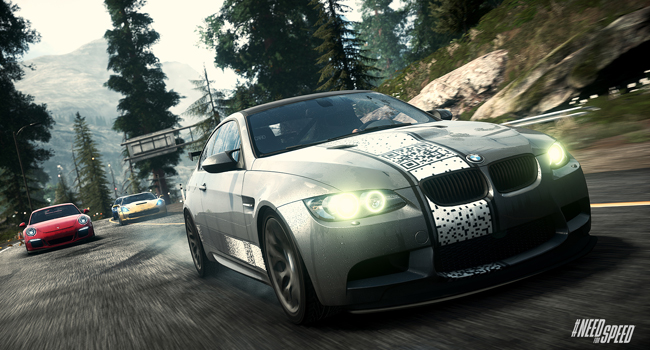 On the whole, though, the sense of speed, some cool weather effects and the pulse-racing nature of those high-speed pursuits do make Rivals worth playing. Especially if you're into old-school arcade racers.

Star Wars: Tiny Death Star
You know that line in Clerks, the one where the titular salesmen are discussing all the innocents – contractors, engineers, chefs, cleaners, you name it – who must have died aboard the Return of the Jedi Death Star? Well Tiny Death Star basically takes that notion and runs with it.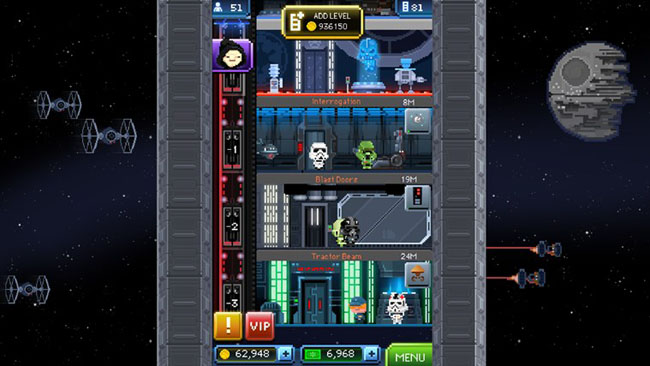 The idea is that, short of getting a proper job, the Emperor and Darth Vader have decided to make a new Death Star. Therefore they can attract said contractors whom they can tax, and so never need to work again – well, they are evil after all.
Such geeky humour is continued throughout Tiny Death Star. From the Holonet – a social media-style messaging service through which your 'Bitizens' can voice their thoughts – through to the names of the shops that you can create: the Scoop of Hoth ice cream parlour and Mon Cala aquarium to name but two.
What's more, TDS is the perfect companion for your daily commute. As all you really need do is address the pressing concerns of your shops, restaurants, gyms and evil Imperial levels and the game will gladly chug away in the background. The Emperor even announces how much your Death Star has earned when you next come back to it.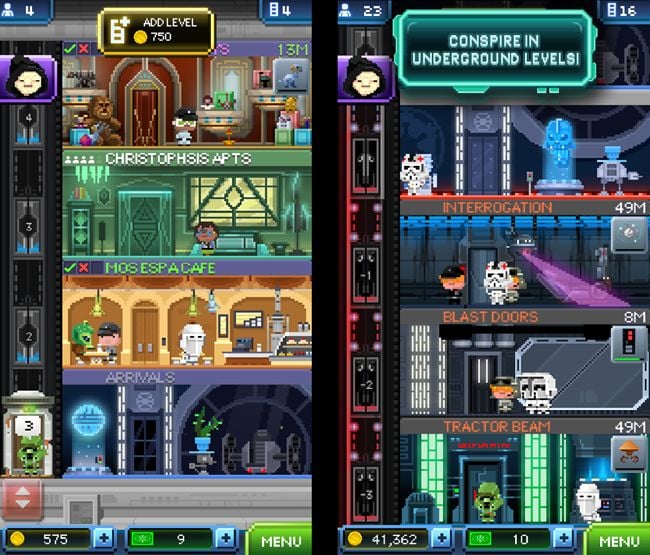 One slight step towards the direction of the Dark Side, however, is a move toward monetisation by developer Nimblebit – much more noticeable here than in their similar Tiny Tower. TDS uses the dual currencies of credits and imperial bux, and both are offered at a frustratingly slow rate.
Your in-game actions will eventually accrue both, and credits will generate even when you're not playing. But given that both are necessary to play the game at anything other than a snail's pace – and bux are particularly crucial when it comes to expanding certain areas of the game – it's a tad galling that the easiest way to obtain the currency is by spending pounds sterling.
Ultimately, TDS boils down to a grind that remains fun for as long as its novelty value holds. At the start of my commute, I still shuttle Bitizens up and down the elevator in a bid to keep Lord Vader happy. But at the same time never the game fails to get a look-in when I'm at home with the option of my consoles.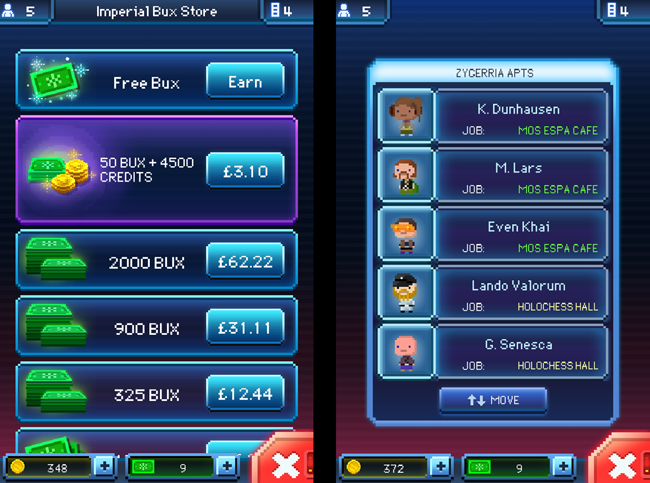 Still for the princely sum of absolutely nothing, and providing you don't succumb to the temptation to swap real pounds for virtual bux, Tiny Death Star is worth seeking out. Especially if you want to hear those iconic Star Wars tunes given a new jazz-style twist. ®