Original URL: https://www.theregister.co.uk/2013/12/11/disk_storage_market_shrinks/
Unstoppable data growth in storage has ... er, stopped
EMC remains dancing atop shrinking storage sales number-pile
Posted in Storage, 11th December 2013 11:01 GMT
The global disk storage market shrank 5.6 per cent from the third quarter last year to the third quarter this year, the third quarter of decline in a row.
IDC's Worldwide Quarterly Disk Storage Systems Tracker says the third 2014 quarter saw total disk storage systems revenue of $7.44bn, compared to $7.88bn a year ago, and down by 4.1 per cent compared to the second 2013 quarter. If we abstract out external disk storage system revenues (the stuff not attached to servers) it fell 3.5 per cent over the same period, from $5.95bn to $5.75 billion.
It seems that unstoppable data growth has, well, stopped.
IDC's storage research director, Eric Shephard, attributed the drop to: "reduced spending from the U.S. government, increased use of storage efficiency technologies, increased investment in public cloud capacity, and general price pressures associated with increased competitive environments."
The damage was done by SAN sales, files growing still:
The Open SAN market declined by 6.1 per cent year over year during the quarter
EMC lost share but was the leading vendor with 29.0 per cent revenue share
IBM was second with 14.4 per cent market share
HP, Hitachi, and NetApp accounted for 12.5 per cent, 10.0 per cent, and 9.0 per cent of sales, respectively
The NAS market increased 3.9 per cent year over year, led by EMC with 45.3 per cent revenue share and followed by NetApp with a 30.0 per cent share
Here are the numbers for external disk systems: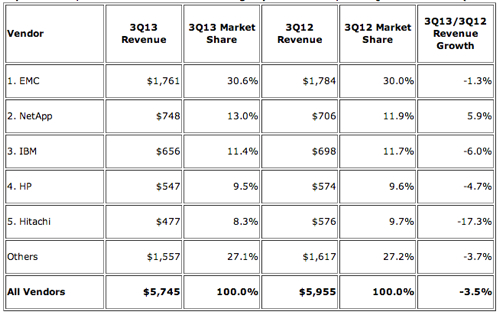 IDC worldwide external disk systems revenues Q3cy2013
Charting these numbers along with previous IDC storage tracker reports gets us this graph: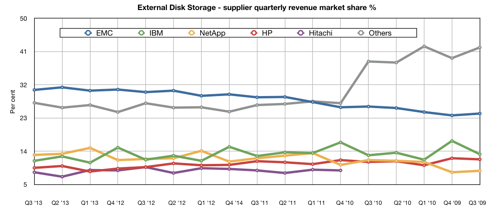 To see more detail use a magnifying glass... or, click the chart.
This shows us that nothing has changed much. EMC is ahead of the pack and they're trailing a long way behind, revenue-wise. On an annual compare NetApp grew most, at 5.9 per cent, but that's misleading; the chart shows two recent quarters of decline for NetApp.
Here are IDC's numbers for total disk storage systems revenues in the quarter: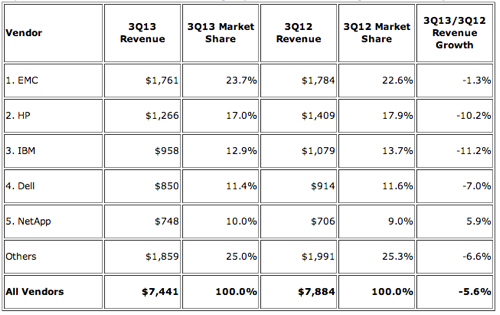 Top 5 Vendors, Worldwide Total Disk Storage Systems Market, Third Quarter of 2013 (revenues are in millions)
The big question this chart suggests we ask is: can HP break free of the IBM, Dell and NetApp group? ®