Original URL: https://www.theregister.co.uk/2013/12/09/review_killzone_shadow_fall/
Helghast-ly holiday: Killzone Shadow Fall
Red-eyed raiders are back in the PS4's key launch title
Posted in Personal Tech, 9th December 2013 11:25 GMT
Review Guerrilla Games' Killzone: Shadow Fall is almost impossibly good looking, especially considering it's a launch title. Cityscapes sparkle, foliage is lush and figures cast long shadows. Lens flare is plentiful – so much so that at times I actually found myself squinting.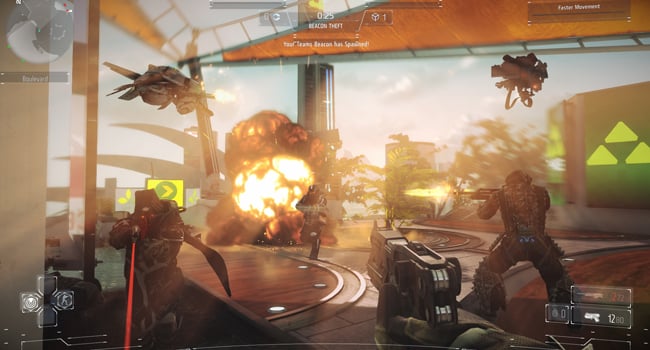 Hel'ghastly opponents
Think back to the PS3's launch for a moment. The equivalent day-one title was Resistance: Fall of Man. A game that these days looks clunky to say the least, especially when compared to the likes of Killzone 3 or The Last of Us.
It's more than a little bewildering to think that maybe, just maybe, we'll be looking back at back Shadow Fall in seven years and consider it as merely OK-looking. If that's the case, then we're all going to have to dream up new superlatives when it comes to discussing visuals.
Underneath all the eye candy is a first-person shooter that plunges us into Killzone's ongoing tale of the Interplanetary Strategic Alliance (ISA) versus the Helghast (from the planet Helghan). Rather than continue the series' trend of depositing us into a pitched battle, however, Shadow Fall takes a different approach: it casts the player as infiltrator, rather than marine.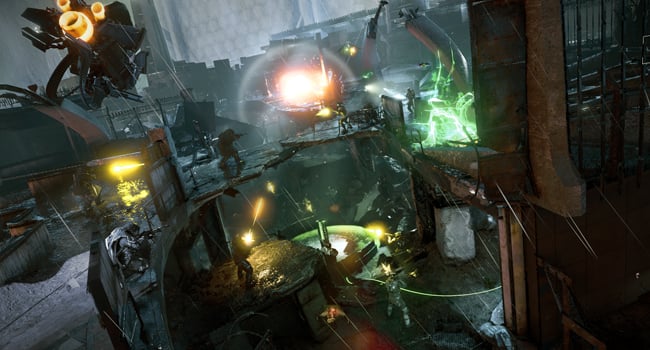 Operation: infiltrate
This welcome change of pace is made possible by a plot set 30 years after Killzone 3. Helghast refugees have been handed half of a planet known as Vekta by the ISA.
Good news for the Helghast maybe, but not the best for Vekta's existing population. Predictably, before you can even say "Berlin Wall", the planet is split into two, and any Vektans on the wrong side of the tracks are exterminated by the Helghast.
Step forward protagonist Lucas Kellan, a survivor of those dark days, now made plucky resistance fighter. It's he who we follow as he is commanded to cross the divide in a bid to discover the Helghast plan.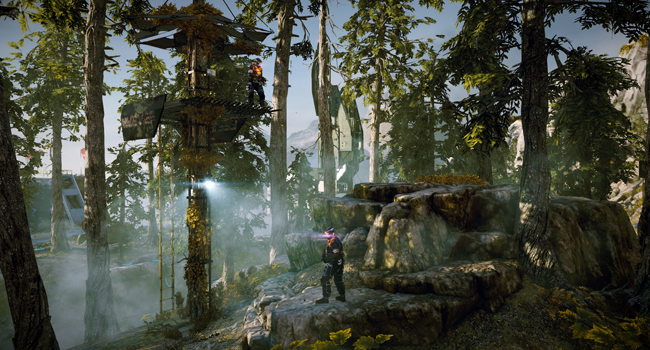 You wood if you could
The clandestine nature of such incursions is what makes Killzone that little bit different. Lucas' missions are, by-and-large, free-form affairs as Lucas tackles objectives in any order you choose.
In fact Guerrilla's hand-holding of the player is so minimal that at times I was left wondering if certain markers and instructions had simply not been implemented as development time ran short.
Take the first mission, where your initial task is reach a crashed troop transport in Helghast territory. To get there you'll need to deploy Lucas' Batman-esque zipline. But only after much exploration – and a fair few plunges into bottomless pits – did I figure out the way down.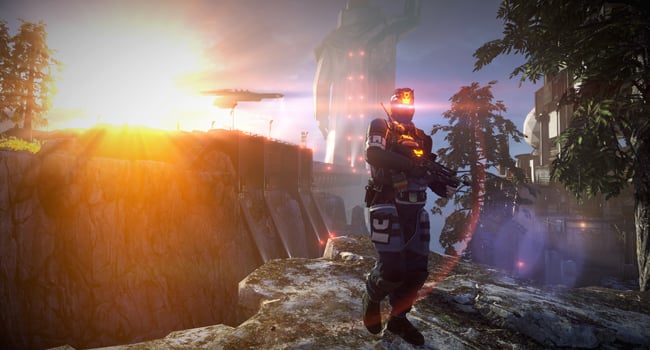 Sufficient lens flare to satisfy JJ Abrams?
It's a similar story in one of the game's space-based missions, where power generators must be inserted into sockets in order to open locked doors. Not once does the game actually tell you that vital nugget of information. Huge oversight, or attempt at an almost Dark Souls level of player independence?
I eventually decided that this unguided approach to missions must be a design decision, and at times it's one that promises to push the game into the same echelon as the likes of Dishonored. But then, unfortunately, you're handed a series of missions that frustrate rather than excite.
Vekta maths
One where you have to nip across train tracks as locomotives hurtle by hits a particularly sour note. Trains combine with a hail of Helghast bullets to produce just one irritating death after another.
At least during such fraught sections help is at hand courtesy of OWL, a flying robot for want of a better description. OWL provides fire support, generates shields, hacks terminals and even revives our hero if he's felled.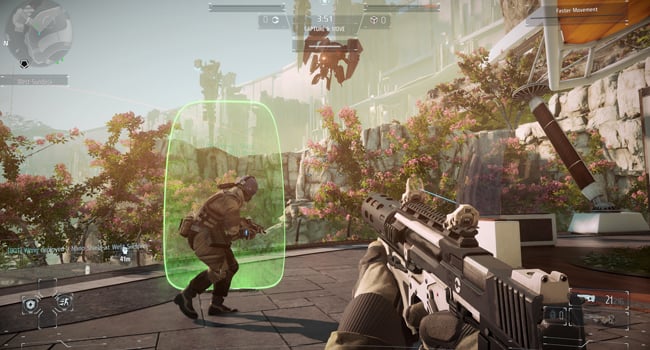 OWL play
Controlling OWL falls to the PS4's all-new touchpad, a swipe of the finger choosing its setting, with a press of L1 sending it on its way. When coupled with Lucas' pulse-echo scanner – which helpfully highlights nearby enemies – it makes for a potent weapon.
As for the Helghast themselves, their AI can be something of a mixed bag. In the open they'll attack in organised groups. And I like the way they actually target OWL, so you can sometimes use the drone as a distraction to the get the drop on them.
Unfortunately, they're also predictable, yet another army of grunts who approach conflicts by getting behind cover, before conveniently raising their heads above the parapets from time to time, thus making themselves sitting ducks. Sigh.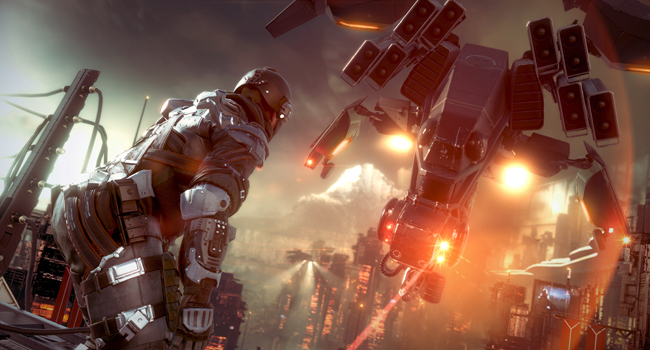 'bot of the barrel
On to multiplayer then, where 1080p, 60fps gameplay makes itself known on PS4 in stylish fashion. You get ten maps, three customisable troop classes – Scout, Assault and Support – and 20 or so guns to tote across 24-player scraps.
The action is fairly slow-going – especially when compared to the pace of something like Call of Duty: Ghosts. Though death, once you do eventually make contact with the enemy, comes swiftly.
Killzone's most famous mode of play, Classic Warzone, returns too and proves entertaining once more as sides vie to complete ever updating objectives. Server customisation lets you create bespoke map cycles and goals.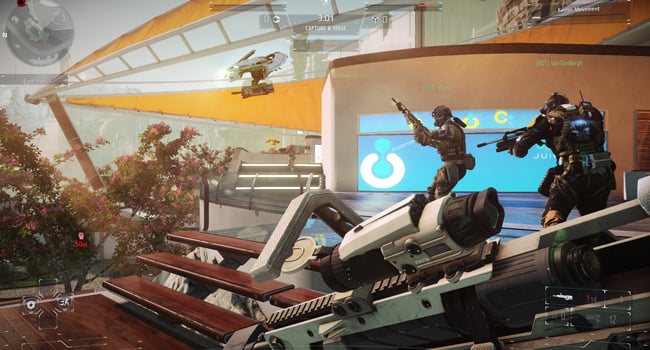 More considered multiplayer
Another nice touch is the way unlocking ranks and abilities is triggered by completing personal objectives based on your class. It means your teammates will generally work for the group's benefit rather than their own.
The Reg Verdict
Shadow Fall is visually gorgeous, plays differently enough to paper over many of its level design and AI cracks, and offers one of the better online experiences available for PS4 right now.
There's certainly a learning curve to it and the emphasis on exploration won't be to everyone's taste – especially given the lack of guidance.
But personally I rather liked being treated as someone able to think on my feet. And I feel confident in saying that PS4 early adopters really need to own Shadow Fall. I look forward to seeing you in the Warzone. ®